Room Selection 2023 – 2024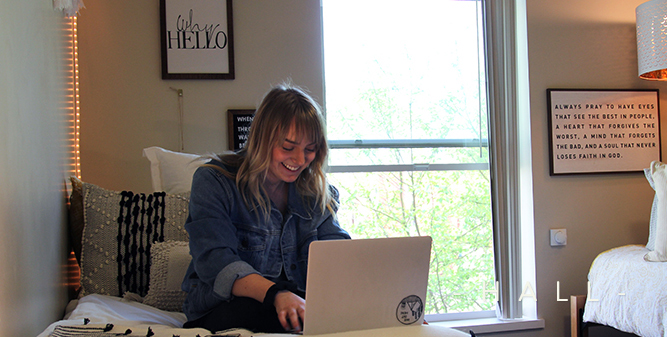 2023 – 2024 Room Selection Timeline & Details
June 19th – Check your WOU email for an invitation from My College Roomie (MCR). 
Once you have access to MCR, set up your profile, then search and match with your perfect roommate.

If you already know who you want to room with, just search for them and match.

All matches in MCR roll over into the Housing Selection process so that when one student selects a room, their confirmed roommate will be pulled in.
July 17th 5 pm – Housing Reservation form must be completed in order to participate in the Room Selection process.
July 20th 11:59 pm – My College Roomie closes, roommates must be confirmed by this time.
July 21st after 5 pm – Log into your Housing Overview page to view your Room Selection start time.
Access your Overview page via the WOU Portal. Look for University Housing Overview under My Programs. Once on your Overview page, scroll down to the "Room Selection" section to view your start date/time.
July 24th – August 4th – Select you room on your assigned day/time!
If you have a confirmed roommate, whoever has the earlier selection time will select a room and their roommate will automatically be pulled in.

If you miss your selection time, you can go in afterwards to select your room when the process is open.

If you select a space on your own, or are pulled in by a confirmed roommate, you will recieve a confirmation email.

Students who choose not to select their space or who submit their Housing Reservation form after 5 pm July 17 will be assigned a room by University Housing. 
July 24th – Housing Contract and Emergency Information Form available.
After you have selected your room, you will have access to these two forms, which can be found in your Housing Overview, under Apps and Forms.

You will select your meal plan when signing your housing contract.
August 11th 5 pm – Housing Contract and Emergency Information Form due.
Late August – Fall Class Registration will be checked.
If you are not registered for classes (minimum of 6 credits for graduate students and 8 credits for under grad students) it may result in the cancellation of your housing reservation.
Early September – Residential mailbox numbers are posted on Housing Overview Page.
September 17th – Fall Move In!