Food plays an important role in nourishing the students and campus community here at Western Oregon University. Campus Dining is dedicated to excellence and works tirelessly to cultivate a healthy, supportive, inclusive and sustainable dining experience. We strive to serve quality food made fresh from the best local ingredients in our area and with great customer service from our staff. Whether you choose to eat at our main Valsetz dining hall, having your food delivered, or are just grabbing a quick coffee at one of our coffee shops on your way to class, we offer a variety of dining options to suit your taste and fit your needs. 
Which Meal Plan Should I Choose?
Choosing a meal plan can be a difficult decision. At Western Oregon University we offer residents three choices to suit varying nutritional needs and tastes.
Because it can be challenging to predict how much food you will need each term, Campus Dining has created a meal plan worksheet to help students predict the amount of meals they will eat per week and will automatically calculate your potential average spending cost per term.
Click the meal plan worksheet button to download your copy of the worksheet. Once down-loaded, click "Enable Editing" at the top, and fill in the eating options best suit your needs.  Then select the meal plan that best suits your individual needs.
All Campus Dining meal plans are "A la carte" so that residents are able to pay only for what they choose to eat instead of having to pay a set meal price. We provide flexibility so that everyone can select the type of food that suits their budget as well as their appetite. Students in Landers, Barnum, Ackerman, and Heritage must choose a meal plan each term. 
When choosing a meal plan, keep in mind; Fall Term is 12 weeks due to New Student Week and Winter and Spring terms are each 11 weeks.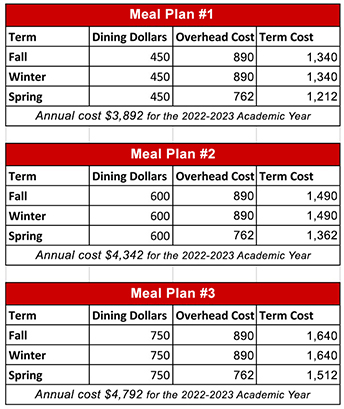 Discounts
As part of the meal plan cost, each residential student pays their share of overhead costs up front. Because of this, all residential students with a meal plan can purchase prepared food in Valsetz Dining Hall at the wholesale cost of food items. This works out to be a 30% discount and is applied to all prepared meals purchased in Valsetz. There is not a discount on retail items, and non-residential students, faculty and staff all pay retail prices when dining in Valsetz. 
Overhead Costs Explained
The overhead payment listed in our meal plans is the total of our operational business costs each term for having all our dining locations open throughout the week to serve our students. These funds cover costs such as: Salaries (Staff and student), utlitities, supplies, repairs and capital expenses. 
You have selected your meal plan, now how do you go about managing your account so that it lasts throughout the term? To track your meal plan usage on a daily basis, see a detailed report of what you spent and where you spent it, and much, much more- Use the Meal Plan Tracker. 
Available NOW On Your WOU Portal
Look for the Meal Plan Tracker link – If you don't see one, you may have to add a channel to your portal NOTE: You must have made a transaction for the MPT to show up in your link.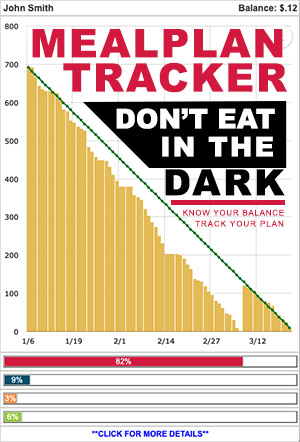 Changing Meal Plans
Do you have a large balance on your meal plan? Or do you keep running out of money on your card? If so, we recommend adjusting your meal plan. We allow students to adjust their meal plan before the first day of a new term. To change your meal plan visit us in the SOSA office located below Valsetz or email housing@mail.wou.edu and list what meal plan you would like to switch to. Make sure to include your student Vnumber. 
Adding more Dining Dollars
Students can add a minimum of $20 to their accounts at any campus dining register. We accept debit/credit, cash or check! Our Campus Dining staff makes every effort to educate students in helping them make a proper meal plan selection. We also understand that it is difficult to predict exactly what each individual's eating habits will be. Some students find they have chosen a plan incompatible with their eating habits or, find themselves running low on dining dollars as the term progresses. If this happens, we want to work with students to accommodate their needs and make it easy for students to add money to their meal pan. 
Meal Plan Carry-Overs/Refunds
Basically, meal plans carry over term to term, until the end of the academic year. (See below for details).
At the end of spring term, all dining dollars on the student's meal plan are forfeit and non-refundable. These remaining dining dollars are also not transferrable from one student to another.
Campus Dining recommends that each student monitor their meal plan balance throughout the year.
Use the Meal Plan Tracker on your Portal or just ask a cashier for your balance when making a purchase.
If needed, students may apply for a Wolf Bonus Account and request to get this end-of-the-year balance transferred to a Wolf Bonus Account.
Meal Plan Refunds when LEAVING the Residence Halls / WOU anytime in mid-year:
Your meal plan will carry over from term to term. Keep in mind however, that much like pre-paid meals for a conference, a forwarded balance for un-eaten meals is never refunded if you move off campus or leave WOU mid-year. (If you roll over $250 unused dining dollars from Fall term to Winter Term, and another meal plan has been added to your account in good faith for Winter term and then in Winter term, a decision is made to leave housing/WOU. The new meal plan for Winter Term will be refunded (minus any dollars that have been used during Winter term – and charges for the first 10 days of the term as needed, as well as any day charges for a departure after the first 10 days of the term). But, your $250 rolled over meal plan dollars from Fall term, are not refundable.)
Meal Plan Carry-over when STAYING in the Residence Halls / WOU for the entire year (required for First-Year students):
Lets say meal plan #1 is selected for Fall Term. MP #1 provides $450 to use for meals and snacks September through the closing of the halls in December. A total of 12 weeks – generally around 84 days.
Now let's say, only $200 of those "dining dollars" was actually spent during Fall Term.  The remaining balance of $250 will roll into Winter term for this student. That means that the remaining balance of $250, PLUS a NEW meal plan #1 – an additional $450 will roll into this account for Winter Term, giving this student a balance of $700 to spend for food for Winter Term.
At this point there needs to be a conversation. Clearly, this student is not eating enough to use up their meal plan dollars. WHY? With the exception of housing where cooking facilities are provided within each unit, such as the Arbor Park apartments, state regulation prevents WOU from housing students with no meal plan. As such, a petitioned request to not have a meal plan must be denied. See some possible scenarios and suggestions to use meal plan balances below.
The student has dietary restrictions that prevent them from eating on campus. See the Campus Dining Director. They will work one on one with students to help find selections that can meet dietary requirements.
The student travels home to eat on weekends. This is the student's choice. Meal plans provide money to eat on campus all days of the week. Perhaps the student should consider working with Dining to purchase a couple of meals or food items to go to take home to share with family.
The student has a friend who lives off campus and often eats with them. Again, a student choice. The student could consider taking their  friend out to a meal at Valsetz. They could treat their friend or  roommate/friends to coffee at Allegro. Use Nutri-slice to order pizza or other food to go and take that to their friends' place share a meal with them.
Regardless of the reason for un-used meal plan balances, each student is responsible for tracking their meal plan – and changing the meal plan if that is indicated. Remember,  these meal plans are like pre-paid meals for a conference, a forwarded balance for un-eaten meals is never refunded if you move off campus or leave WOU mid-year.  See below for information regarding Meal Plan usage by week to see that meal dollars are optimally used each term and throughout the year.
If you have any questions about meal balances during or at the end of the academic school year, email Campus Dining – dining@mail.wou.edu or visit our campus dining office at the South Sister Annex.
Food plays an important social as well as physical role in nourishing students and the campus at large at WOU. Campus Dining wants to work with all of our community to find dining options that suit diverse tastes and fit the needs and lifestyles for all. Stop or email – we are here to help!