Home » Flexible Licensure Pathways
Flexible Licensure Pathways
Discover the right path for you
Become a licensed teacher and make an impact on Oregon children and their families in PK-12 classrooms. The Flexible Licensure Educator Pathways (FLEX) are designed to support you and your community through a Grow-Your-Own model where you are able to earn a high-quality education degree from a Top-Tier Educator Preparation Program while remaining in the community where you live and thrive. If you are a place-based, working professional, or if you are currently working on an emergency teaching license, then the FLEX program may be right for you.
(See Brochures of Program Options: Undergraduate in English; en Español; Graduate in English; en Español)
Study where you already live and thrive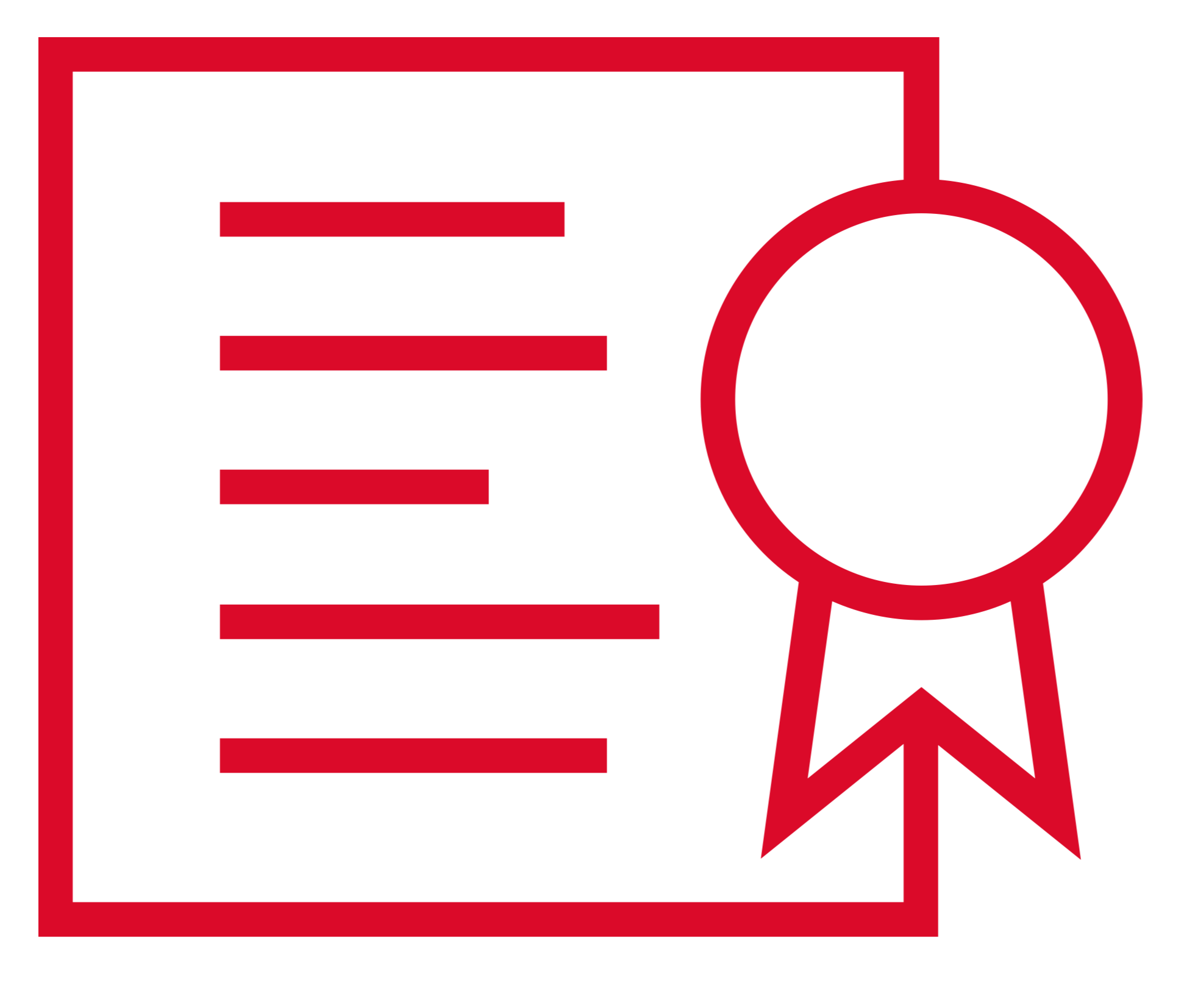 Add endorsement programs to your license
Enroll as a part-time or a full-time student
Western Oregon University offers equitable opportunities for you to participate in place-conscious degree completion as you earn an initial teaching license. Along with teacher licensure, you can also add endorsement programs such as English for Speakers of Other Languages. Classes are offered mostly online with some remote evening and Saturday sessions. You can earn your teaching license in a place-conscious way without having to leave your community or disrupt your daily life.
Western remains the largest preparer of newly licensed teachers in Oregon for the second year in a row. WOU graduated 14.56% of all licensed teachers in the state of Oregon in 2021-2022. According to the Oregon Education Public Employment Report from 2022, WOU-prepared teachers also remain in their jobs in Oregon schools and classrooms longer than educators prepared at other colleges and universities.
According to the data, when compared to 3-year retention rates across the State (Oregon Equity Reports, 2020 & 2019), Western prepared teachers are 16.87% more retained.
Hear what former students have to say…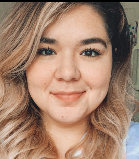 "I chose to join the FLEX Cohort because I was ready to obtain my teaching license. I have been encouraged by faculty during the hardships of balancing teaching full time, classes on Saturdays, and taking care of my mental health. This year The FLEX cohort has given me the opportunity to grow as an educator, to learn new teaching methods, and the FLEX Program has given me the opportunity to meet amazing peers and educators."
Maria Isabel Martinez, current Elementary Teacher
February 2023
"I am a single mom of two boys. I am the provider of my household and being part of the FLEX Cohort gives me the opportunity to keep on working and providing for my family as well as continuing my education to become a teacher. Attending the University was never in my plans, because English is not my first language, and I have never seen someone in my family attend a University.
One of the things that I enjoy most about the FLEX Cohort is that we only had a couple of meetings on a Saturday. And on my free Saturdays, I was able to enjoy being a mom. The program gives you lots of flexibility if you are accountable for managing your own time.
I am a first-generation college student. I am a single mom. And many times we are scared to do things, but encourage you to look for your opportunities. If you're working full time, if you're a single parent, or if you live far away from the University, the FLEX Cohort is the perfect opportunity for you to consider becoming a teacher."
Loreli Estrada Correa, current ELD and Spanish Teacher
March 2023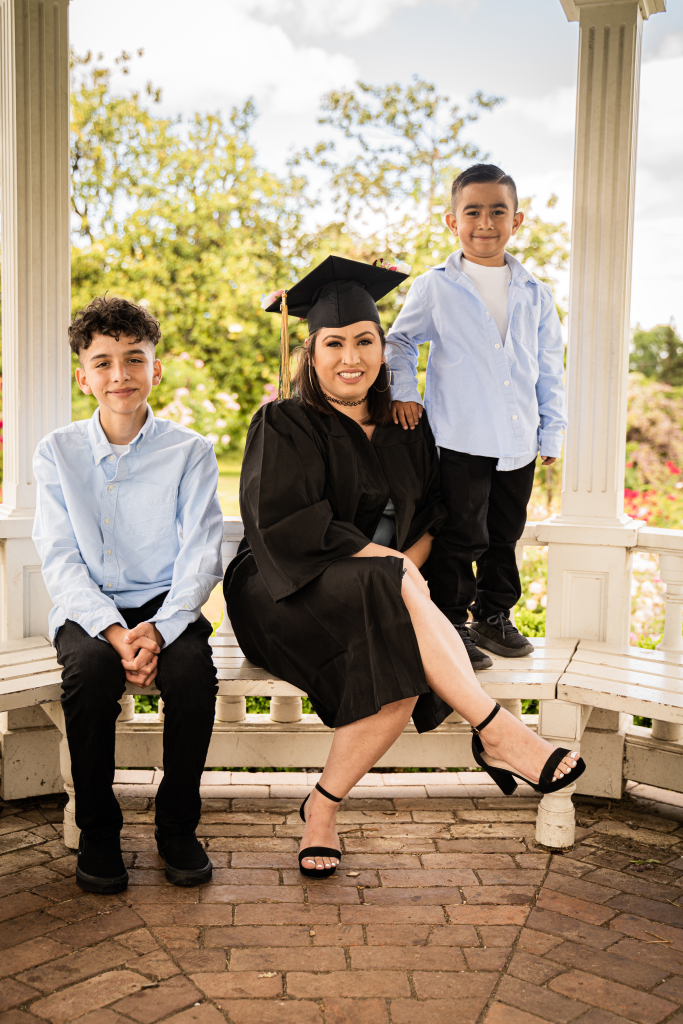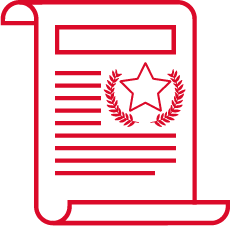 EARNING YOUR FIRST BACHELOR'S DEGREE?
WOU offers three flexible degree completion options for students interested in the teaching profession. Students complete their first 90 credits at their chosen Oregon community college and transfer to WOU for their last 90 upper division credits.
WOU works closely with Oregon community colleges to prepare future elementary teachers. If you take classes full time, you can earn your Bachelor's Degree in Education and become a licensed elementary teacher in four years. You also have the option of being a part-time student for the first three years of your degree.
Through the Associates of Arts Oregon Transfer Degree (AAOT) or the Oregon Transfer Module (OTM). You can take your first 90 credits of classes that fulfill 100/200 level coursework and general education requirements at your local community college.
The final 90 credits through WOU are offered online, during the evenings, on Saturdays, online and hyflex, and through place-conscious hybrid courses.
Earn an endorsement in special education while also pursuing your early childhood/elementary education license.
You will finish the special education K-12 concentration the summer after your senior year. You can also complete this concentration through online classes.
Students in the early childhood/elementary education program can choose the special education concentration beginning in the Fall of 2022.
Prepare for a career in early intervention and early childhood special education services with children birth to 5 years old in cross-disciplinary settings.
Take courses classes online and on Saturdays to accommodate students balancing work and family.
This is the first and only undergraduate program in the state of Oregon to earn the SPED: Early Intervention/Early Childhood Special Education License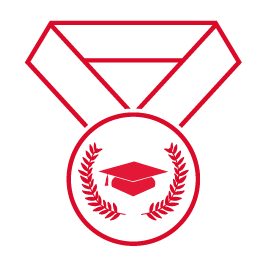 ALREADY HAVE A BACHELOR'S DEGREE?
WOU offers three flexible pathways to licensure for students who have already earned a bachelor's degree.
In our M.A. in Teaching Program, you will earn your preliminary teaching license, including one single subject endorsement, in two years. This program is mostly online with the exception of two face-to-face Saturday classes each term with your cohort. Cohorts begin every Fall and Winter with applications due in late Spring for Fall and mid-Fall for Winter. The Elementary (multiple subjects) endorsement is not available in this program.
Our Flexible Special Education program can help you earn your Special Education license and/or endorsement in under two years. The program is offered in a cohort model and you will meet with your instructors and cohort "virtually." All classes are online. A new cohort begins every Fall. The priority application deadline is April 1st. Completed applications received after the priority deadline may be considered until the cohort is full.
In our Post-Bacc program, you join our undergraduate students as they head into the Professional Licensure Program which will require you to complete 40-45 credits over the course of three quarters. Prior to starting the Professional Licensure Program students must have their transcripts evaluated for their desired content area. This will indicate if prerequisite content coursework is required.
Contact an advisor to learn more.
Years 1 & 2
These first 90 credits will be completed at your local community college and will cover basic introductions to the field of education building a foundational knowledge of what it means to be an educator. Your courses and timelines should be planned according to our transfer guide specific to your local CC found here. 
Year 3
Following your transfer to WOU, you will begin your educational methods and content development courses where you will begin to develop ideological clarity as you learn about research-based instructional principles for effective teaching and learning.
Expand for Sample Year 3 Schedule
This is only a sample of the first 45 credits through WOU in the Elementary Initial Teaching Licensure pathway to show which courses are typical if taken and completed in one academic year and if electing to also earn an ESOL endorsement.
These courses can be stretched out over the course of two, three, or even more years to best meet your needs as a working professional. Courses are taught online in asynchronous and synchronous evening/weekend formats and the schedule of courses taken can be individualized.
First 45 credits, 1 year (12-15 credits (3-4 classes) per term)
First 45 credits, 2 years (6-7 credits (2 classes) per term + summer)
First 45 credits, 3 years (3 credits (1 class) per term + summer)
Please meet with an academic advisor to design your individualized schedule that meets your needs and local context requirements. NOTE: Depending on a transcript evaluation, you may need additional courses not listed below.
Fall
ED 224: Creative Arts in Early Childhood
ED 260: Sociopolitical Foundation of Diverse Classrooms
ED 352: Elementary Social Studies
ED 373: Intro to Curriculum and Assessment
ED 481: Introduction to ESOL and Bilingual Education
Winter
ED 322: Motor Development and Movement
ED 325: Elementary Science Methods
ED 374: Teaching Writing in the Elementary Classroom
ED 376: STEM Investigations for Elementary Teachers
(Optional) ED 482: Foundations of ESOL and Bilingual Education*
(Optional) ED 483: Culture, Community and the ESOL and Bilingual Classroom*
Spring
MTH 396: Elementary Problem-Solving
ED 349: Language Knowledge for the Critical Elementary Practitioner
ED 353: Elementary Math Methods
ED 464: Families and Community Involvement
(Optional) ED 491: Curriculum Models, Instructional Approaches, and Assessments for English Language Learners
x
* for ESOL candidates only
Year 4

Professional Licensure Program
You will begin your student teaching experience as you join the official licensure education core. This year, you will hone your pedagogical practice through purposed lesson design, and intentionally scaffolded instructional frameworks with meaningful assessment in mind, all while cultivating your practice as a reflexive practitioner.
Expand for Sample Year 4 Schedule
This is only a sample of the second 45 credits through WOU in the Elementary Initial Teaching Licensure pathway to show which courses are typical if taken and completed in one academic year and if electing to also earn an ESOL endorsement.
Courses are taught online in asynchronous and synchronous evening/weekend formats.
Please meet with an academic advisor to talk through any specific scheduling needs and local context requirements. NOTE: Depending on a transcript evaluation, you may need additional courses not listed below.
Fall
ED 404: Clinical Experience Seminar I
ED 411: Clinical Experience I
ED 446: Environments for Diverse Learners
ED 443: Supporting Language, Literacy, and Culture
ED 418: Assessment, Planning, and Instruction
(Optional) ED 492: Classroom Strategies for English Language Development in ESOL and Bilingual Settings
*
Winter
ED 405: Clinical Experience Seminar II
ED 412: Clinical Experience II
ED 421: Technology Integration
ED 450: Methods for Classroom Management
ED 444: Content Literacy
Spring
ED 429: Clinical Experience Seminar III
ED 498: Clinical Experience III
(Optional) ED 409: ESOL Practicum
*
x
* for ESOL candidates only
How much does it cost?
Tuition, books, supplies, fees, and more: It all adds up! The estimated annual cost is outlined below.

We are here to help you find funding, so please don't let that be a deterrent. While the estimated annual cost of attendance for full time undergraduate students living off campus is approximately $12,000 – $14,235, the average financial aid package awarded to degree-seeking students is approximately $12,180, with over $14,000,000 awarded annually between federal, state, and institutional grants and scholarships. Please reach out early, before February, so that we can help guide you to these resources and options. 
Where can I find scholarships?
Strategies for funding your education may include savings, grants, scholarships, or loans. Find scholarships:
FAQ's Answered by Flexible Pathways Student
Maria José Solis
What made you choose the flexible licensure pathway to complete your teaching license credentials?
The reason that I chose the flexible licensure pathway to complete my teaching credential was because I was a non-traditional student and still had to work. Having weekends to focus on classes was convenient when having to work, do the required hours for student teaching, and completing all the assignments for classes.
What about the flexible licensure pathway specifically made it possible for you to complete your degree?
The flexible licensure pathway made it possible for me to complete my degree as I could work until I needed to and was able to continue my student teaching. My cohort leader and the professor for the flexible pathway program provided all the information needed to make sure I was on track to complete my degree.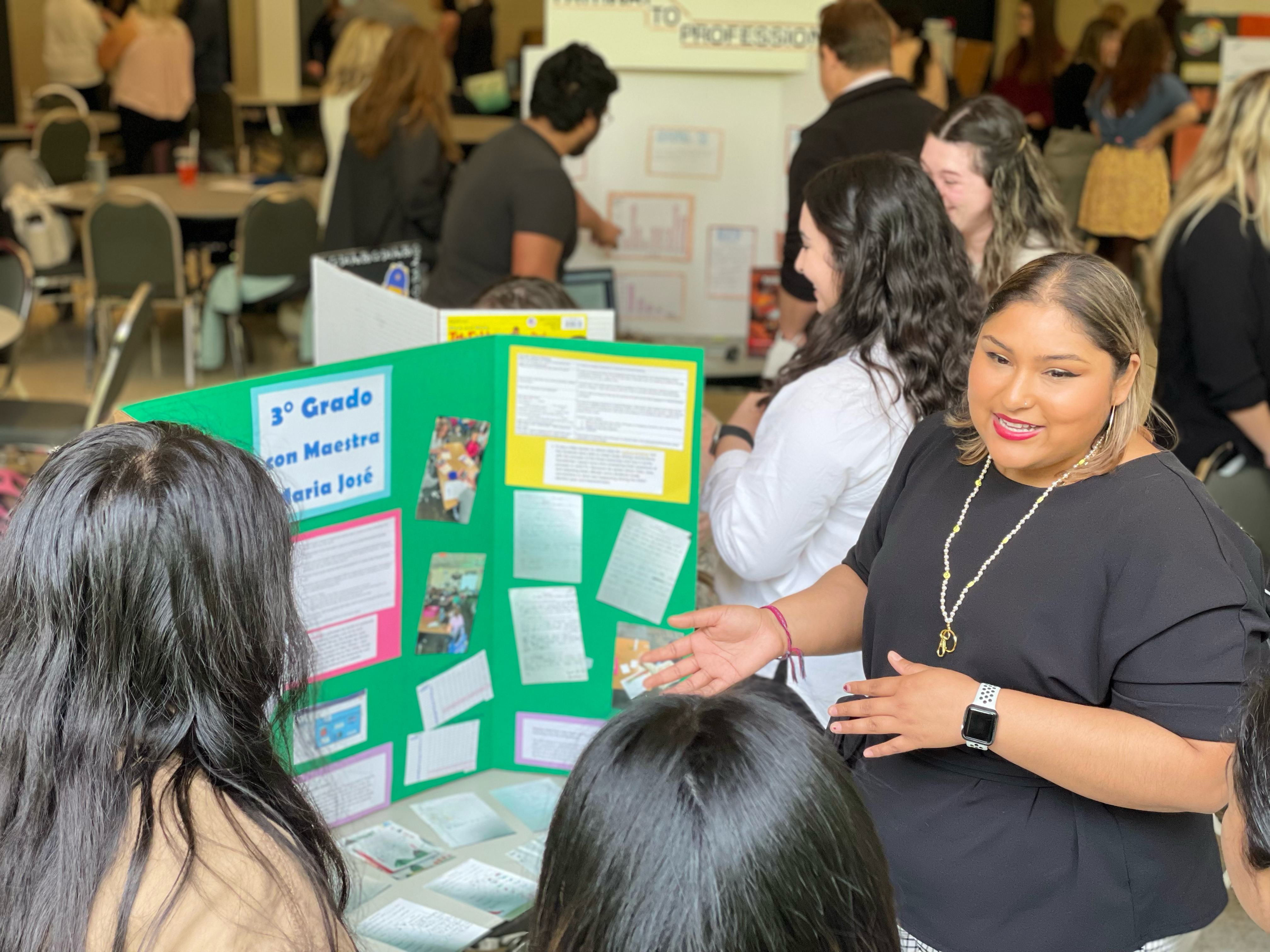 Can you describe which aspects of the program were most helpful to you in supporting your degree completion?
One aspect of the program that was the most helpful was having classes on the weekends and having them be virtual. It was a smooth transition from having to take all virtual classes during the pandemic to being in the flexible pathway cohort and having all my classes be virtual or Hyflex. It allowed me to stay in the grind of online classes. Not having classes on the weekdays or meetings was also nice because I did not have to commute as much as I did before entering the Education Program and having all in person classes.
Is there anything else you think would encourage others that it is possible if they want to earn their teaching license?
Western Oregon University takes care of their students. As a Latinx, non-traditional student, and first-generation student I have had nothing but great experiences here at WOU. I have met wonderful mentors, and professors who really care about their students and will go out of their way to make sure one is successful.
"Preparing educators is one of the strengths of Western Oregon University. This is especially important during times of a state and national teacher shortage. The faculty and staff here provide an inspirational educational experience, and our students graduate incredibly well-prepared to enter the profession and be successful."
"Several core values underlie all our [teacher preparation] work including justice, equity, inclusivity, service, and application of our gifts in the real world. Our shared goals are to improve the world for our communities, the individuals with whom we work, and the world at large."
Apply online today! WOU features rolling admissions, meaning we review applications throughout the year and applicants can select the start term of their choice. More information for Post-Baccalaureate students can be found here.
Priority Deadline: January 15
Scholarship Deadline: March 1