Welcome
The Research and Resource Center with Deaf* communities is housed in the College of Education along with the Divisions of Deaf Studies and Professional Studies, Education and Leadership, and Health and Exercise Science. For over 50 years we have been writing grants to support students in fields such as interpreter training and rehabilitation counseling. Grant awards from the Rehabilitation Services Administration (RSA) and the Office of Special Education Programs (OSEP) allow us to provide over $620,000 each year in stipends and tuition remissions for students in our graduate-level ASL/English Interpreting Program and our graduate-level Rehabilitation and Mental Health Counseling Program. 
News and Announcements
November 5, 2020 • Press Release
WOU Supports Students Studying in Rehabilitation and Mental Health Counseling with $2 Million in Grants. Click here.
---
2021 Online ASL Immersion (Annual Silent Weekend)
---
RRCD Announces Department Name Change with new Mission Statement, Goals and Expansion (2/19/2020)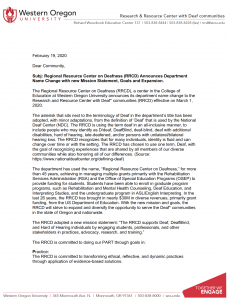 Contacts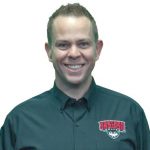 Chad A. Ludwig, MSW, ADAC, OHCI, DI
Director
Research and Resource Center with Deaf* communities
ludwigc@mail.wou.edu | 503-468-5724

Konnie Sayers
Grants and Contracts Technician
Research and Resource Center with Deaf* communities
sayersk@wou.edu | 503-838-8444