Transfer Admission
You've already successfully navigated the waters of college for a short trip, and now you're ready to reach your final destination. Western Oregon University can get you there! Learn more about how the credits you've accrued will apply toward your bachelor's degree and about the steps we've taken to ensure WOU makes all transfer students feel welcome.
Transfer Admission Process
At WOU, we work hard to make sure transfer students make the most of the credits they've already earned
Transfer Admission Requirements
Complete 36 or more transferable, college-level credits on a quarter-based system or 24 college-level credits on a semester-based system.
Maintain a minimum 2.25 cumulative GPA in all college-level work.
Maintain good academic, financial and disciplinary standing at all institutions attended.

Submit 

official

 

transcripts from

 

every

 

college or university attended.
Note: Applicants with fewer than 36 transferable credits must submit their high school transcripts or GED scores AND meet freshman admissions requirements
Oregon transfer applicants with a minimum 2.0 cumulative GPA are eligible for admission, if they obtain a:
Oregon Transfer Module (OTM)
Associate of Arts Oregon Transfer degree (AAOT)
Associate of Science Oregon Transfer degree (ASOT)
California transfer applicants can view a list of Transfer Admission Guarantees (TAGs) with various California community colleges here.
Enroll at WOU and your community college to take advantage of what both schools have to offer you! You can combine classes together to have full time enrollment for Financial Aid purposes.
Change of Entry Term
If you plan to begin attending WOU during a term within the same academic year other than the one for which you applied, you must request a change of entry term in writing to admissions@wou.edu. However, if you wish to enroll during a subsequent academic year, you must resubmit the application.
Comprehensive Review
Students who do not meet the regular admission requirements may be asked to submit additional items. Please review our Comprehensive Review page for details.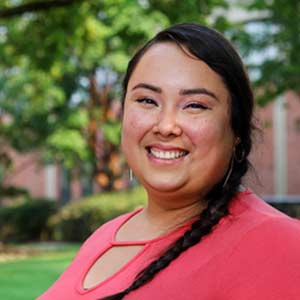 Meet our Transfer Specialist
Briana Navarrete
Assistant Director of Recruitment/Transfer Specialist
A Western Oregon University education is unlike any other because together we succeed
WOU Said Yes!
Admitted Students

Congratulations on your acceptance to Western Oregon University. Whether you are a freshman or a transfer student, this page will help you understand what happens now. It's easy to get started on your successful transition to WOU.
Visit Us
Our 157-acre grounds feature tree-lined avenues, historical buildings, and amazing walkability, so we're pretty happy to show it off. We invite individuals, families and groups to join us for guided tours lead by current students who love WOU as much as you will. Get in touch today to plan your visit!