COE professor to become president of Oregon Association of Teacher Educators
Dr. Melanie Landon-Hays will officially take over as president of the Oregon Association of Teacher Educators (ORATE) in the summer of 2021. 
Landon-Hays, a professor and coordinator of the Master of Arts in Teaching program, will have a two-year term as president of the organization, which puts on a conference for teacher educators from across the state each spring.
As the organization's president, Landon-Hays will lead planning for the conference and work with the ORATE board to review proposals for the conference, establish its theme and send out requests for proposals.
"I'm really excited about this new role.  I've served on the board for the last three years and have really enjoyed meeting the other board members, learning about their educator preparation programs, and helping with the conference," she said.
As president, Landon-Hays will also represent the organization at the national Association of Teacher Educators (ATE) meeting and will work on ATE initiatives with the regional partners.  
"I'm hoping that through this position, I might be able to join more state level conversations about educator preparation in support of the good work that we do in preparing pre-service teachers," Landon-Hays said. 
She added that she hopes to do more work that reaches out to pre-service teachers with supports for their own research, while encouraging them to share their research at the ORATE conference.  
"I would like to be proactive about disseminating these opportunities at Western Oregon University and working with our faculty to encourage students to share their work at the conference."
WOU was well represented at the 2021 iteration of the conference in February: among the presenters were COE faculty Kara Gournaris, a professor in the Deaf Studies & Professional Studies program; and Division of Education & Leadership faculty Jaclyn Caires-Hurley, Ken Carano, Andrea Emerson, Courtney Fortenberry, Rachel Harrington, Jessica Dougherty, Carmen Cáceda, Joshua Schultze, Kristen L. Pratt, Maria Dantas-Whitney, Katrina Hovey, Anne Ittner, Xiaopeng Gong, Yuliana Kenfield and Ya-Fang Cheng. Hover, Mark Girod, dean of the COE, and Marie LeJeune, DEL chair, were also on the planning committee for the conference.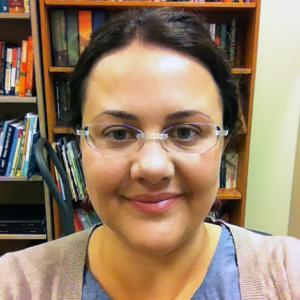 "I'm really excited about this new role.  I've served on the board for the last three years and have really enjoyed meeting the other board members, learning about their educator preparation programs, and helping with the conference."