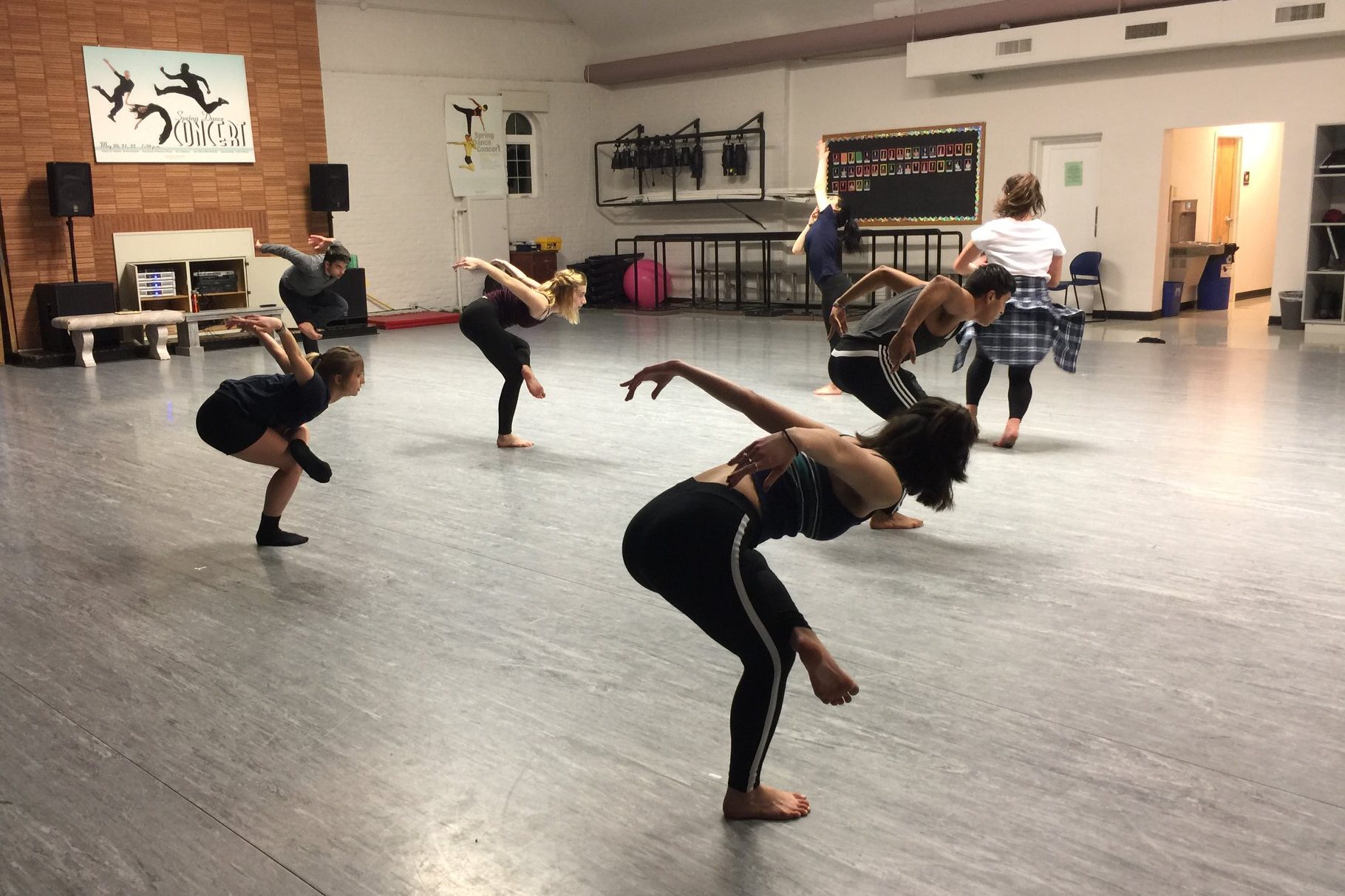 From ballet and modern dance, to hip hop, jazz, tap, ballroom, and hula, we immerse our students in diverse movement traditions and techniques.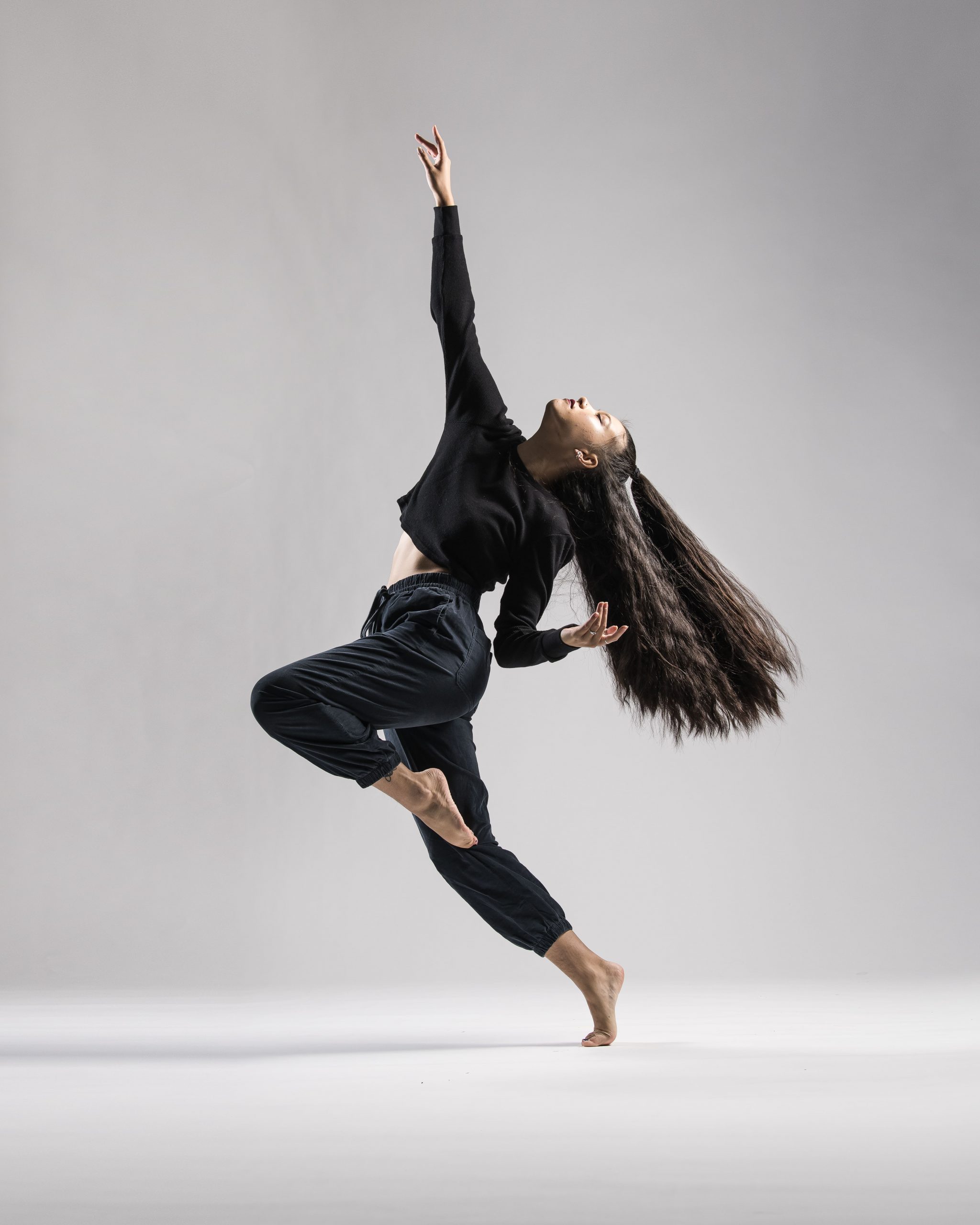 Our theory courses give students a historical and social context for understanding the ways dance communicates as a cultural, personal, and political expression. These courses empower students to think critically, speak articulately, advocate effectively and contribute substantially to the community.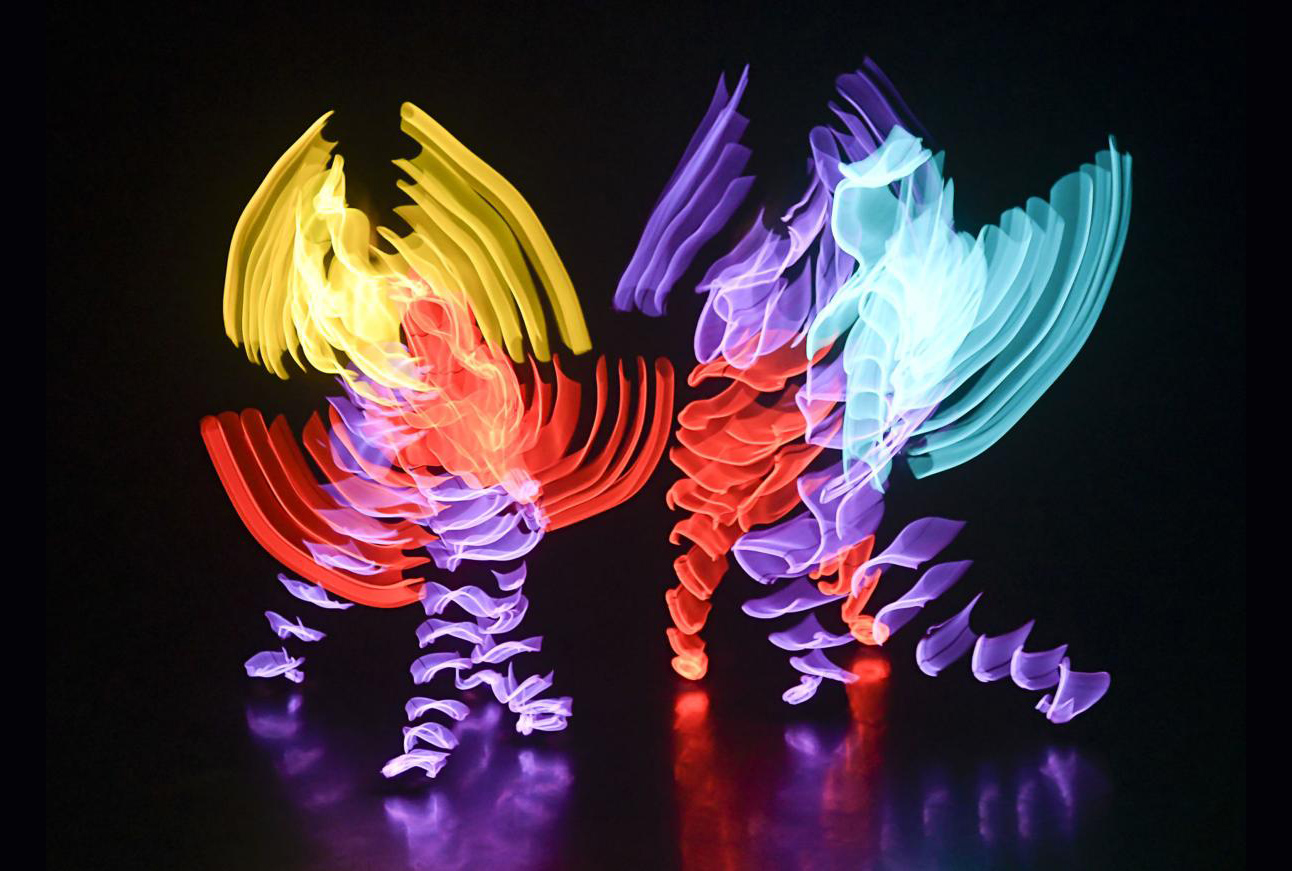 Technology
to Transform You
Western Oregon University is the leading university in the Pacific Northwest to work with the latest technology including immersive fiber optics, dances with drones, and dance for the camera.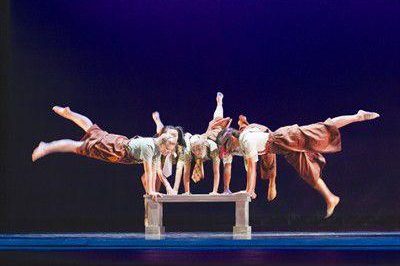 Guest Artist Programing
to Connect You
Nationally and internationally renowned guest artists teach a regular series of dance classes and workshops for our students. The guest artists choreograph works on our students that are performed in our annual Spring Dance Concert and on tour to the American College Dance Association regional conference.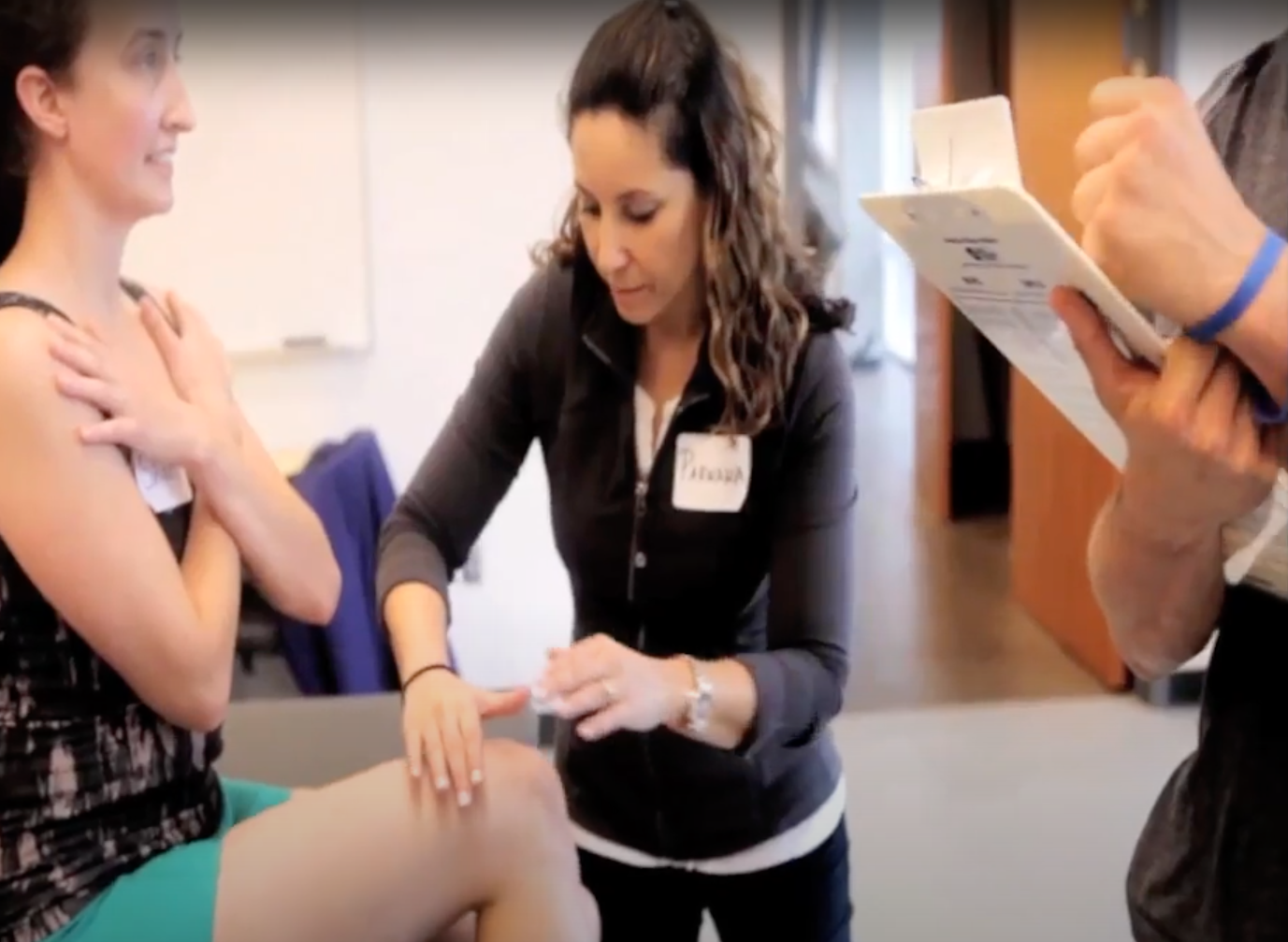 Dance Science
to Equip You
We are interested in dancer wellness training and research. Each year we participate in an national dancer wellness screening and our students take coursework in conditioning for dancers, wellness for dancers, and kinesiology for dancers.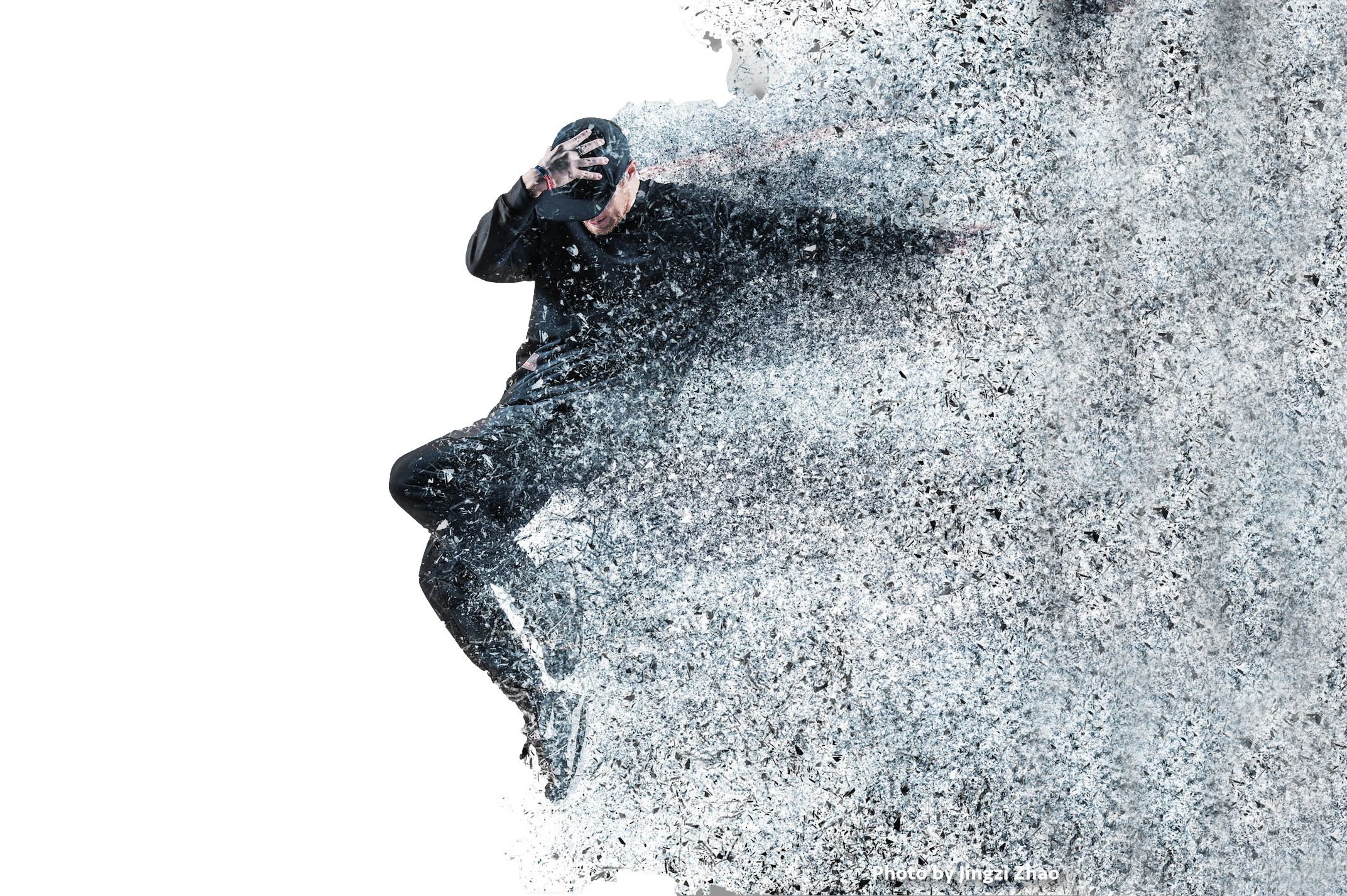 Choreography
to Inspire You
Our talented dance majors and minors have multiple opportunities to express themselves through the creation of choreographic work. We cultivate dance artistry with exciting and diverse programs of new works.
BA Degree in
DANCE
We offer the opportunity to develop knowledge, skills, understanding, and appreciation of dance as an art form. The curriculum is structured to develop well rounded dancers who are prepared for careers in dance or any field that requires creative thinking, problem solving, collaboration, and innovation. 
Minor in
DANCE
WOU students who are working toward a degree in another discipline can choose to add a minor in dance to continue their dance training and to be part of the dance community including multiple performances each year.
Add a Concentration in:
Dance Choreography and Performance
 The concentration in choreography and performance allows students to specialize their degree as performing artists. It focuses on dance composition and performance skills, musicianship and concert production, and provides several opportunities to choreograph and perform in independent projects as well as in our annual dance concerts.
Add a Concentration in:
Dance Film and Technology
 The concentration in Dance Film and Technology allows students to focus on the innovative ways dance utalizes technology to enhance performance. This concentration focuses on choreography for the camera, and provides hands-on experience creating screendance works, and immersive trining in STEM technologies that support multi-media dance performance. 
Add a Concentration in:
Dance Education and Studio Management
 The concentration in Dance Education and Studio Management allows students to specialize their degree towards inspiring a new generation of dancers. Understanding methods for teaching dance as well as the busness savvy for successfully managing a dance studio or a dance company.
Paid Internships 

WITH
Rainbow dance theatre
WOU's Resident Dance Company
Selected students have the opportunity to earn a degree in dance while gaining professional experience by touring and performing with Rainbow Dance Theatre. This professional dance company performs nationally and internationally to places like: Canada, China, Costa Rica, El Salvador, Japan, Mexico, Singapore, Thailand, the Philippines, and Taiwan. The company celebrates the diversity of its company members as well as the divers cultural influences in the choreography that fuses West African Dance, Haitian Dance, Hip Hop, Martial Arts with American Modern Dance. 
As WOU's resident dance company it offers our students a window into the life of professional dancers and current dance majors and minors are able to take company class and observe rehearsals on a weekly basis.
Additionally, many WOU dance alumni have found employment with Rainbow Dance Theatre after graduation.
Dance Performances and Events

Dance Scholarship Audition Day
Interested in becoming a dance major or minor? Come to this audition and learn about what life is like as a dance major or minor at Western Oregon University.
You do not need to prepare a solo for this audition. Just come prepared to take a contemporary modern dance class.
Can't make it to the audition? Contact Tim Cowart, head of dance at cowartt@wou.edu
Spring Dance Concert
Friday, May 11, 12, 13, 2023 Rice Auditorium 7:30 pm 
$14 General | $8 Students | $10 WOU Fac/Staff/Seniors/Veterans | WOU Students FREE with ID
Buy tickets here, or by calling the box office 503-838-8462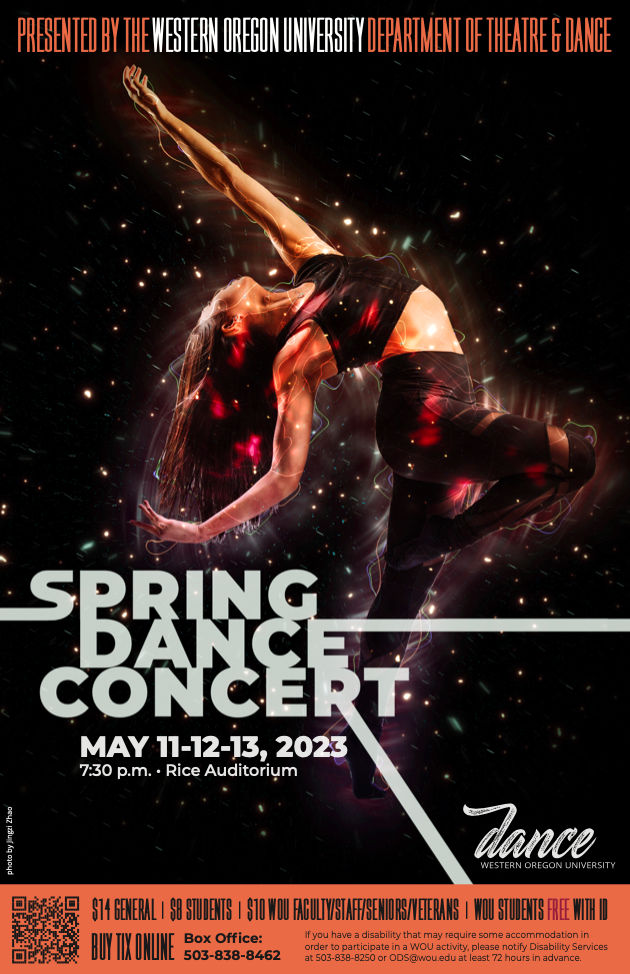 Jump Start Dance Concert
We jump into the new school year with our annual Jump Start Dance Concert! Our professional dance faculty members choreograph and perform works they have been creating over the past year. We also invite our alumni and guest artists to preform works from their repertory and to get the year started with a leap.
A site-specific dance performance event for the entire campus community. Take a walking tour around our beautiful campus while enjoying the fall weather and live dance performances choreographed by our advance composition students and performed by our talented dance majors and minors.
Fall Informal Dance Concert
Our fall term concludes with an exciting free performance in our Maple Hall Theatre. This concert is produced and crewed by the Dance Production class and with dances choreographed by our advanced choreography class and performed by students in the dance program. It is a great way to see some of the great work being produced by our emerging dance artists. 
Symposium for Dance Research and Applied Social Action
This cross-disciplinary event occurs every winter term and is about the ways dance is being used to bring people together to help improve their lives and work on social problems that are important to various communities. Annually the dance program partners with one of the other disciplines on campus (e.g. criminal justice, environmental studies, sustainability, technology, gerontology, ASL, etc.) to examine an issue of importance to identify potential solutions and take action to create positive change. 
Winter Screendance Concert
A screening of award-winning dance films from around the world. We curate an evening of short films (less than 15 minutes each) that use dance as the driving force of the film. Screendance is a hybrid artform that blends the best elements of dance and cinema. These dances are choreographed specifically for the screen environment and careful attention is paid to camera movement and frame design. 
American College Dance Association
Every year our students attend and perform at the American College Dance Association's (ACDA) Regional Conference. ACDA is a national organization of university dance educators who sponsor regional and national conferences to recognize and encourage excellence in performance and choreography in higher education. Participation in this event provides an opportunity for college dancers to have their works adjudicated and critiqued by established professionals. 
Spring Dance Concert
The annual Spring Dance Concert showcases
guest artist, student and faculty choreographed works in
an exciting blend of new and innovative choreographic premieres. This not-to-be-missed event held every year on the magnificent Rice Auditorium stage features the versatility and skill of our talented dance majors and minors.
CONTACT US
Dance Program
503-838-8340| e-mail: killipl@wou.edu| Monmouth Campus Location: Rice Auditorium
Office Open Monday – Friday from 9am – 3pm
(Links Coming Soon)
A Day in the Life of a Dance Major
Common Q & A's
Dance Curriculum
Student Handbook
Dance Alumni
Gallery of Student Videos
Gallery of Performance Photos
Dance Program Facilities
Social Media Links
Careers in Dance