Wolf Ride
University use of the WOLF Ride van
WOU's Safe Ride Program (WOLF Ride) has one (1) van that may be used by campus affiliated groups during times that WOLF Ride is not providing service.  The van is equipped with a rear-wheelchair lift making it wheelchair-friendly and suitable for 8-passengers.  If the lift will not be needed, the van can accommodate 12-passengers.
Given the COVID-19 pandemic, all reservations must adhere to State, local, and University travel and transit policies.
Rental Rate and Fee
$40.00 per day plus fuel for use of the van will be charged.
Payment will be made by a WOU Journal Voucher at the end of each academic term.
Reservations
Reservations are subject to availability.  Reservations that interrupt or delay regular WOLF Ride service may not be approved.  Reservations are on a first come, first serve basis.
Reservations can be made: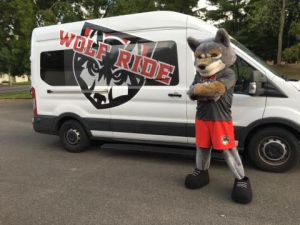 Online – Fill-out the form (below)
In person – Room 203, Werner University Center – fill-out a paper form
Email – studentaffairs@wou.edu – provide complete information for reservation request (see below)
Reservation requests must include the following information:
~Departure and Return: Dates and Times
~Destination: City and State
~Driver(s) Full Names (must be pre-approved to drive by Campus Public Safety and have completed the van safety test)
~WOU Account Index for payment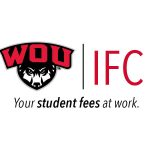 ~Contact Information of person making the Reservation: Name, Email Address, Phone Number
~WOU Department or Club Name
~Whether or not use of the wheelchair lift is requested
Reservations will be confirmed via email.
Reservation Request Form (University or University-sponsored Use Only)
NOTE: Van is unavailable for reservations Dec. 13 – Dec. 23, 2021
Getting the Key
Keys will be picked up at the Office of the Vice President for Student Affairs, WUC Room 203, before 5:00 p.m. Monday through Friday.  If travel is on a weekend, the keys must be picked up prior to 5:00 p.m. on Friday.  The van is located in Parking Lot H on the North side of Werner University Center.
Costs Not Covered by WOU Safe Ride Program
The following costs are the responsibility of the driver and driver's department:
All fines or traffic violations incurred by drivers of the van.  University funds may not be used for payment of fines/violations.
Vehicle damages resulting from an accident, abuse, neglect, or the driver's intentional action.
Vehicle damages in the event of an authorized or unauthorized use.
Costs relating to other-than-normal vehicle expenses including towing charges, vehicle damage, and accessory installations and removals (radios, etc.).
Cleaning accumulated food, paper, etc. left by users, including detailing, if necessary.
Payment of any deductible associated with an employee's accident that occurred while driving the van.
For a complete list, refer to the WOLF Ride Internal Use Policy.
Canceling a Reservation
If your plans change and you need to cancel a reservation, please call 503-838-8221 or email studentaffairs@wou.edu to notify the Office of the Vice President for Student Affairs.  Cancellations made with less than 24-hour notice may be charged the full rental rate.
Policy for Internal Use
For more information on the use of the WOLF Ride vehicle, refer to the WOLF Ride Internal Van Use Policy.
The WOLF Ride program is operated by the Office of the Vice President for Student Affairs and is funded by the student incidental fees.  
Contact information:
Office of the Vice President for Student Affairs, Room 203 of Werner University Center
Email us at studentaffairs@wou.edu
Call us at 503-838-8221.