WOLF Ride
Monday-Friday | 5pm-10pm
WOU's Safe Ride Program
The mission of WOLF Ride: WOU's Safe Ride program is to provide a complimentary and reliable shuttle service to students of Western Oregon University who would otherwise walk alone at night and risk their safety or possible assault. WOLF Ride provides a safer environment for all students by increasing public awareness of our services and the dangers of assault.
Announcement:  WOLF Ride will *resume spring term service on Wednesday, April 1, 2020. Opened Monday through Friday, 5pm – 10pm. To request a ride, please call 503.428.7238.
Conditions: During spring term operations, WOLF Ride has established the following conditions effective April 1, 2020:
No more than one (1) individual per trip or request.
Limit requests for only essential needs.
Pick up/drop off locations limited to grocery stores, pharmacies, banks, restaurants (take-out), Arbor Park, or residence in Independence or Monmouth.
*NOTE: given the State of Oregon and University's effort to reduce the spread of COVID-19, WOU students are encouraged to stay home. While WOLF Ride will be operating, we encourage you to only request a WOLF Ride trip for essential needs. Lastly, WOLF Ride may re-evaluate closing operations as directed by the State of Oregon and University leadership. We thank you for your understanding.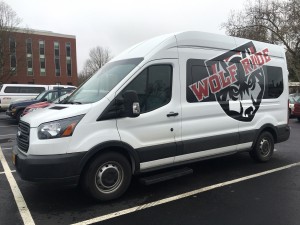 Service:
The WOLF Ride program is operated by the Office of the Vice President for Student Affairs. Students can call 503.428.7238 during service hours to request a ride between the hours of 5:00pm and 12:00am, Monday through Sunday (not applicable spring term 2020). Ride requests are taken on a first come, first served basis (there is no "route"). There is only one van. The WOLF Ride van is equipped with a wheelchair lift. If you call prior to operating hours or the driver cannot take your call, please leave a message stating the following:
Your name
Location at which you would like to be picked up
The time you would like to be picked up
A number at which you can be reached (the driver will call to confirm your ride upon receipt of the message)
Be prepared to tell the driver whether you are alone or how many students are in your group.
When you get into the van, be prepared to tell the driver your destination and your V# (WOU student ID number)
To request a ride, please call 503.428.7238.
You must be a current WOU student.
Rides are First Come, First Served
FREE SERVICE FOR WOU STUDENTS
Special Rides:
Spring Term Finals Week/Spring Term Special Rides: Students can request a ride to and from Salem, OR ($15.00 cost per trip). If you would like to request a ride during Winter Term finals week (June 10-12, 2020), please complete our online request form or stop by the Vice President of Student Affairs office (WUC 203) for assistance. Reservation deadline is June 5, 2020.
NOTE: payment must be received to confirm request ride. Payments can be made in cash or check. No refunds for cancellations.
Approved Use of WOLF Ride:
Transportation to/from the grocery store
Transportation to/from a restaurant
Transportation to/from WOU campus
Transportation to/from seeing a movie
Transportation to/from a residence within WOLF Ride boundaries
WOLF Ride is not to be used as a designated driver service.
Intoxicated students will be refused service.
Link to Request Rental:  University use of Van
If you have questions regarding the WOLF Ride program (no ride requests), please call the Office of the Vice President for Student Affairs at 503.838.8221.