Voting
Learn more about how to register to vote in Oregon. For detailed information, visit the Oregon Secretary of State Voting & Elections website.
IMPORTANT DATES
Election Day: Tuesday, May 16, 2023, 8pm
Registration Deadline: On or before Tuesday, April 25, 2023
How do I Register to Vote in Oregon?
General Elections Information
When is Election Day?
Ballots are due by 8pm on Election Day (May 16, 2023) and must be received or mailed with a valid postmark.
When Will I Receive My Ballot?
You should expect your ballot and voters' pamphlets by mail two – three weeks before Election Day.
If you are under the age of 18 years, you will not receive a ballot until after your 18th birthday.
Where Are Ballot Drop Boxes? What is the Postmark Rule? How Does Voting By Mail Work?
Ballot Drop Box
A drop box is available in the Werner University Center (WUC) 2nd level, adajcent to the Information Desk. For more Oregon drop box locations, contact your local county elections office.
Postmark Rule
Ballots mailed on Election Day are allowed to be counted, even if they are received up to seven days after Election Day.
Voting By Mail
For over 20 years, Oregon has been using vote-by-mail. You can mail your ballot on Election Day, as long as it is picked up or postmarked by the Post Office by 8pm.
How Can I Check the Status of My Ballot?
You can track your ballot online using the My Vote website. Additionally, some county election offices can notify voters via text, phone, or email. Contact your local county elections office to learn more.
Voting Information for Students
The Oregon Secretary of State has provided detailed information for college students, such as what is the difference between a campus residential address and mailing address, out-of-state voting, absentee ballot, and more. Visit their Student Voters website to learn more about voting as a student.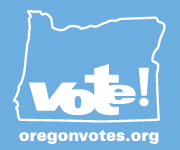 Contact Us
Office of the Vice President for Student Affairs 503.838.8221 | studentaffairs@wou.edu