Financial Aid Requirements
Financial Aid Requirements
Students interested in receiving federal student aid will need to complete the Free Application for Federal Student Aid (FAFSA) for each school year that they wish to be considered for federal aid. Federal student aid includes grants, work-study, and loans (student and parent loans). Therefore it is necessary to file a FAFSA if a parent wishes to apply for a Direct Parent PLUS loan to help cover the educational costs not paid for by the student's financial aid award.
Confidential Information
Release of Information
Federal privacy regulations do not allow student information to be shared without the student's consent, so students must complete a Release of Confidential Information form to allow their financial aid information be shared with parents or other individuals. This form is located on the Financial Aid Forms section of the student's Portal home. The release of confidential information is only valid for one academic year.
PLEASE NOTE: Accounting and Business Services (ABS) does not send bills to parents/guardians or communicate with parents/guardians directly. Students are responsible for their WOU charges, and any financial information must be passed from student to parent/guardian. ABS employees may talk with parents/guardians only after the student has completed a Release of Confidential Information form each academic year. Even after the form is signed, ABS does not initiate contact with parents/guardians.
Parent PLUS Loan
Parent PLUS Loan
Apply for a 23/24 Federal Direct PLUS Loan starting April 1, 2023.
The Parent Loan for Undergraduate Students (PLUS) is a federal loan for parents to borrow on behalf of their dependent students. The Parent PLUS Loan has a moderately low fixed interest rate. For parents to be eligible to borrow this loan, students are required to be enrolled at least halftime (6+ credit hours). Parents must be a U.S. citizen or an eligible non-citizen and pass a credit check. For more information and to apply visit https://studentaid.gov.
The maximum amount a parent can request in a PLUS Loan is the student's cost of attendance minus any other Financial Aid and/or scholarships they are awarded. PLUS Loans do not become a final part of the award unless a parent chooses to apply and is approved for the PLUS Loan.
Students must be offered an official award notification before a PLUS loan application will be processed. During the application processes parents must indicate the amount of PLUS loan, and the payment method you wish to use.
Remaining funds, after a student's account balance has been paid, can be disbursed to either the student or to the parent. This is an option that parents select during the application process.
Interested in Borrowing Parent PLUS Loan for 2023-2024?
Go to https://studentaid.gov no earlier than April 1, 2023.
Click on "Parent" tab.
Click on "Apply for a PLUS Loan".
Log in with your FSA ID and password.
If your application is approved, complete a Master Promissory Note for the PLUS Loan.
Parent applicants must log in using their own FSA ID and password.
Do not use the student's FSA ID and password to apply for a Parent PLUS Loan.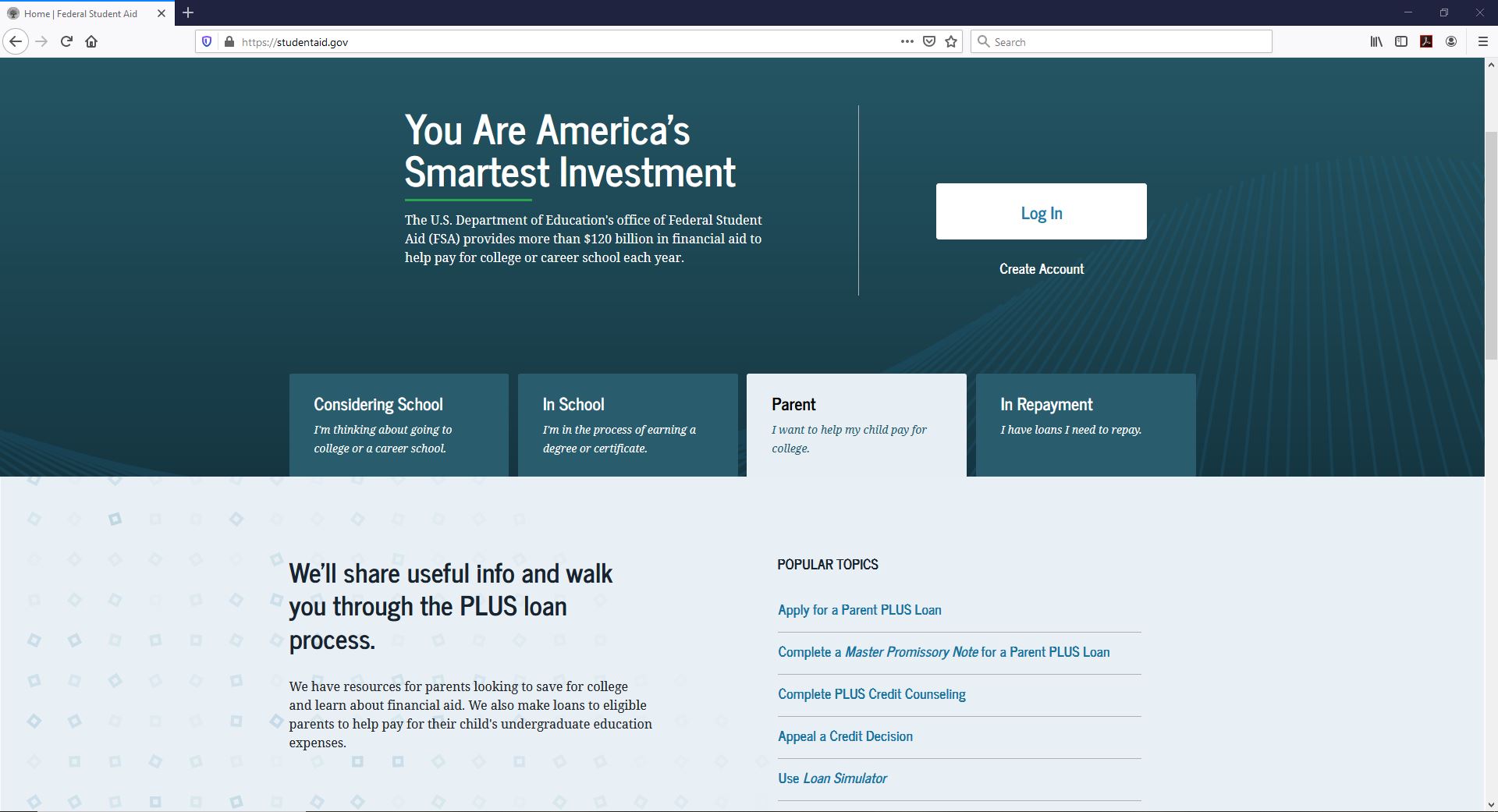 Resources
Resources
Studentaid.gov provides in-depth information on federal student aid programs, applying for financial aid, and repaying student loans.
FAFSA on the Web is where students may file the Free Application for Federal Student Aid (FAFSA®). 
Contact
Financial Aid Office
toll free 1-877-877-1593 | or e-mail: finaid@wou.edu | Location: Welcome Center 140