Dance Program
At Western Oregon University, students work with professional faculty in a supportive environment to develop knowledge, skills, understanding, and appreciation of dance as an art form that can enrich and inform the quality of life. We encourage artistic development, education, cultural enrichment and intellectual growth in the field of dance.
The B.A. degree in dance and the minor in dance both include academic courses, performance opportunities and choreographic experiences geared entirely for the undergraduate student seeking a career in dance or in a dance related field. The curriculum is structured to develop well-rounded dancers with a solid foundation in modern, ballet, jazz and hip-hop.
Additional coursework includes: Wellness and Conditioning for dancers, Kinesiology, Dance Improvisation, Composition, Dance Production, Dance Teaching Methods, Dance History, and Dance Partnering.
For an additional 6 credits students can add a concentration in:
Dance Education and Studio management 
Dance Film and Technology 
Dance Performance and Choreography
As part of the Department of Theatre and Dance and the Division of Creative Arts, dance students have opportunities for performance in plays, musicals, and faculty and student projects. Students also have opportunities to learn and practice their art in collaboration with students and faculty from the other arts disciplines. Additional performance and choreographic opportunities include student choreography for both formal and informal productions, senior thesis projects, repertory ensemble performances and annual dance concerts.
Regionally and nationally renowned choreographers annually set repertory works, historical works or create new works, and teach dance workshops for WOU dance majors and minors.  
(dates are subject to change)
Fall Term:
September 24 Dance Placement Audition 10-3PM
October 1 Jump Start Dance Concert 8 pm
October 28th – Dance Out Day – our annual site-specific outdoor dance concert.
December 3 – Fall Informal Dance Concert 5pm & 7pm

Winter Term
January 8 – Spring Dance Concert Auditions
January 15 – Scholarship Auditions for WOU
January 15 – Student Improvisation Dance Concert Fundraiser
February 9 – Symposium of Dance Research and Social Action Event hosted by Corrie Cowart
March 23-26 – Possible ACDA travel

Spring Term 
May 5-7 – Spring Dance Concert
May 26 – Academic Excellence Performance
May 26-28 – Senior Project Dance Concert
Dance as an art form
The Dance Program at Western Oregon University provides the opportunity to develop creative, technical, pedagogical, and performance skills under the guidance of professional faculty in a supportive environment. The dance curriculum offers learning experiences that introduce the student to historical, practical, technical, and creative aspects of dance. The degree offers a broad scope of applied dance skills and theoretical knowledge, preparing students for graduate study, teaching, and for a wide variety of professional opportunities in the performing arts.
Resources and guest artist
Resources include two full-time studios, a main-stage theater which seats 619 and houses a scene shop and lighting, sound, costuming and makeup areas. Western has four full-time and three part-time dance faculty. Guest artists are invited to choreograph, offer workshops, performances and lectures throughout the year for the campus community and the general public. Internationally famous dance companies frequently appear on campus as part of the Edgar H. Smith Fine Arts Series, many offering workshops and master classes including Pilobolus Dance Theatre, Martha Graham Dance Company, St. Petersburg Ballet, Alvin Ailey American Dance Theater, Alonzo King LINES Ballet, Paul Taylor Dance Company, and The David Parsons Dance Company. Auditions for placement are required.
Creative Arts Division:
David Janowiak, Division Chair, janovid@wou.edu, 503-838-8310
Remote office hours: M-F 9-10 am, MWF 12:30-3:30, TR 12:30-2:00
Laura Killip, Office Specialist—Art/Theatre Dept., killipl@wou.edu, 503-838-8340
Please note: Remote service hours might change due to service demand and fluid extenuating circumstances.
Tim Cowart, Dance Program Coordinator, cowartt@wou.edu, 503-838-8243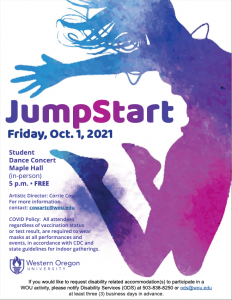 Jump Start Dance Concert
Let's jump into the 2021-22 school year!
This informal dance concert is for WOU students and is performed by dance faculty members and alumni. It is all about recognizing our community and being inspired to dance together. 
October 1st @ 5 PM, Maple Hall 
The concert features choreography by: 
Darryl Thomas, co-artistic director of Rainbow Dance Theatre,  WOU Dance Faculty
Corrie Cowart, Jump Start Dance Concert Artistic Director, WOU Dance Faculty
Michio Ito, Historical reconstruction by Tim Cowart, WOU Dance Faculty
Moises Martinez-Trejo, WOU Dance Alumni
Rebecca Chadd, artistic director of Freedom Dance Company, WOU Dance Alumni 
Samuel Hobbs, artistic director of Push/Fold Dance Company, WOU Dance Alumni
COVID Policy: All attendees, regardless of vaccination status or test result, are required to wear masks at all performances and events, in accordance with the CDC and state guidelines for indoor gatherings.
For more information please contact:
CONTACT US
Theatre and Dance Department
503-838-8340| e-mail: killipl@wou.edu| Monmouth Campus Location: Campbell Hall (CH 105)
Office Open Monday – Friday from 9am – 3pm, during August contact the Creative Arts Division office 503-838-8461.