MISSION
The Mathematics Department at Western Oregon University provides transformative classroom experiences and personalized support for all of our students.
We believe that everyone can succeed in mathematics at their chosen level, and we strive to create an equitable and inclusive learning environment where all learners can grow their mathematical curiosity, persistence, and skill.
We seek to demonstrate the value of lifelong mathematical literacy and enjoyment for all.
LOCATION

Mathematics and Nursing (Winters) Building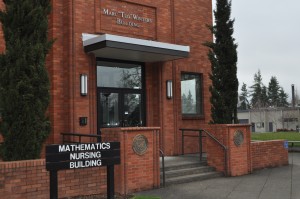 WOU MATH GRADUATE CAREERS & FURTHER STUDY
Engineering Tech
Mathematics Editor
Bond Trader
Research Assistant
Systems Engineer
Software Tester
Associate Software Developer
Actuarial Assistant
Insurance Claims Adjuster
Research Analyst, Commission on Addiction Prevention and Treatment
Industrial Engineer, United Parcel Service
Computer Scientist. Lawrence Livermore National Laboratory
Peace Corps Volunteer
State of Oregon Statistician
Technology Analyst
Software Developer
Data Analyst
Project Manager
Student Accounting Assistant
Instructional Assistant

A/R & Collections Tech
Data Entry Clerk
Data Recovery Specialist
Service Team Member
Ebook Vetter
Resident Number Cruncher and Excel Wizard
GIS Survey Technician
Cartographer/GIS Technician
Professional Tutor
Writer for Oregon State Graduate School
Quality Analyst at Catholic Community Services
Operations & Policy Analyst
Research Analyst
Industrial Participation Analyst
Corporate Intelligence Analyst
Strategic Planning Analyst
Book Bank Warehouse Manager & Program Assistant

Supply Chain Analyst
Technical Problem Solver for Medical Software
Community College Instructor
University Professor
High School Math Teacher
Middle School Math Teacher
Statistics Graduate Study
Industrial Engineering
Mathematics Graduate Study (fully funded)
MBA Graduate Study
Computer Science Graduate Study
Rhetoric & Writing Gradute Study
Education Graduate Study
Public Health Graduate Study
Counseling Psychology Graduate Study
Software Engineer at Hewlett Packard
MEET MATH MAJOR AMANDA EVOLA