Visiting Fulbright Scholar nearing end of visit to Division of Education & Leadership
Since January 2020, WOU has hosted Dr. Alba Lucy Guerrero, a professor at Pontificia Universidad Javeriana, in Bogotá, Colombia, as a visiting Fulbright Scholar at the Division of Education and Leadership (DEL).
At her university in Colombia, Dr. Guerrero directs the Research Group on Childhood, Culture and Education and teaches undergraduate and graduate courses in Anthropology of Education and Research Methods.
Dr. Guerrero came to the WOU to partner with Dr. Maria Dantas-Whitney to conduct a collaborative ethnographic study with immigrant children at local schools. Guerrero and Dantas-Whitney have been collaborators for over 10 years, as members of the academic committee RIENN (Red Internacional de Etnografia con Niñas y Niños/International Network of Ethnographic Research with Children), and have led numerous international academic symposia and workshops, as well as publications.
At WOU, Guerrero has been involved in a number of activities with students and faculty. She has been a guest speaker and has led a research workshop in the ESOL program. Last month, she gave the keynote address at the Bilingual Teacher Scholars spring reception, entitled, "Collaborative Research Practices to Produce Knowledge with Children in Diverse Educational Contexts."
In January, Guerrero and Dantas-Whitney started a research project with kindergarteners at Corvallis' bilingual Garfield Elementary School. The study explored the relationship between the children's identities and their experiences at school, at home, and in the community. In March, COVID-19 altered their plans, so they created a virtual platform for them to close the project through video interactions with the children.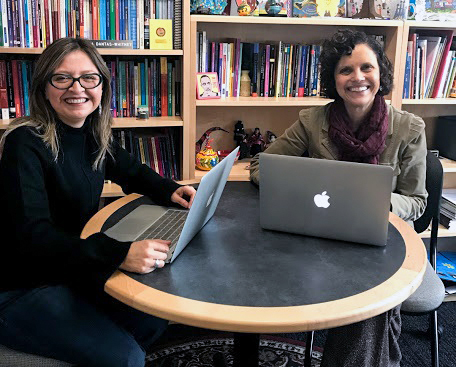 COVID-19 also created a new opportunity for an international research project with RIENN members, involving letter exchanges and virtual interactions among children and teenagers from the United States, Colombia, Mexico, Brazil, Argentina, and Panama. The study examines the children's perspectives about their everyday lives during the pandemic, with a particular focus on their educational experiences.
Guerrero said that her research gives voice to children's experiences that are often overlooked and has a focus on collecting narratives – students' individual stories – that is unusual in research.
"We think children can contribute to understanding social and educational processes. Children often have different perspectives, which can inform us to implement changes to their immediate contexts," she said.
She added that she was still able to work closely with Dantas-Whitney and even stayed at her house for a couple weeks during the quarantine.
Guerrero said she loves Oregon's forests and enjoyed visiting despite the outbreak.
"It's been wonderful, even with the pandemic," she said.
Guerrero's time in Oregon officially ends June 30, but she could depart at any time when she finds a flight home.