Happy December, everyone! I hope Thanksgiving was a pleasant time for all and you've made it through your turkey leftovers. I have to say that I think my favorite Thanksgiving/holiday food is green bean casserole or home made cranberry sauce. Maybe it's the midwestern in me, I don't know, but I stand by my choices. What are your favorites? Share a story at alumni@wou.edu and let us know! 
November was filled with football, planning, basketball and holiday cheer. WOU football played their final home game on November 5 and celebrated 11 seniors who are graduating this academic year during Senior Day. Both Men's and Women's basketball season's tipped off in November and both teams are doing well so far. Winter sports are are in full effect! Check out the schedule here. 
On December 2, WOU's longest running tradition, 55 years to be exact, took place. The annual Holiday Tree Lighting event filled Monmouth Ave. and the magic happened without a hitch. The whole community came out, the parade included all sorts of floats, trucks, sirens, lights and of course, Santa and Mrs. Claus. After the lighting, groups gathered in the Werner Center for music, cookie decorating, and pictures with the Claus's. It really is a magical event and one my personal favorites all year long. Thank you to the city of Monmouth and Public Works for help with the lights and to Facilities for the staff to make everything happen, you are all very appreciated.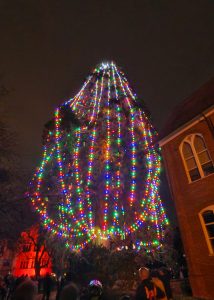 Make sure to watch wou.edu/alumni for updates on events and happenings in the new year. We can't wait to get back out on the road and see our people and introduce President Peters and Susan. Have a wonderful holiday season, thank you for all your support, see you in 2023! Go Wolves.