Hello, alumni and readers. I hope you are well and staying warm and dry out there. We have officially turned the corner to the holiday season! This means we are gearing up for things like the Thanksgiving basket food drive, the Holiday Tree Lighting on December 2, the end of fall term and much more. Mark your calendars and make plans to come back to campus for the Holiday Tree Lighting event on Dec. 2. All of the festivities we love are returning this year including Santa Claus at the WUC! Stop by the alumni tents near The Cottage for your free hot beverages. We look forward to having everyone back on campus to celebrate WOU's longest running tradition this December.
It seems like November kind of just snuck up on us. It was 80 degrees and sunny and suddenly, it became fall overnight. I have enjoyed wearing boots and sweaters though, I am not complaining. Whether you are a cold weather person or a warm weather person, we can all agree that the fall colors are beautiful and campus is radiant right now, glowing with life and luster. As we get into the holidays, we tend to reminisce on what's important to us and the people in our lives who make it richer and better. Well, alumni, YOU are those people to us. We love hearing your stories, seeing your smiling faces, getting your emails, cards and notes. You make us happy and you are what keep us going. Thank you for your continued support. October was a perfect example of how you continue to show up for us and support our school. Check out the recaps of the October events.
President's Club Dinner
On Thursday, October 6, a group of about 30 individuals enjoyed dinner, drinks and conversation at Stanford's in Lake Owego for the final President's Club Dinner of the season. It was a fun evening, full of laughter, stories, cheers, celebration and coming together to celebrate and thank our donors who make scholarship and programs possible. 
Homecoming & Hall of Fame Weekend 
It was a weekend to remember in Monmouth and Independence. Hundreds of alumni and their families came back to celebrate Homecoming weekend. Visitors enjoyed campus tours lead by Ambassador students, a special happy hour event with President Peters, curated Earth Science events honoring Emeritus Professor, Dr. Ray Brodersen, a special athletic reunion and boisterous tailgates on Saturday. It was great seeing so many alumni and their guests come back for Homecoming events. We also inducted five new members into the Western Oregon Hall of Fame during the Hall of Fame Induction Brunch on Saturday. Alumni inducted this year were: 
Cecilia Ward '77- Softball 
Jim Shaw '85 – Men's basketball
Matthew "Melvin" Haynes '88 – Men's basketball 
Monica "Smith" Barnhart '05 – Women's Track & Field 
Grady Wood '12 – Baseball 
Congratulations to all of our 2022 Inductees! It was so great to see everyone and we look forward to more adventures and fun in the near future.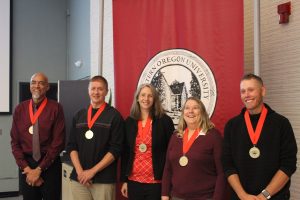 WOU vs. MSU 
At the end of October, a few staff members from the WOU Foundation (Morgan Harris and myself) made the trip to Wichita Falls, TX to host a couple of alumni and parent events in conjunction with the WOU vs. Midwestern State game on Oct. 29. We also had WOU Alumni Board President, Doug Ladd '88 and Scott Polen '88 in tow to represent WOU and the Wolves Club! We hosted a dinner on Friday the 28th at a local tap house in Wichita Falls and a pre-game function on Saturday. There were about 30 people in attendance at the pre-game event on Saturday, all decked out in WOU gear! Most of the attendees were parents of players and/or Wolves Club members who made the trip to Texas to watch our team. The events were well attended and the energy was great. We are planning to do one trip like this a season and invite all of our alumni family to join the fun. we will be picking the game and date when the schedule for next year is released. Come join us in Texas for a few days of fun!