Zoom Phone Frequently Asked Questions
Expand All | Collapse All
Why is Western moving to Zoom Phone?
Zoom Phone is a modern Unified Communications platform that makes your Western phone number significantly more powerful. It enables you to use your WOU phone number from any computer or smartphone and easily move from a phone call to a full Zoom Meeting in seconds.
When do we start using Zoom Phone?
Western, in collaboration with Zoom's implementation team, is targeting the start of September to activate Zoom Phone. The 'Phone' section will appear in your Zoom client at that time.
Will my phone number change?
No, your phone number will not change.
Is Zoom Phone a new app/application?
Zoom Phone is a new function within the Zoom app. The section 'Phone' will appear as an option in the Zoom toolbar.

Is a Zoom Phone call different from a Zoom Meeting?
Yes. Zoom Meetings is the multimedia collaboration tool we've been using that includes video, screen sharing, breakout rooms, and more. 
Zoom Phone calls are phone calls with awesome capabilities like moving a call from your laptop to your smartphone and answering text messages via your WOU extension. And if both parties of a call are using Zoom Phone from WOU, by clicking the 'Meet' button, the call can move to a full Zoom Meeting.
Do I need to wear a computer headset to make all my calls?
If you have a computer with a built-in microphone and speaker, such as any laptop or an iMac, and a quiet or private office, you don't need to wear a headset. If you have a shared workspace or discuss sensitive information over phone calls, you should use a headset.
Does Zoom Phone use my camera?
No, your camera is not used during Zoom Phone calls.
Could I just have a new phone instead of using a computer headset or my smartphone?
Software phones are now standard across many industries because of the features not possible with traditional phones and lower upfront and ongoing costs. Your phone model is never obsolete if your phone is a software application. Calling from the Zoom app is a better option for staff that travel or work from home, and it frees up space on your desk.
A new phone may be installed in circumstances where a phone is used by multiple staff or for a 'utility' function that isn't practical to serve another way.
If I use Zoom Phone from my smartphone, does it use my cell plan's minutes?
No. Zoom Phone calls using the Zoom app on your smartphone will use your data plan or WiFi if you're connected to WiFi.
UCS is offering a basic wired USB headset during the migration to Zoom Phone. May I use another headset?
You may this Google Form to request a headset at no cost to your department if you need a computer headset and don't already have one. Your headset (model description) will be delivered to you or your office shortly before Zoom Phone is live.
If you'd like a different headset, Zoom maintains a list of compatible headsets, including wireless models . Most USB headsets will work with Zoom, but we reccomend chosing a model that specifically lists Zoom's certification endorsement such as the Logitech 820E. UCS will maintain a stock of Logitech 820E Mono headsets for immediate installation on campus and a $150 charge to your department's index.
How will I hear the phone ringing?
Zoom will play a 'ringing' sound through your headset. Zoom can also be set to ring through your computer speakers in addition to the headset.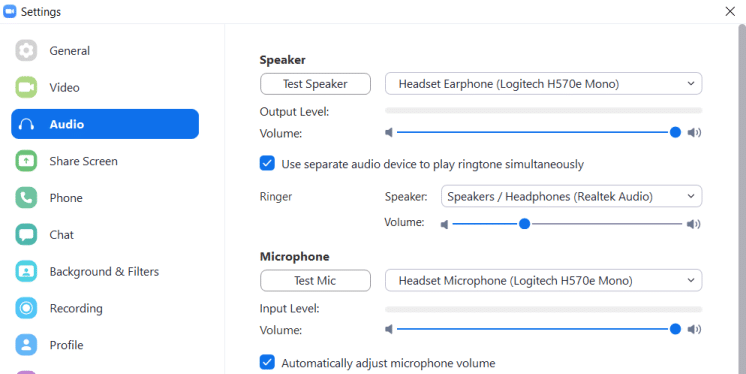 Can I change Zoom Phone's ringtone?
Yes. On Windows and Mac, click your profile icon (it will either be your picture or your initials) in the top right on the Zoom window, then click 'Settings'. Click the 'Audio' section, then scroll down to 'Ringtones' to select a different ringtone from the dropdown list.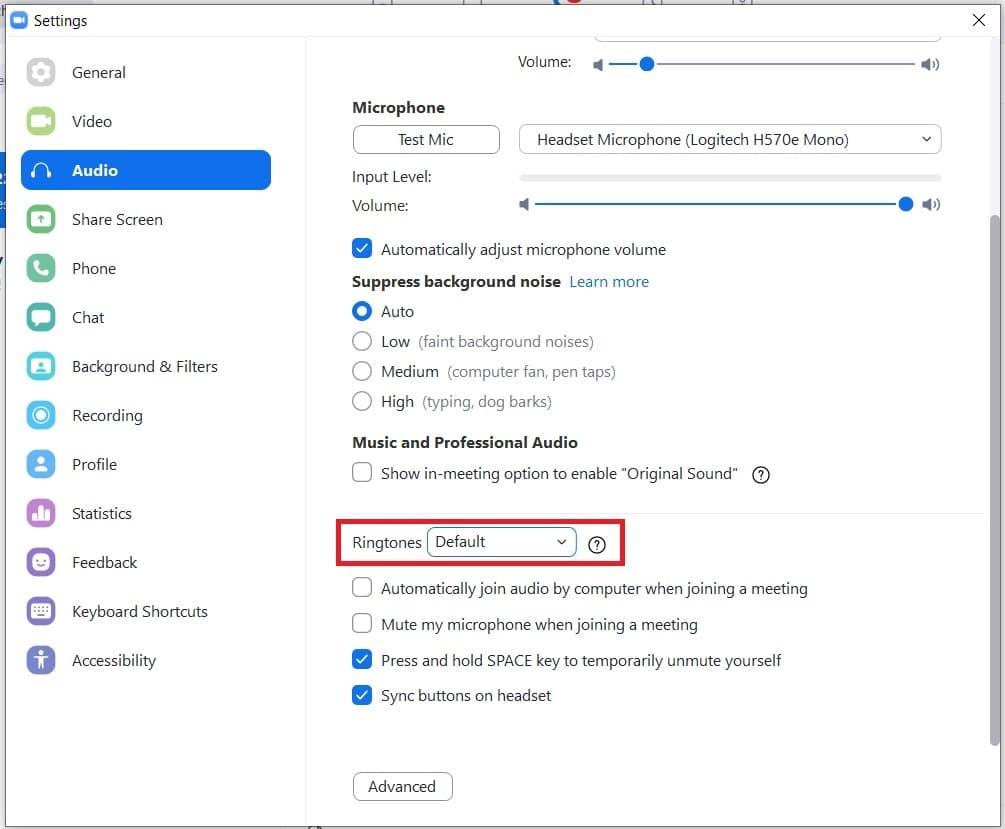 On Andorid or iPhone, tap the 'Settings' gear in the lower right of the Zoom app, then tap 'General', then 'Ringtones'. 
Will Zoom Phone ring if my computer is locked?
Zoom Phone calls will still ring if your computer is locked. Verify that you've selected your speakers as the 'ring' sound device (see previous FAQ item) so that you can still be alerted to calls when you're near your desk but not wearing your headset. Most headsets will even allow you to answer an incoming call while your screen is locked by pressing the headset's "call" or "phone" button. Zoom Phone will not ring to your headset if your computer is off or in "sleep." But if you've logged into Zoom from your smartphone, calls will continue to ring at your smartphone even when your computer is off.
Does Zoom Phone change the way I dial phone numbers? And what about Long Distance codes?
Yes. You will still call your colleagues by dialing their five digit extensions – and now you can also type out their names. But, you no longer start dialing with a 9 for external calls. You do not need to add a 1 to distinguish between local and long distance calls. Finally, all US and Canada long distance is included at no additional cost, so long distance codes are no longer used for calls within the US and Canada.
If you need to place international calls, please email the UCS Service Request desk at ucshelpdesk@wou.edu
Do I have to re-record my voicemail greeting?
Yes. Greetings recorded on our current system will not transfer to Zoom Phone. All voice mailboxes in Zoom Phone will have an initial default greeting. You can create multiple greetings on the Zoom website for different situations, like 'outside of work hours', 'vacation', or 'summer break.' You can also define your work hours. Calls made to your WOU number outside of your defined work hours will connect to your voicemail immediately.
Open your Zoom Phone settings page on the Zoom website (link)

Scroll to 'Call Handling' and under 'Greeting & Leave voicemail instruction' click 'Audio Library'

In the pop-up dialog, click 'Add Audio'

Choose the tab 'Record by Computer' and if your web browser asks for permission to use the microphone, click 'Allow'

The webpage allows you to set the loudness of your microphone. Click 'Next'
Click 'Record' to begin your recording. Click the small 'stop' icon on the left of the dialog to stop recording.
Click 'Add', then 'Use the Audio.'
Customizing audio greetings and hold music – Zoom Help Center
Important Note: Zoom will display a new section, 'Closed Hours', if you set custom Business Hours. 'Closed Hours' is immediately below where you just set your standard voicemail greeting.
'Closed Hours' allows you to specify a different voicemail greeting for incoming calls outside of your business hours. If you don't want Zoom to play a unique 'closed' voicemail greeting, in the 'Closed Hours' section look for 'Greeting & Leave voicemail instruction', then click 'Audio Library'. From the dialog that appears, choose the greeting you previously recorded and click 'Use the Audio'. Or, click 'Add Audio' to record a unique greeting for your 'closed' hours.
Is there a limit to the number of voicemails I can keep, and will they still go to my email?
Zoom Phone does not limit your voicemail storage. Voicemails will still be emailed to you, and not only is the audio attached to the email, but so is a text transcription of the voicemail. All of your incoming messages are also available in the Zoom application under the 'Voicemail' tab.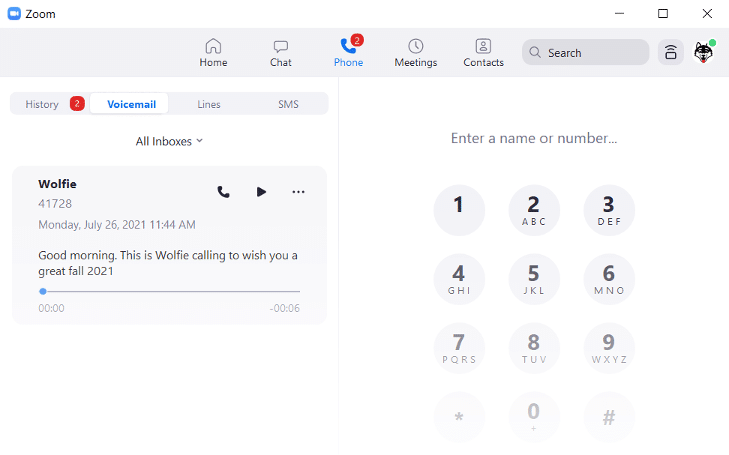 How do I launch the Zoom application? Do I run Zoom from the Portal icon?
UCS began automatically installing the Zoom client on WOU-managed Windows computers in August. On Windows, look for a desktop icon of a white camera over a blue background, as pictured below. On Mac, look in your Applications folder for the Zoom app with the same icon. 

If you don't see Zoom on your desktop, your Start Menu (in Windows), or your Applications Folder (on Mac), you may download and install the Zoom client from this link.
please note: The blue 'Zoom' icon in your Portal opens the Zoom settings webpage. That's where you can record your voicemail or set your business hours. The settings webpage is not the same as the Zoom application. The Zoom Application is a program on your computer (or smartphone). You use the Zoom settings webpage to configure your Zoom account settings. You use the Zoom application to participate in Zoom Meetings or place phone calls.
What happens if my computer is playing music when I receive a phone call?
Zoom will not attempt to mute or pause application audio from YouTube, Spotify, Pandora, etc. for a Zoom Phone call. If you're watching a video or listening to music, you'll want to mute or pause that activity before answering the incoming phone call. 
It's after September 1st and I'm logged in to my WOU Zoom account. Why isn't there a 'Phone' section in the Zoom application's toolbar?
First, verify you are logged in to Zoom with your WOU Zoom account. Click the 'Profile' icon at the top right of the Zoom application- it will either be your initials or a picture you selected. In the menu that appears, verify that the word 'LICENSED' is at the top, and that your log-in email ends with @wou.edu.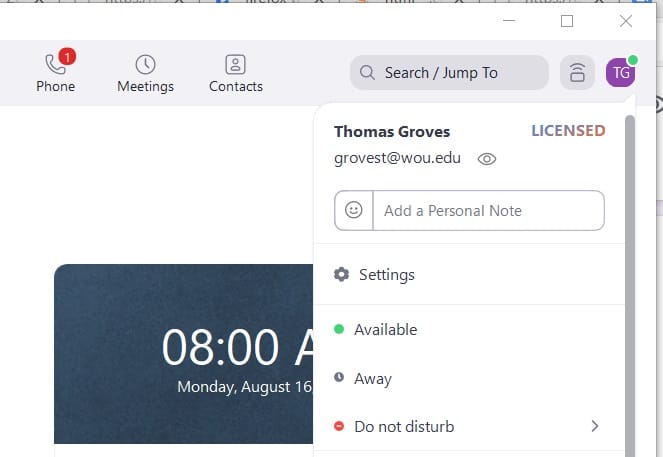 Sign out of Zoom, then sign back in with the 'SSO' button. If Zoom asks you what our SSO website is, enter wou-edu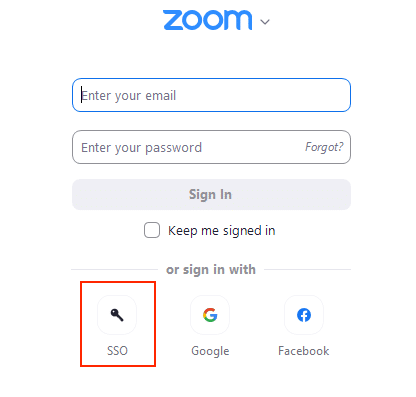 Phone numbers that were used very infrequently over the last three years may have been filtered from WOU's initial Zoom Phone activation. However, every campus member that needs to place and receive phone calls will be accommodated. Please email ucshelpdesk@wou.edu with your name and WOU phone number (extension).
What's going to happen to the old phone on my desk?
We will visit your office soon after the new system is activated to collect your old phone for electronic recycling.

I'm an APA, office administrator, or supervisor of an area. Do I still need to inform UCS of staff changes?
Yes. Please contact the UCS Service Request Desk at ucshelpdesk@wou.edu with updates on new staff that need to use a WOU phone number, or staff changes that will impact phone number assignments.

Why is the Zoom application asking for my location?
Your location information is set automatically when you're using WOU's campus network in Monmouth or Salem. The application may prompt you to enter your location if you use Zoom Phone when not on WOU's network.
Zoom Phone has the ability to send your location information with emergency (911) calls. Your location information is used by public safety personnel to direct first responders with better accuracy.
I set my business hours but there wasn't an option for a lunch break. Is there a 'send calls' button?
If you've set custom business hours in your Zoom Phone settings page (the blue 'Zoom' icon at the top of the WOU Portal), you may have noticed you couldn't enter a gap for lunch. But check out the new 'Do Not Disturb' feature If at any time you don't want to answer new calls from Zoom. It's like our old 'send calls' button, except that it includes a timer to return your status back to 'Available.' You could use this feature to set yourself to 'Do Not Disturb' for a 60 minute break or for any period without interruption. This feature is toggled by expanding the menu from the profile icon in the top right of the Zoom application.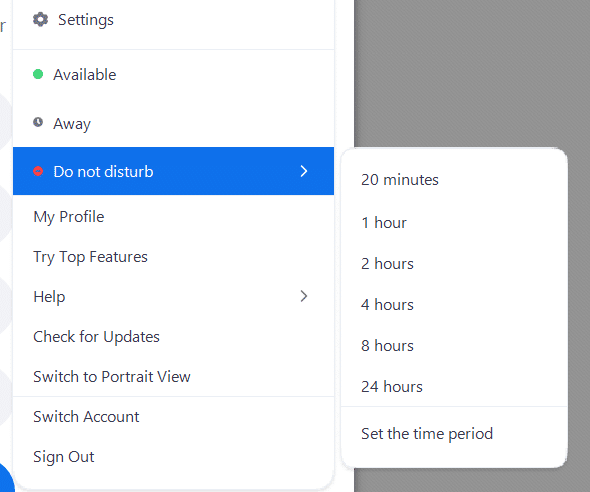 Can I record my phone calls with Zoom Phone?
Zoom Phone allows you to record your phone calls. You can record every phone call automatically or elect to begin call recording on an as-needed basis.
To record calls to and from either your direct extension, a Call Queue, or an Auto Receptionist, you must include a message for the other party stating that the call may be recorded.
Recorded calls can be reviewed in the 'Recordings' tab in the 'Phone' section of the Zoom settings webpage accessed by clicking the blue 'Zoom' icon in Portal.
Please contact zoom@wou.edu to enable call recording.
Do you have headset adapters for my new MacBook?
We have ordered USB A to USB C adapters for computers, such as new MacBooks, that don't have the larger USB A plug our standard headset requires. Please request this adapter if you don't have free USB ports left on your docking station. You may also use any bluetooth headset with your MacBook.
I currently use a Video Relay Service like Sorenson for phone calls. Does Zoom Phone replace my VRS?
Zoom Phone is not a replacement for a Video Relay Service like Sorenson offers. However, Zoom Phone does provide every WOU extension the ability to send and receive text messages, and will attempt to automatically transcribe voicemail messages. These features may be useful to WOU's Deaf* community that have a WOU phone number assigned.
Additionally, Sorenson offers their VRS services for Zoom Meetings and Google Meet meetings. Please see their instructions here to learn more about combining a VRS interpreter with Zoom Meetings and Google Meet.
How does this impact classroom phones?
Many classrooms have phones at an instruction podium to make calls for technical support or to Public Safety. These phones will remain in the classroom and can still reach UCS for tech support by dialing 8-8925, or Campus Safety by dialing 8-8481 or 8-9000 (emergencies)
What other training is there for Zoom Phone?