UCS
Technology Enhanced Classrooms
Western Oregon University has approximately 130 Technology Enhanced Classrooms and computer labs, supported University Computing Solutions technicians. Technology Enhanced Classrooms are classrooms with installed technology, which allow faculty to easily present dynamic multimedia content to their students. Each Technology Enhanced Classroom is controlled by a touch panel control system, and is monitored remotely for system functionality. Staff and student technicians are on call to quickly provide knowledgeable assistance to faculty and staff should they experience equipment or network issues.
A typical single projector Technology Enhanced Classroom consists of:

A permanently installed console or podium
A  high definition video projector
A Wolfvision document camera
Instructor computer (PC – typical, Mac, or VDI thin client)
Blu-Ray/DVD player
2 channel amplified sound system
A/V interface: HDMI, VGA, 3.5MM audio, Ethernet, and power
Crestron touch panel control system
Touch screen monitor
Courtesy telephone (WOU calls only)
A typical dual projector Technology Enhanced Classroom consists of:

All of the features of a single projector with the addition of –
A second high definition video projector with the ability to matrix content to either or both projectors
An upgraded 5.1, or 7.1 surround sound system
Some rooms also have an additional computer (PC and Mac, or PC and VDI thin client)
Large auditorium Technology Enhanced Classrooms also have additional resources such as:
All of the features of a single projector with the addition of –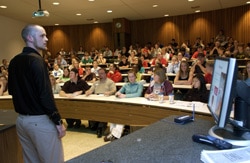 Camera and microphone systems for soft codec video conferencing
Wireless microphone – handheld and/or lapel
Public address capabilities with mixer boards, and microphone inputs
If you have any questions on the usage of a Technology Enhanced Classroom, or would like to schedule a time for training, please call Classroom Support at 88412, or call the Service Request Desk at 88925. Please report any equipment or network issues by phone to Classroom Support or by e-mail to: ucshelpdesk@wou.edu.
---
CONTACT US
University Computing Solutions
503-838-

8925
texting now available
 | or
e-mail:
ucshelpdesk@wou.edu
|
Location:
 ITC 009