Nontraditional Student Services
Who are WOU Nontrad Students?
According to the definition at Western Oregon University, our nontraditional students are students who:
Are over the age of 25
Are returning to school after an extended break
Have children
Nontraditional Student Services offered in the Werner University Center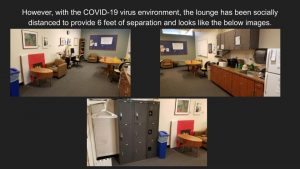 Want to get connected with other nontraditional students and the campus network? The lounge (located near the bottom of the stairs on the first floor of the University Center) provides a comfortable atmosphere for study, discussion, or relaxation. It is also a great place to find out about upcoming events, as well as network with other non-traditional students. In addition to sofas and informational bulletin boards, there is also a microwave oven, coffee maker, sink, phone and day lockers, all of which are available for student use. **At this time the lounge space is socially distanced due to COVID-19 in order to provide 6 feet of separation.
A limited number of lockers are available for rent by nontraditional students. The lockers are located in the Nontraditional Student Lounge and can be rented on a term-by-term basis. The charge is $10 per term. To rent a locker, visit the Werner University Center Information Desk on the 2nd floor.
This service provides a system for family members to get in touch with a student during the school day in emergency situations. WOU Students provide information about their current class schedule so that in case of emergency, children, child care providers, or family members can call and have a message delivered to the student in the classroom. The form needs to be updated each term. A must for parents! If you are interested, click HERE
Campus
Resources
There a variety of campus resources available to nontraditional students that can enable them to be more successful during their college career. Below are some of the resources offered around campus.
Counseling Services
The Counseling Center offers a variety of individual and group counseling services and activities to ensure a successful college experience for every student. There are free counseling sessions for WOU students. Appointments at the Counseling Center can be made by calling (503) 838-8313 V/TTY. Additional information can be found here.
Parent Student Guide
The Student Success and Advising office created a guide for parents that are students to help navigate resources on campus. It can be found HERE.  This guide is a living document and as such can change often. Additional information about the Student Success and Advising office can be found online at https://wou.edu/advising/
Child Care Center

The Teaching Research Child Development Center (located at the northwest corner of Monmouth Avenue and Stadium Drive, right behind Campus Public Safety) is available for students with children ages 30 months to 5th grade. A portion of the incidental student fee each student pays is allocated to the Child Care Center to supplement care for the children of WOU students. The center is open from 7:45 a.m. to 5:15 p.m, Monday through Friday. Contact the Child Development Center at (503) 838-8238 for more information on how to apply or find it online here.
Non-Traditional Student Staff
You can reach our professional staff member at Western Oregon University that works with non-traditional students by e-mailing Katelin Stewart at stewartk@wou.edu, or you can contact the non-traditional peer advisor by emailing at nontrad@wou.edu.