UPDATE:
Effective June 30, 2023: WOU will sunset the vaccine requirement policy for COVID-19 vaccination. We continue to encourage everyone to continue following CDC guidelines and stay up to date with recommended COVID-19 vaccines, including boosters. 
Clinic hours:
SHCC hours are 9-12pm and 1-5pm Monday through Friday. Please call 503-838-8313 for an appointment.
Services:
At SHCC, we continue to evaluate our needs and the needs of students to ensure great care in a timely manner. We continue to provide counseling and medical services to eligible students.
Who is eligible for SHCC services?
Students assessed the health fee are eligible for services. Students taking 1+ credit of in-person or hybrid classes on the Monmouth campus are automatically assessed the health fee. All other registered students may choose to opt-in to have the fee assessed to their student account.
How much is the health fee? 
The health fee is $154 per term. It is billed to your student account.
What are the exceptions?
There are students taking online only courses that would not be eligible for services based on their location and due to licensing rules. Due to licensing rules for our medical and counseling providers, students must be located in the state of Oregon to receive services.
Why should I opt in?
If you are enrolled in online only classes, you may opt in to pay the Health Fee, which will be assessed to your student account. This service is highly recommended for students living on campus or in nearby communities, for students who do not have insurance, and for students who want the comfort of knowing they can access medical and counseling services at any time. You must be located in Oregon at the time service is provided.
Appointments:
Students are encouraged to call or visit the SHCC to schedule appointments. Appointments cannot be made through email.
Counseling Services
Students have the option of in-person counseling or video counseling. If you choose video counseling, the counselor will send you a link for the teletherapy session through secure email.
Same day crisis services are available by calling 503-838-8313 to make an appointment.
After hours crisis services are available. Contact Campus Public Safety to connect to an on-call counselor.
Counseling services include individual, group, couples, crisis counseling, and more!

SHCC has partnered with

 

ThrivingCampus

 

to make it easier for students to connect with off-campus providers.
Medical Services
Call 503-838-8313 to schedule an appointment
Anyone with a fever currently or in the past 48 hours must call 503-838-8313 to speak to one of our providers, who will instruct you on what to do next.
Students can communicate with a medical provider through secure messaging if you have questions regarding your health. To do so, click on this link: https://wou.medicatconnect.com. Log in with the same user name and password as your student portal. Click on "Messages/Compose New."
If you have an emergency, call 911.
Medical services include COVID testing and follow up, treatment of acute illness and injury, assistance with management of chronic illness, women's health care, STI testing, HIV testing, physicals, immunizations, and more!
You will continue to get reminders about your appointment, so please call and cancel if you cannot make it to your appointment to avoid being charged the $50 no show fee.
If you have any questions or are unclear about our services at any time, please visit our website or contact us at 503-838-8313. The services explained above will be in effect until further notice.
We are located across from the Woodcock Education Building, and next to the Winters Math and Nursing Building. For appointments stop by or call 503-838-8313.
Be Well!
Do you want to come see us but don't know what to expect?
Welcome to SHCC! We offer medical and counseling services to WOU students*. Our staff consists of nurse practitioners, medical assistants, psychiatric nurse practictioners, medical nursing/NP students, licensed professional counselors, registered associate counselors, and counseling interns. Services are confidential*.
For services, you will either call (503.838.8313) or come to the office to schedule an appointment. This is the lobby where you enter the building. Also in the lobby is where students can pick up free cold kits and condoms. They are in the marked baskets.
This is the front desk where you will make your appointment, check in for your appointment, or just ask questions. Don't be shy – Crystal loves talking to students!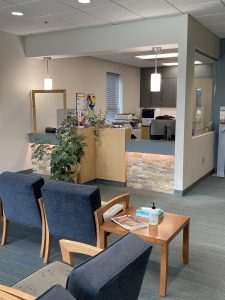 If you have a medical appointment, this is a view of one of our exam rooms. We also have a headache/lactation room and a SAFE (sexual assault forensic exam) room that look similar but are set up for those specific needs.
For counseling, your assigned counselor will come downstairs to get you. Each counselor office will look different, but here is an example of two of the offices.
Contact health@wou.edu to let us know if there is more you would like to know or see about SHCC, the building, the services, or the people!
Be well –
SHCC Staff
Immunizations
Have a medical hold on your transcript? Need to turn in your Health History / Immunization form, but not sure how? Click here for all the information you need to successfully comply with our immunization process at Western Oregon University.
Tell Us How We Did:
Take a short survey to tell us what you thought of your visit to SHCC for medical and/or counseling services.
Student Health Advisory Committee (SHAC)
We are looking for students to get involved with our advisory committee. This committee will provide direction and feedback for the planning and services of the Student Health and Counseling Center. This is a low commitment way to get involved and make an impact as a student!
Student Health & Counseling Center: 503.838.8313
Our center offers exceptional care in helping students stay healthy and well in their academic pursuits. Our services incorporate a holistic approach including medical services, counseling services, and health promotion. Our department takes pride in their collaborative and educational approach to student care.
We are open Monday-Friday 9-12pm and 1-5pm.