Clinic hours:
UPDATE!! Clinic hours will be 9-12 pm and 1-5 pm Monday through Friday, effective November 18 through December 2, 2020.
Services:
Students taking all-online classes for fall term must opt into the $145 Health Service fee to access medical and counseling appointments. Students taking in-person or hybrid classes have already been charged the fee.
Appointments:
Students are encouraged to call the SHCC to schedule medical and counseling appointments rather than walk in. Students coming onto the premises for their scheduled appointment must follow the Use of Face Coverings During COVID-19 Pandemic Policy.
We are open and will continue to serve you. In order to practice social distancing and to keep our staff and students healthy, we have made the following changes:
Health Promotion Services
There will be no health promotion services until further notice. This includes wellness coaching and the R&R room.
Counseling Services
All scheduled appointments will be by phone. The counselor will call you at the number we have on file.
Crisis services are still available. Call 503-838-8313 to make that appointment at the time of your crisis and a counselor will call you back.
After hours crisis services are still available. Contact Campus Public Safety to connect to an on-call counselor.
Medical Services
CCARE
We will telephone triage as many as possible.
8-12 pm daily – well visits only.
1-4 pm daily – sick visits only.
Anyone with a fever subjective or checked with thermometer currently or in the past 48 hours must call 503-838-8313 to speak to one of our providers, who will instruct you on what to do next.
In addition to communication via phone, medical staff is working to increase their ability to communicate remotely. You can secure message a medical provider with questions you may have regarding your health. To do so, click on this link: https://wou.medicatconnect.com/ . Log in with the same user name and password as your student portal. Click on "Messages/Compose New."
If you have an emergency, call 911.
You will continue to get reminders about your appointment, so please call and cancel if you do not wish to have your appointment to avoid being charged the $50 no show fee.
If you have any questions or are unclear about our services at any time, please visit our website or contact us at 503-838-8313. We want everyone to be safe and well. The services explained above will be in effect until further notice.
We are located across from the Woodcock Education Building, and next to the Winters Math and Nursing Building. For appointments stop by or call 503-838-8313.
Be Well!
Upcoming Events
Wellness Coaching:
Make an appointment with a Wellness Coach to talk about your aspirations and goals and develop a plan to get you there! Wellness Coaching appointments can be made online
R&R Room:
Rest, relaxation, rejuvenation, reflection, or revitalization...whatever you need, check out our new relaxation space! Students can make 45 minute appointments to enjoy a massage chair, therapy light, biofeedback equipment, or just a calming environment to listen to music. Click to make your appointment!
MORE INFO ON BOTH NEW SERVICES UNDER OUR HEALTH PROMOTION DEPARTMENT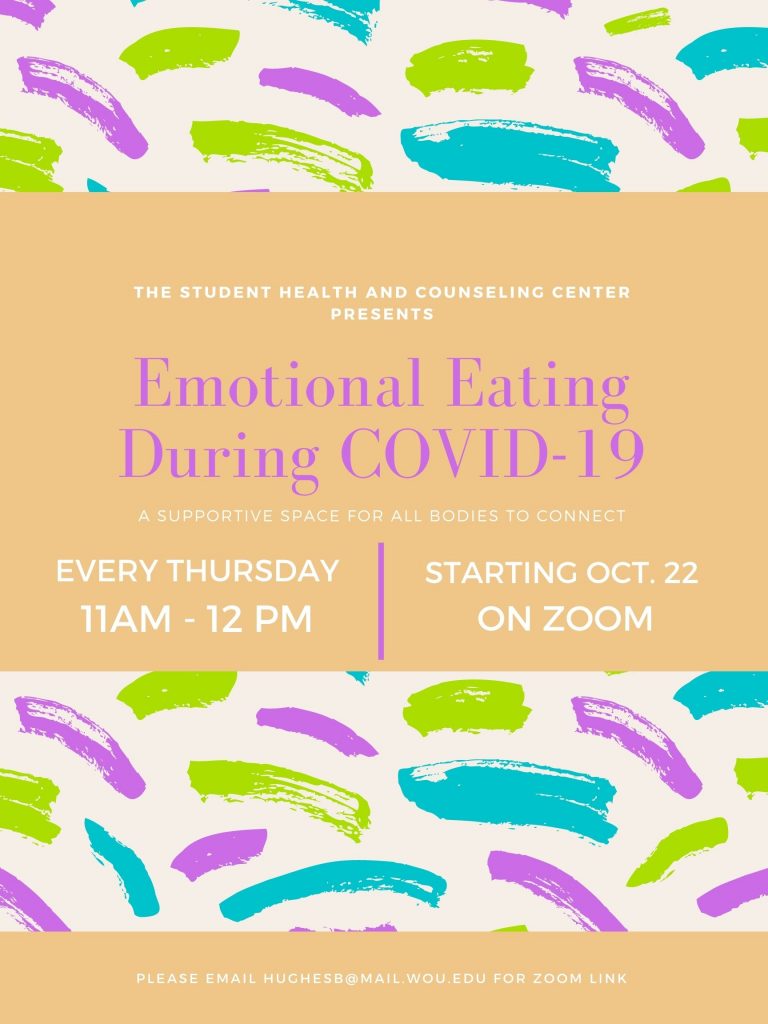 Immunizations
Have a medical hold on your transcript? Need to turn in your Health History / Immunization form, but not sure how? Click here for all the information you need to successfully comply with our immunization process at Western Oregon University.
Tell Us How We Did:
Take a short survey to tell us what you thought of your visit to the medical, counseling, or health promotion services.
Student Health Advisory Committee (SHAC)
We are looking for students to get involved with our advisory committee. This committee will provide direction and feedback for the planning and services of the Student Health and Counseling Center. This is a low commitment way to get involved and make an impact as a student!
student health & counseling center: 503.838.8313
Our center offers exceptional care in helping students stay healthy and well in their academic pursuits. Our services incorporate a holistic approach including medical services, counseling services, and health promotion. Our department takes pride in their collaborative and educational approach to student care. We are open Monday-Thursday 8:00-5:00  Friday 9:00-5:00.