UPDATE:
COVID Information (as of 10.4.23):
If you test positive for COVID-19:
Stay home until you have not had a fever for 24 hours without fever reducing medications and other COVID-19 symptoms are improving.
Avoid contact with high-risk individuals (immunocompromised) for 10 days.
It is recommended that you wear a mask when you are around other people in the 10 days after you become sick or test positive.
Complete the Student Absence Notification Request Form through the Student Success and Advising Office for any class absence.
Do you want to come see us but don't know what to expect?
Welcome to SHCC! We offer medical and counseling services to WOU students. Our staff consists of nurse practitioners, medical assistants, psychiatric nurse practitioners, medical nursing/NP students, licensed professional counselors, registered associate counselors, and counseling interns. Services are confidential.
For services, call (503.838.8313) or come to the office to schedule an appointment. This is the lobby where you enter the building. Also in the lobby is where students can pick up free cold kits and condoms. They are in the marked baskets.
This is the front desk where you will make your appointment, check in for your appointment, or just ask questions. Don't be shy – Crystal loves talking to students!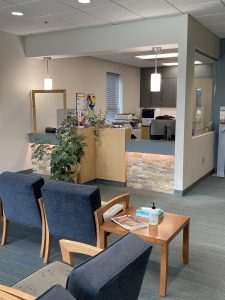 If you have a medical appointment, this is a view of one of our exam rooms. We also have a headache/lactation room and a SAFE (sexual assault forensic exam) room that look similar but are set up for those specific needs.
For counseling, your assigned counselor will come downstairs to get you. Each counselor's office will look different, but here is an example of two of the offices.
Contact health@wou.edu to let us know if there is more you would like to know or see about SHCC, the building, the services, or the people!
Be well –
SHCC Staff
Immunizations
Have a medical hold on your transcript? Need to turn in your Health History / Immunization form, but not sure how? Click here for all the information you need to successfully comply with our immunization process at Western Oregon University.
Tell Us How We Did:
Take a short survey to tell us what you thought of your visit to SHCC for medical and/or counseling services.
Student Health Advisory Committee (SHAC)
We are looking for students to get involved with our advisory committee. This committee will provide direction and feedback for the planning, services, and health fee of the Student Health and Counseling Center. This is a great way to get involved and make an impact as a student!
Student Health & Counseling Center: 503.838.8313/fax 503-838-8801/health@wou.edu
Our center offers exceptional care in helping students stay healthy and well in their academic pursuits. Our services incorporate a holistic approach including medical services, counseling services, and health promotion. Our department takes pride in their collaborative and educational approach to student care.
We are open Monday-Thursday 9-12pm and 1-5pm for summer hours (June 19 – August 31, 2023)