To Advising Appointment with an SSA advisor, follow these steps: 
1. Log into the WOU Portal
2. Select the blue WCS icon

3. Click on the blue Get Support button

4. Select the type of service you are looking for and then select an appointment reason.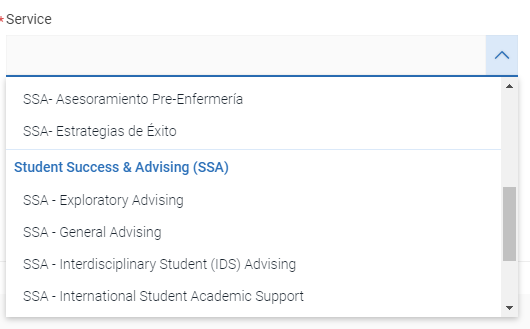 5. Select a date and then on Find an Appointment time.
6. Select a time and the location for the appointment that works best for you. You can use the filters on the left hand side to select specific people (such as your assigned advisor) or a specific location.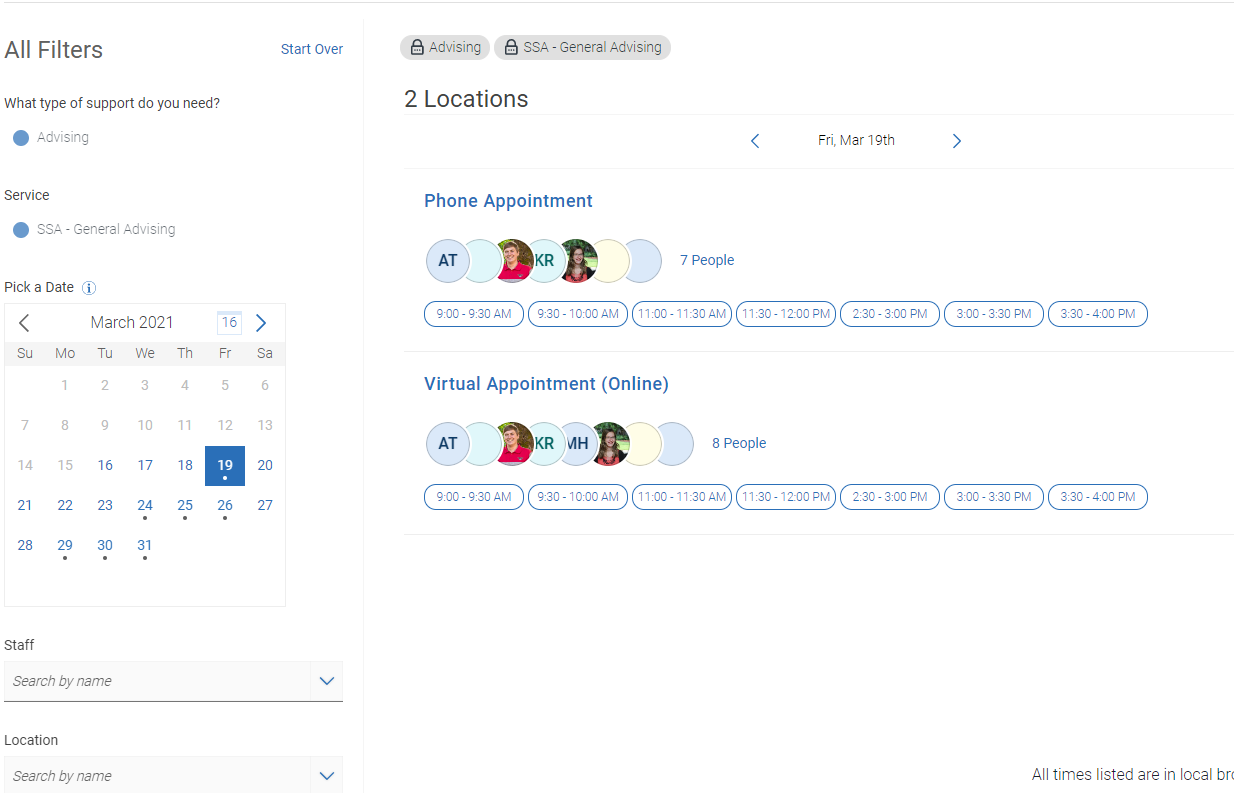 7. Review the appointment details, add your phone number for text reminders (if desired) and add any comments you would like the person you are meeting with to see prior to your appointment. Click on the Schedule button at the bottom to confirm the appointment. You will receive an appointment confirmation and reminder via email (and text message if selected). Note: if you select a Virtual Appointment location, your confirmation email will include details for how to connect for your appointment. If you are select a Phone Appointment location, add your phone number to the comments so the person you are meeting with can contact you at the time of your appointment. 
You can also use these steps to schdule with the following departmenrts:
Advising:
Student Success and Advising (SSA)

Student Enrichment Program (SEP)

Multicultural Student Services and Programs (MSSP)

Office of International Education and Development (OIED)

Some Faculty/Major Advisors

General Education Office (GEO)
Financial Services
Financial Aid

Business Office
Tutoring
Study skills tutors (time management, study skills, test taking, etc.)

Course based tutors (for subjects outside of math, writing, science, and computer science)

English Language tutors (through the English Tutoring Center)
If you do not see your advisor, they most likely do not schedule appointments in WCS yet. We encourage you to reach out to them personally to set up an appointment.