Placement test and Credit by Examination
CLEP
and Placement test:

what is the difference? 
To test out of second year requirement and earn course credit, you take CLEP exam, AP exams,  Willamette Promise or Special Credit by Examination.
To place into a Spanish course at WOU, but earn no course credit, take the Spanish Placement test. It is free and it is taken only once. It does not give you credits. If you are are placed in a 300 level class, you will need the CLEP exam or AP credits,  credits to obtain 12 credits for second year of Spanish.
CLEP Examinations: Spanish with writing Level 1 & 2
Spanish Placement Test
What is the online placement test?
Students who have had previous study of Spanish in high school and intend to continue in the language must take the online WebCAPE placement test to determine which level of course to register for at WOU. This is placement test, it does not provided university credits.
The department will review the results of the placement examination in conjunction with other information, such as number of years that the language was studied, grades earned, etc. The department reserves the right to change the student's placement if it believes that the student has not been placed at the most appropriate level.
Students who believe they were misplaced on the basis of the placement test score should consult the department of Modern Languages at gimenezp@wou.edu
Who needs to take the online placement test?
Incoming freshmen who have earned high school credits in Spanish and are in one of the colleges that require a language must take the placement test.
What do I need to take the online placement exam?
20 – 30 minutes depending on your skill level of the language.
1 or more years in Spanish in high school.
If you have not studied French, German or Spanish, register for course level 101 in the respective language. Level 101 is an elementary level and you do not have to take the placement exam.
Take the exam ONLY ONCE.
Online placement test for students who studied Spanish.
This link will take you to your Portal
Print your results for your records.
<!–
SPANISH PLACEMENT Test
What is important when taking the placement test?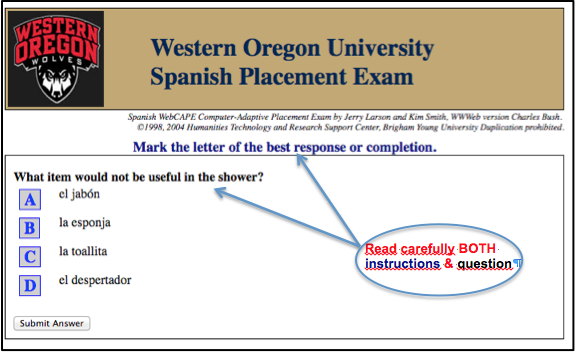 [fruitful_btn link="#"]START TEST[/fruitful_btn]
What does the online placement results page look like?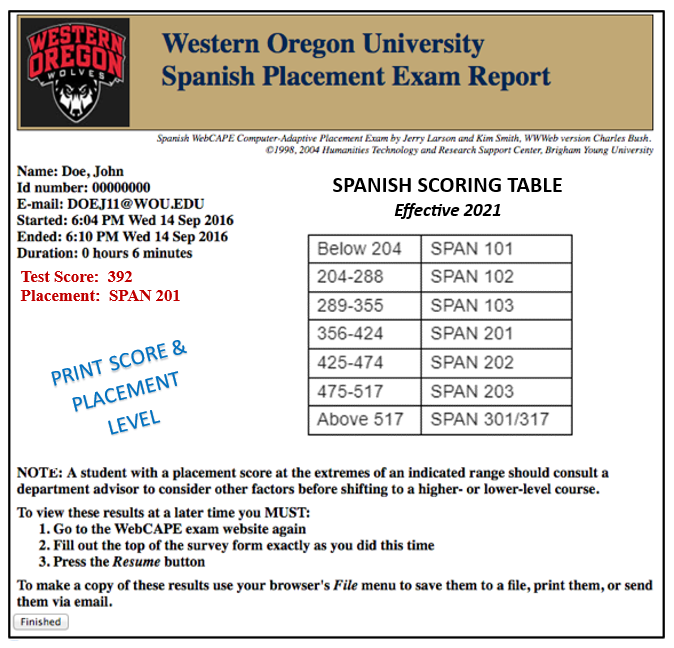 What if I am a native or heritage speaker of Spanish?
Students educated in Spanish or students who may speak the language but need to learn to read and write.
Spanish native or heritage speakers who will continue to study Spanish for a major or minor must take the placement exam
If you placed in 301 register for SPAN 317. These courses are specially designed to meet the needs of native and heritage speakers
If you placed below 301 contact the Department of Modern Languages for guidance
–>