Mental Wellness
SUICIDE

College is an opportunity full of self-growth, purpose, and accomplishment. Starting college is a proud moment for students, families, and communities. However, college campuses have another growing reality, suicide. Suicide is the second leading cause of death for those between the ages of 10 – 43 living within the United States (MacPhee, 2019).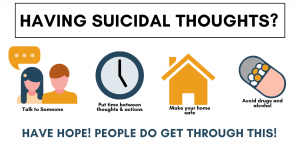 Talking to Someone?
Who to talk to

Find someone who will simply listen and be there for you. It doesn't matter who it is, as long as it's someone you trust and who is likely to listen with compassion and acceptance. When in doubt, try a hotline.

What to say

Tell the person exactly what you are telling yourself. If you have a suicide plan, explain it to them. Phrases like 'I'm done' are vague and do not illustrate how serious things really are. If it is too difficult for you to talk about, try writing it down and handing a note to the person you trust. Or send them an email or text and sit with them while they read it.

If you don't feel understood

If the first person you reached out to doesn't seem to understand, tell someone else, go to a different support group, or try calling a suicide crisis helpline again. Don't let a bad experience stop you from finding someone who can help.
When and How to Help a Friend
What Not to Do: 
Promise confidentiality – A life is at stake and you may need to speak to a mental health professional in order to keep the suicidal person safe. If you promise to keep your discussions secret, you may have to break your word.
Judge the person – Set aside your personal beliefs about suicide. Do not act shocked, lecture on the value of life, or say that suicide is wrong, selfish, or cowardly. Doing these things can exacerbate the person's feelings of alienation.
Make the person justify their feelings – Avoid saying things like: "You have so much to live for," "Your suicide will hurt your family," or "Things could be worse." You don't want to make the person feel like they have to justify their suicidal feelings because we tend to believe what we hear ourselves say.
Suicide Prevention Training: 
For more information, please visit wou.edu/mental-health