Home » 2020 Congress to Campus comes to WOU
Menu
2020 Congress to Campus comes to WOU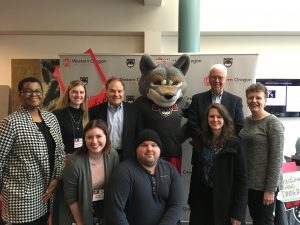 People in Picture left to right- (back row) KJ Smith, Rachel Bayly, Representative Nick Lampson, Wolfie, Representative Rod Chandler, Mary Pettenger; (front row) Jennifer Romadka, Brian Ulbricht, and Earlene Camarillo
On February 11-13, 2020, the Department of Politics, Policy, and Administration is bringing former U.S. House Representatives Nick Lampson (D-TX) and Rod Chandler (R-WA) to WOU to: educate about how the US Congress functions, promote bipartisanship, and discuss the value of public service. The following events are open to all WOU students, prospective students, and other interested community members unless otherwise noted.
Tues, Feb. 11 (Day 1)
3:00 – 3:50 pm
Open classroom: COM 439 Contemporary US Public Address – Location: WUC Columbia Room
*WOU Students & prospective students
Wed, Feb. 12 (Day 2)
10:00 – 10:50 am
Open classroom: PS  201 American National Government – Location: HWC 203
*WOU Students & prospective students
2:00 – 3:30 pm
Public Service Panel with WOU Alumni and CTC representatives – Location: HWC 105
Featuring: Anthony Medina, Operations Policy Analyst, Public University Coordination for the Higher Education Coordinating Commission and Sophie Dykast, Economic Development Coordinator for the City of Albany Manager's Office
7:00 – 9:00 pm
Congress to Campus Public Forum – Location: WUC Pacific Room
Thurs, Feb 13 (Day 3)
11:00 – 11:50 am
Open to First-Year WOU Students: FYS 107 Play & Creativity – Location: RWEC 101
12:00 – 1:00 pm
Public Service Career "Meet and Greet" Pizza Party – Location: WUC Santiam Room
*WOU Students only
Like our Facebook Event!
*Schedule will be updated with locations as events are finalized. Contact Dr. Earlene Camarillo camarilloe@wou.edu with any questions or concerns.
For more information about Congress to Campus, visit: https://stennis.gov/congress-to-campus/