Donald and Verna Duncan Special Education Scholarship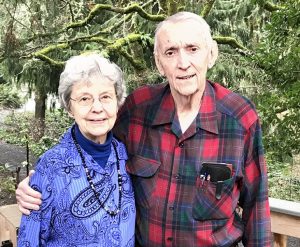 Donald H. and Verna M. (Shriner) Duncan Special Education Scholarship
Established by Don and Verna Ducan. "Donald and Verna Duncan have been a part of the Western Oregon University scene for many years. Don retired as Professor Emeritus of Special Education in 1989. He had served in deanships at WOU in Monmouth, and previously at Central Washington University. During Don's tenure at WOU, Verna taught elementary grades in the Central School District. Their ventures into philanthropy began in 1980 when, with a small inheritance, they made a gift to create a scholarship endowment in the names of their parents with the WOU Foundation. This initial effort has blossomed into a wide variety of philanthropic endeavors. Don is an initial member of several foundations. He has organized the Monmouth-Independence Community Foundation and helped start a similar foundation at Capitol Manor in Salem, where they live now.
Their giving has varied widely. It includes Verna's support of the music program at her alma mater, Central Washington University (Verna plays flute with the Salem Pops), and Don's support for Rotary Ambassadorial Scholars through the Rotary Foundation. They have created funds to support programs for classroom enrichment in the Central School District and funds to provide scholarships at Western Oregon University. "We believe in paying back what we have been given," Don said. "When I would get a pay raise, I would invest it in long term resources." This way of life has allowed them the freedom to support those causes which have been important to them over the years. For example, in recognition of their efforts, the library at WOU contains a Donald and Verna Duncan Group Study Room.
The Duncan's philanthropy makes use of an assortment of planning techniques. They make current contributions so they can visit with the students who are helped by their gift. They have life insurance which will provide additional funds for the scholarship in their parents' names, and they have created a charitable remainder unitrust for their neighborhood obligations. All of this has created a well-rounded program using many of the elements of charitable estate planning. This has been done by teachers, regular members of the community who are not wealthy people. Don and Verna understand that it is important to LEAVE A LEGACY® for those that follow. It is what teachers do." (Source: Leave A Legacy).
Scholarship Criteria:
Graduate student

Major emphasis of study in Special Education/Rehabilitation and Mental Health Counseling
Preference:

Demonstrated financial need
Award: varies
Deadline: TBA
Contact
Director of Clinical Practices and Licensure
Western Oregon University
derochowskiz@mail.wou.edu