Amy Fehrenbacher Memorial Scholarship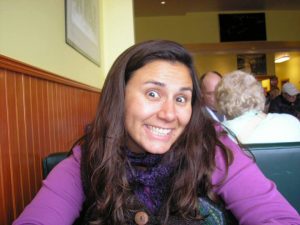 Amy Fehrenbacher Memorial Scholarship
Amy Fehrenbacher is a 1994 graduate from Western Oregon State College. She received a degree in American Sign Language Interpreting. 
Friends of Amy Fehrenbacher "launched the Amy Fehrenbacher Memorial Scholarship Fund to support students studying interpreting at Western Oregon University.
You may ask, "Who was Amy Fehrenbacher?"
Well, Amy was a legend in her own time. Though, certainly the most modest and humble about herself. I had the HONOR of knowing her and being her classmate way back when. We even did our internship together for 3 months in Arkansas.
Amy was LIGHT. Amy was love and laughter and glee. And she was a phenomenal interpreter and mentor to many emerging professionals.
Amy battled illness and died in November 2012. She began her interpreting career after we graduated in 1993. She was long a part of interpreting at Oregon Country Fair, Chemeketa Community College, Western, and even had her own interpreting agency, MidValley Interpreting, for a time. She also coordinated cruise interpreters for years. She was primarily based in Salem but had a stint in Petaluma, CA while following her husband, Dusty McFarland through his military service.
If you've met an Oregon interpreter who worked between 1993 and 2012, they knew Amy. And myself included, we have been changed because of her and have likely passed some of her radiant energy on to others. Amy regularly gave back to her profession by volunteering in the Deaf and DeafBlind community, as a mentor, and presented workshops on team interpreting. She had been an active ORID and RID member as well.
We all lost Amy way too young. She turned 43 a week before she passed.
Amy was a gift–to her friends, family, and our field. And a scholarship in her name will continue to pay her legacy forward." (CM Hall, Dec 17, 2015 on Facebook)
Award: $1,000
Deadline: TBA