Cathy Morgan Memorial Scholarship
Cathy Morgan Memorial Scholarship
Established in 1984 by the parents of Cathy Morgan, an alumna of Oregon College of Education, class of 1977. Cathy Morgan was a bright, humorous, energetic young woman who transferred to Western Oregon University (then Oregon College of Education) in 1976 from Spokane Falls Community College. Before that, she graduated from the Montana School for the Deaf. For many of us, she is best remembered for her generous and free spirit and for the emphasis she placed on the civil rights of people who are Deaf and hard of hearing. A progressive illness took Cathy's life in 1981. In 1984, Cathy's family established the Cathy Morgan Memorial Scholarship in appreciation of the contribution that Western made to the final years of Cathy's life, and also to help support other Deaf and hard of hearing students attending this university. 
Scholarship Criteria:
Deaf and hard hearing student

Demonstrated academic promise

Exhibit leadership qualities

Assist in educational expenses, e.g. books.

Enrolling at WOU for the 2020-2021 academic year – Fall '20/Winter '21/Spring '21
Award: $1,000
Deadline: TBA
[section=Testimonial from Scholarship Recipient][endsection]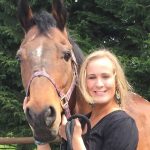 It was such an honor to receive the Cathy Morgan Memorial Scholarship. As a Rehabilitation Counselor for the Deaf and being Deaf myself, I appreciate the emphasis Cathy placed in the civil rights for those who are D/HH. When I applied for the scholarship, I was in need of financial support at the time and when I received the scholarship – I was thrilled and very grateful.
Lindsey Stevens, M.S.
Rehabilitation Counselor for the Deaf