LEARN GERMAN AT WOU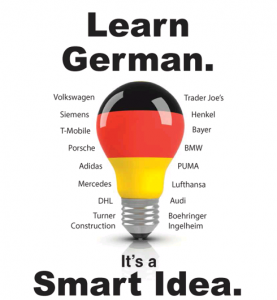 Interactive, small classes: WE TALK!
Learn to speak, read, write, and understand spoken German
Affordable, exciting, life-changing STUDY ABROAD: Immerse yourself!
Our Program is used world-wide and prepares you for the prestigious ZERTIFIKATE. You test only if you want the Certificate.
GERMAN CLUB: Oktoberfest, Adventskalender and Valentine Cookie Sales, Winterfest, Maifest, other cultural activities and the Gudrun Hoobler German Scholarship.
German Strengthens Degrees In:
Computer Science, Business, Music, Theater, Arts, Graphic Design, Chemistry, History, Political Science, Psychology, International Studies, Philosophy, and others.
Increase Your Job Options
German companies have 1100 subsidiaries in the USA and employ nearly one million Americans. 16 firms in Oregon include Adidas, Daimler, SolarWorld, Freightliner, Wacker Siltronic Corporation, Siemens, TUV America, Dywidag International, FAG Bearing Company, Ferrostaal Metals Corporation, Rendata, Scala Electronics, and SGL Carbon Corporation. They recruit locally and prefer employees with German skills.
750+ major U.S. business have branches in Germany, the highest ranking European country for Oregon exports.
Working and studying in Germany requires some language and cultural skills.
Federal agencies prefer applicants with German skills.
Indeed - Job possibilities using the German Language.
 Coming in 2022-2023:
The Elementary Certificate in German
The Intermediate Certificate in German
(Students may apply retroactively for 2021-2022)
Students need to speak to an advisor in College of Education.
Students need to speak to an advisor in International Studies.
Zertifikate
These internationally recognized proficiency certificates show what you know and are required for work and study in Germany.  For more information please go to:
Meet German Major Amalia Morse
CONTACT US
German Program
503-838-9426 | fax: 503-838-8056
e-mail: Kristen Klay klayk@wou.edu
Location: Maaske 331