NUTRISLICE ONLINE ORDERING
1) Visit wou.nutrislice.com or Download the Nutrislice App and search Western Oregon University. The Nutrislice App is available on the apple store and google play app.
2) Select Valsetz Dining Hall and choose either the Breakfast, Lunch, Afternoon or Dinner menu

3) Select items, make any modifications and add to cart. Once added to your cart the price of the item will show up in the upper right hand corner. Remember to select "Delivery" or "Pick up" here for your order as well!
4) Check out! You will be prompted to sign in or create an account. If you have a meal plan select pay with customer ID (V#) and swipe your card at the Valsetz cashier station when you pick up your meal to receive your residential discount. 
NOTE: For Dax deliveries for Campus Dining food, you must have a current Meal Plan or Wolf Bonus account.
$2.50/delivery charges apply.
7. Choose your pick up time and submit your order! All meals can be picked up in Valsetz during your selected pick up time.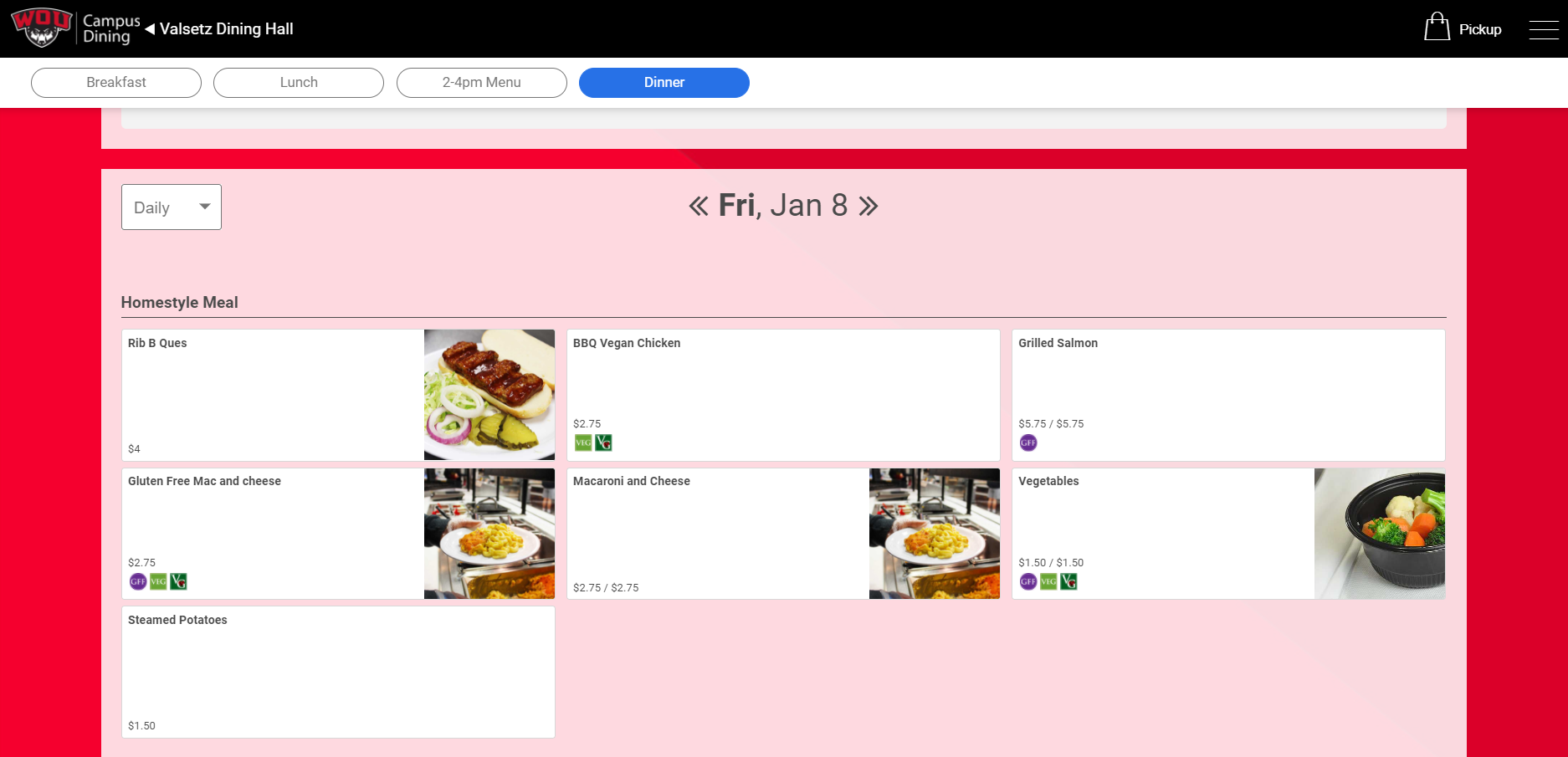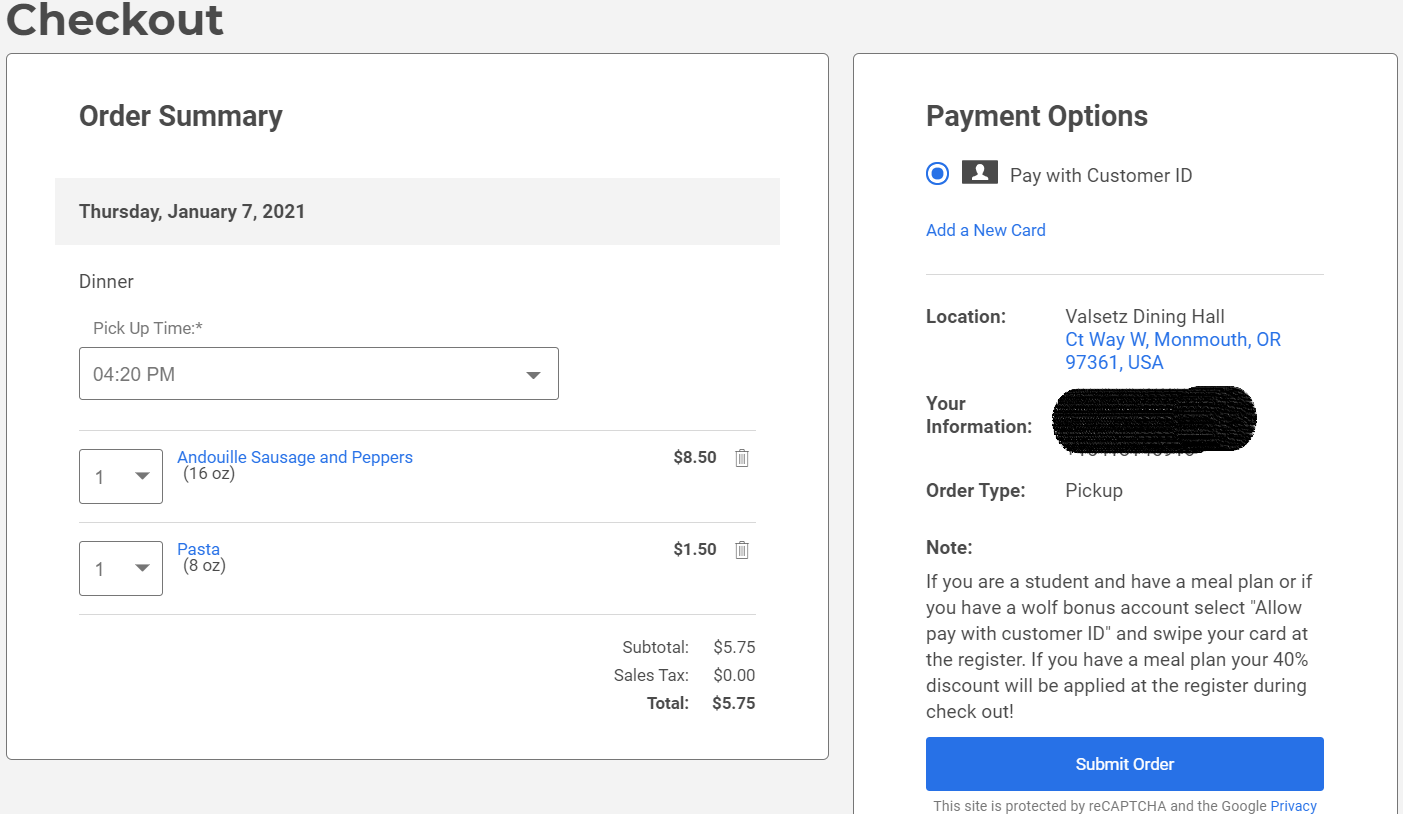 Please Note:
Ordering will cut off 20 minutes before each serving end time for all menus. Orders can be placed up to one day in advance for breakfast, lunch, afternoon and dinner menus. We encourage our guests to order in advance to make sure to order before the cut off time and to select the best pick up time for your schedule.
PAYMENT INFORMATION
If you have a Meal Plan or a Wolf Bonus Account select "Pay with Customer ID" and swipe your card at the register for payment. When paying with a meal plan your 30% discount will be applied at the register during check out!
If you would like to pay with a credit/debit card select "Add a New Card" and enter your information. Your card will be charged automatically once your order is submitted.
Any meals that are not picked up will be charged to your selected payment method.
More information about order cut off: 
Monday-Friday 
Breakfast meal time 8 am-10 am 
Pick up times are between 8:10 am-9:50 am
MUST submit order before 9:40 am
Lunch meal time 11 am-2 pm 
Pick up times are between 11:10 am-1:50 pm
MUST submit order before 1:40 pm
Afternoon menu 2 pm-4 pm 
Pick up times are between 2 pm-3:50 pm
MUST submit order before 3:40 pm
Dinner meal time 4 pm-7 pm
Pick up times are between 4:10 pm-6:50 pm
MUST submit order before 6:40 pm
For more detailed information about Valsetz Hours of Operation click the hour button below! 
How to Cancel an order
1. Go to wou.nutrislice.com or open the Nutrislice App and log in.
2. Click the menu tab on the upper right corner (Three bar icon)
3. Select "your account"
4. Select "Order History"
5. Select "Cancel Order"
For more information about cancellation and refund policies or assistance, please contact Campus Dining.