Academic Excellence Showcase
Presidential Plenary
A plenary is a session that students and faculty from all fields are welcome to participate in. The first Presidential Plenary was in 2017, and the theme was solar eclipses. The session included student presentations ranging from mathematics to poetry as well as a special introductory lecture. The showcase team has continued this tradition in AES.
2023 Presidential Plenary Theme: Looking into the Future
2022 Presidential Plenary Theme: Creativity and Resilience
2021 Presidential Plenary Theme: Community Through Crisis
2020 Presidential Plenary Theme: Curated by the Creative Arts Division
The Creative Arts Division has generously agreed to host and curate the 2020 AES Presidential Plenary. More details and information will be forthcoming.
2019 Presidential Plenary Theme: 
Interplay

of Arts and Sciences

This theme hopes to encourage the interaction of the arts and sciences via the inspiration of the STEAM program. More information will be coming as the event approaches.

The Plenary will include:
Stepping into the light: Thoughts on performance anxiety by Dr. 

Diane Baxter

Learning how to read in another language by Dr. Annie Ittner

    

The art and science of play by Dr. 

Gay Timken

Natural hallucinations: What illusions can tell us about perception by Dr. 

Dan McCarthy

It's turtles all the way down: Self-similarity in mathematics, music, and life by Dr. Leanne Merrill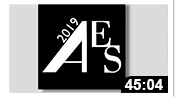 2018 Presidential Plenary theme: Power
"Power" means many things and is something we interact with every day. We take power for granted when we flick a switch and the lights in the room turn on or we walk into a building that is a comfortable 72 degrees when it is 35 outside. Power in political, social and personal interactions shapes our relationships and our emotions. Sometimes power is all around us but easy to forget and sometimes it is as scary as a category 5 hurricane. At the 2018 Academic Excellence Showcase, we explored the various meanings of the word "power" through the lens of academic disciplines that span the breadth of WOU's academic programming.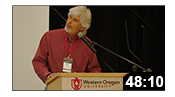 2017 Presidential Plenary theme: ECLIPSES
Since Western Oregon University's founding in 1856, there have been only two total solar eclipse visible from campus, one on Feb. 26, 1979, and one that happened in August 2017. Solar eclipses occur about every 18 months somewhere on Earth but occur far less frequently in any one specific place. Total solar eclipses are especially rare. During a total solar eclipse, locations in the path experience total darkness, the temperature may drop 20 degrees, stars become visible, and the corona of the sun may be viewed. Such an event also inspires great curiosity into the science and history behind what we experience today and how people have experienced similar events in the past. The 2017 Presidential Plenary explored the mysteries and mystique of solar eclipses.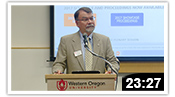 ---
CONTACT US
Academic Excellence Showcase
(503) 838-

9500
 | or
e-mail:
pure@wou.edu