Academic Excellence Showcase
""Are you working on a long-term project, presentation or artwork? Or are you really proud of the project, paper or artwork you already produced for a class assignment? Academic Excellence Showcase is a unique opportunity for you to present your scholarly and creative efforts to the WOU community and the many visitors who attend.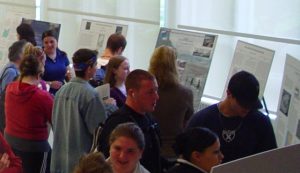 Why you should consider presenting
Gain valuable experience presenting at a professional conference
Help gain admissions into graduate school
Share your scholarly work with family and friends
Enhance presentation skills
Build your resume
In case you don't want to present, you can still participate in AES by volunteering!
Request mentorship
If you are interested in presenting at the showcase, you will need to have a faculty or staff member mentor. Usually, your mentor is a faculty or staff member with whom you have been working on a project or assignment. A session chair from your major can also be your mentor. To see a list of potential mentors, please review previous years' Proceedings. Look for mentors who served as session chairs or mentors before. When you register for this year's AES, you will need to provide the name and contact information of your mentor. This person will be emailed to confirm that they are mentoring you.
So you want to present – What Now?
Think about what format will be best for sharing your work. The options are: posters, individual or group presentations (often with a slideshow), or performances. Check out last year's conference proceedings to see what formats students in your discipline used. Talk to your mentor about your ideas.
If you are presenting alone, then follow the steps below. If you are presenting as part of a group, make sure that only one member of your group completes the registration below. Please note that all communications about AES will go to whoever registers a group.
After you and your mentor decide what you want to present on and in which format, complete the student presenter registration form by May 1, 2023. You will need the following information:
Author information (yourself and all co-presenters) including name, major, V#, contact information and hometown.
Type of session you're participating in: presentation, poster, or performance.

If you are doing a

presentation

, select open unless your mentor or session chair has explicitly told you that you are in a sponsored session and given you a session key.
If you participating in a

poster session

, make sure that you choose the group(s) you want to share with. Ask your mentor which poster session(s) you should choose. If you are still not sure, choose one from your major or a related major. If you choose the wrong one, don't worry: you can edit your submission up until May 1, 2023!
If you are part of a

performance

, make sure that only one of you is submitting information for your performance group–coordinate this through your mentor.

Title for your presentation, poster or performance. Be sure your title is specific and compelling—it will be printed in the AES program; the title helps people decide which sessions to attend.
You will also need to answer several other questions:
Did your project involved human subjects? This is about IRB (Institutional Review Board); be sure to consult with your mentor so that you know how to answer this question.
Do you give us permission to publish your work online with Hamersly Library? WOU may want to share or feature your work online at WOU's Digital Commons after AES. Be sure to let us know if we can share your work.
Your mentor's name and contact information. Be sure to carefully select the mentor's name and email; there are many similar names in the dropdown menu–so choose carefully.
We also have questions about whether or not we have permission to photograph you and record video of you and your presentation–be sure to answer these questions (they are at the bottom of the page).
You should submit an abstract or image of your artwork if you are presenting art. If you and your mentor have not decided on your abstract, do not worry! You can submit your abstract by May 14–if you miss the May 14, 2023, deadline, your abstract will be published after AES, in June or July. All abstracts are published digitally and hosted at WOU's Digital Commons.
Although the submission form has required fields, you can modify your answers at a later date using the link provided in the auto response email you receive after submission. You can edit your submission as many times as you like until the deadline. Your mentor will also get emails notifying them of the changes that you have made. To keep things clear, always check with your mentor before you make changes to your registration information or your abstracts.
Registration and abstract deadlines are located on the AES Deadlines page.
You can find the student presenter registration page here.
Writing an abstract
An abstract summarizes, in one paragraph, the major aspects of your poster, presentation, or poster. Abstracts are often organized this way: 1) your project's purpose or topic for investigation; 2) project or research design; 3) what you found or discovered; and, 4) a brief summary of your interpretations and conclusions. However, different majors and fields treat abstracts differently so be sure you discuss your abstract with your mentor so you do what's best for your field.
If your work is a work of art or performance, you may wish to describe the work instead (e.g., a description of a dance performance piece or a piece of music).
Abstracts should be 1,200 characters or fewer. All presenters' abstracts from AES 2023 are published in a file that is permalinked and hosted at WOU's Digital Commons. A link to the digital abstracts will be printed in the AES program.
Check out Past Proceedings to see abstracts from prior years!
After submitting your form
If you need to go back and edit your form, you can do this. Simply go back to the submission form and choose to edit.
After you have you have submitted your registration, confirm that you are presenting with your mentor. You need to do this for at least two reasons. First, you need your mentor's approval to submit an abstract; AES does not accept abstracts without mentor approval. Second, your mentor will help you refine your presentation. Mentors are often busy, so don't be afraid to set deadlines for them and remind them about what you need in order to meet the deadlines.
Set your own timelines and leave time to revise and improve. This will help you stay on top of what you need to get done and will help your mentor know when you will need his or her attention and guidance.
Keep practicing your presentation. Whether you are giving a talk or creating a poster, the finished product will benefit from practice and revision.
If you're not sure about presenting this year, you can still participate!
Guide to creating an Academic Poster for AES: Are you presenting a poster, but don't know how to start creating one? Check out this handy guide
Are you looking for the student presenter registration page?
---
CONTACT US
Academic Excellence Showcase
(503) 838-

9500
 | or
e-mail:
pure@wou.edu