Academic Excellence Showcase
Faculty and staff members make AES a success
The Academic Excellence Showcase is a unique opportunity to engage students in a professional exhibit of scholarship across the disciplines. The showcase's success is possible thanks to support and involvement of campus employees. We hope you join in this celebration of student academic excellence. (If you're just looking for a link to request a session, here it is!)
How faculty and staff can participate
Are you working with one or more students on an outstanding project, presentation or artwork? Would you like to expose your students to your discipline's culture of scholarship? Perhaps you feel strongly that students should be exposed to cross-disciplinary experiences as part of their liberal arts education.
Here are some ways faculty and staff encourage students to participate in AES:
Cancel classes on AES day (May 25, 2023) to allow students to participate as presenters, attendees and volunteers.
Design an assignment (regular or extra credit) that requires attendance at AES presentations and promotes deeper reflection, synthesis and learning within or between disciplines.
Offer extra credit for being a volunteer on AES day to encourage students to engage in serving the WOU community.
Integrate a presentation assignment into upper-division courses as a major assignment; encourage students who receive an "A" to present at AES.
Become a mentor (see below). Talk to student mentees, in or outside of your classes, about AES; offer to mentor them as a presenter.
Think about chairing a session (see below). Check with your department or division to see how they handle AES sessions and/or contact PURE for more information.
Organize an event (award ceremony, guided tour, gallery reception, etc.) and request that it be included in the AES proceedings (see below).
Volunteer at AES or query about serving on the PURE Board or AES Planning Committee.
Mentoring* a presenter
To ensure top quality student work at AES, all students must have a faculty or staff member who mentors them and reviews their work. If you are working with a student** who has an outstanding project, presentation, or artwork, we encourage you to approach the student and offer to mentor them at this year's AES.
Your job as a mentor is to guide the student though the process of registering for AES, writing and revising their abstract, and preparing their presentation. Expect your student to need help writing and polishing their abstract and title. We encourage you to use this opportunity to help them learn more about your discipline and its expectations. Students may need help tracking deadlines. Students will also benefit from your advice and guidance as they polish their presentations.
All editing and revision of student abstracts takes place between the student and mentor—AES is not involved in this process. After a student submits their abstract to AES, the mentor receives a copy of the abstract and then either approves or disapproves the abstract. If the mentor disapproves the abstract, the mentor will have the ability to let the student know why. Students are able to resubmit abstracts multiple times if necessary.
When a student registers for AES, they will enter their mentor's name and contact information. As their mentor, you will receive an email with their information, title and presentation type. Please review the email to make sure they have entered what you have both agreed upon. If you receive an email notifying you that a student has listed you as their mentor, but you have made no such arrangement, please contact PURE immediately so we can clear up the situation. All students must indicate whether their project involves human subjects. If you are not sure, please check with the IRB to determine whether you must obtain approval for your student's research to be presented publicly. Visit the
WOU IRB website for more information.
*This role previously was called sponsor; however, given the importance of mentoring students through the process, from ideation to presentation, mentor seemed more accurate for how faculty and staff engage with their students.
**In addition to mentoring individual students, you can also mentor small groups of students as a panel, a performance or a group showing posters together. You can also request a sponsored session where you curate and individually invite the participants. More information on this is below.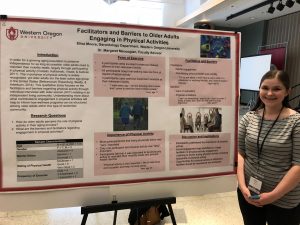 Chairing a session
In addition to—or instead of—being a mentor, you might chair a session. Session chairs play a critical role in developing sessions that best fit the needs of their discipline or program while also promoting participation from their colleagues and students and managing student submissions.You will need to know which format you plan to use in order to complete the session request form.
AES session formats:
The most common session format is Presentation. Presentations may follow different formats: short poetry readings; longer symposium style; student panels. Presentations can also be used for an artist's talk where an artist shares images of artwork (slides, digital images or actual work) and discuss their approach, methods and content. There are two types of Presentations. Short version: In sponsored sessions, the session chair (whomever requested the session) determines how long each student presents. In open sessions, each presenter has 14-15 minutes—this allows a few minutes for introductions and transition. More details:

First, in a sponsored session, you identify and select which students will be presenting, in what order, and for how long. This allows faculty the highest level of control. Once you submit your request for a sponsored session, you will receive a session key to share with your chosen presenters. Students cannot register for a sponsored session without the session key. Some individual faculty sponsor their own sessions; in other cases, an individual faculty chairs a sponsored session for their department or division. If you're considering sponsoring a session, be sure to check with your colleagues.
Second, open sessions run for an hour with four presentations—each presentation is 14-15 minutes. Open sessions are designed for students working on similar or related topics so they can present together. For example, faculty in a department might also offer one or two open sessions so that impressive juniors or seniors from different classes can share their work. These students would then be grouped into these open sessions.
Posters: Poster sessions are an alternative, interactive method of sharing research and scholarship. Attendees discuss posters and their content with students one-on-one or in small groups. Poster sessions are held in a large room for one hour. After a fifteen minute break, the next poster session starts. Presenters are encouraged to discuss and engage with their colleagues before, during, and after their own poster presentation. Students' posters should be designed to communicate their project, findings, and key outcomes. To maximize students' experiences, please mentor your students to follow your discipline's approach and expectations. Contact the WOU print shop (8-8440, printshop@wou.edu) for information about printing and production of posters. AES will update this site with more information and links to support poster creation as we near AES.
Performances: Students in theatre, dance and music may present short performances. Please contact PURE via email to ensure proper performance space is available for students' work.
You can request a session here.
If you'd like to be a session chair, start by submitting the required session chair form in which you provide all the necessary details about the proposed session. This request is reviewed by AES. Once approved, the session chair presides over the session, ensures presenters' participation and makes sure the session runs smoothly. Because the form will guide you, and because your submitted request remains editable until the closing deadline, we recommend that you complete the submission form as soon as you know you wish to have a session.
As you consider chairing a session and choosing a proper format, please discuss your ideas and reasoning with colleagues and students in your discipline. This way faculty can coordinate their efforts, avoid duplicating work unnecessarily, and optimize students' experience of AES. You might consider developing a "call for presentations" and disseminating it to colleagues in your discipline via email and by including it in appropriate departmental or divisional meetings and announcements. You will also want to consider the related responsibilities for chairing a session.
Sponsored session chair responsibilities: A session for which student submissions are by invitation only. Submissions are reviewed and approved by both the faculty or staff mentor and again by the session mentor. Student presentations are scheduled by the session chair(s) and may be of variable lengths:
Propose session topic
Provide session title, preferred time of day and equipment/AV needs
Invite students to present in the session
Provide session key to all presenters in that session
Ensure and review all student registrations
Review, help revise, and approve student abstracts
Organize presentations into a preferred order
Choose length for each presentation and communicate that to student presenters
Approve a final proof of session material
Open session chair responsibilities: A session for which student submissions may be solicited or unsolicited, but are reviewed and approved by the faculty/staff mentor. The presentations are scheduled in 15-minute slots by the AES committee into the open session.
Propose a session topic
Provide session title and equipment/AV needs
Solicit student submissions
Encourage solicited students to identify a mentor (often, but not always, someone other than the open session chair), register for AES, and request the specific open session
Poster session chair responsibilities: Poster sessions are large multidisciplinary displays of student work arranged into disciplinary or thematic groupings. Student submissions may be either solicited or unsolicited and during submission the student author will indicate their preference for disciplinary or thematic poster group. The final order of the posters within the session room is set by the AES committee.
Propose a theme or discipline around which posters may be grouped.
Solicit student submissions
Encourage solicited students to identify a mentor (often, but not always, someone other than the open session chair), register for AES and request the specific poster session.
Managing your session
Academic Excellence Showcase has many moving parts, so it is important that faculty and staff are aware of certain nuances and deadlines. Here are a few key points for session chairs to remember:
When students present or perform as a panel or group, they only need to register once. This means a single student acts as the point of contact and enters in all the relevant information for other group members.
Students must register with a title and contact information to be included in sponsored, open, and/or poster sessions. While timely abstract submission will make their abstract available online in WOU's digital commons, a late or missed abstract will not prevent students from presenting or being included in the AES program.
All student registrants must have a faculty or staff mentor. As a session chair, you may be communicating with other faculty/staff mentors. Alternatively, if you are working directly with multiple students, it may be best for you to serve both as session chair and faculty mentor.
Sponsored session chairs can set different times for presenters in their sessions. In open sessions, all presenters have 14-15 minutes.
All session chairs (sponsored and open) determine presentation order in their session as long as they meet the deadline. If the deadline is not met, AES organizers will determine session order.
Shortly after student registration closes, session chairs will be provided with presenters' names, presentation title and home department/division so that session chairs can determine presenter order in their session.
Session chairs must communicate regularly during winter and spring terms with students' mentors (if you are not the mentor) or directly with the students in your session to keep them aware of deadlines and satisfactory progress.
The Week of the Academic Excellence Showcase
On the day of showcase, session chairs play an important role in maintaining a professional atmosphere and keeping showcase running smoothly and on schedule. Please consider the following tips and recommendations:
One week before the meeting, confirm the following with each presenter: presentation time, presentation location, relevant session details and any additional details that could impact participation at AES. Instruct each student to arrive within an appropriate amount of time before their session starts.
Session chairs' information—badges, all necessary information, and certificates—will be delivered to faculty offices or mailboxes several days before AES. Don't forget to check for your packets and make sure all the information is correct. AES conference aids will provide each session with attendance tickets the day of AES. Please have students come collect their own badges the day before or morning of AES (lower level WUC lobby across from the Pacific Room).
Before your session begins, arrive early enough to confirm that your presenters are there. Please confirm you have all necessary AV equipment.
There may be a session aide in your meeting room. The aide will be available to help with the distribution of materials or tickets and to help with other duties.
Check the AV equipment and microphones. Make sure you know how to operate the audiovisual equipment that is being used in the session and that everything is in working order ahead of time. If you have a student giving a virtual presentation from another location during your session, we highly recommend scheduling a test run during the week before showcase.
During your session, please keep your speakers on schedule. If a presenter has been canceled or is a no show, fill the time with discussion or a break. Do not advance subsequent presentations ahead of the printed schedule.
AES has an attendance verification system so faculty members can document individual student attendance. This strategy involves scanning a QR code posted in presentation rooms which links with a google form. Attenders can fill in all the information such as their names, and session names online, then submit the form to receive an electronic proof of attendance in the email, which they can share with faculty members.
Organizing an event
If you are organizing an event during AES, please contact us so we can optimize room location and planning.
Volunteering at AES or with PURE
If you want to volunteer at AES or with the PURE Board, contact us at pure@wou.edu.
Want to request a session? Follow the link!
Mentor & Session Chairs: Finalizing Details Like Abstracts & Presentation Order
MENTORS: APPROVING ABSTRACTS
Now that students have registered, we need their abstracts.
All students have until 1 May

 

to submit their presentations; and if they don't have an abstract yet, they have until May 14 to submit final abstracts. They should have received an email about this with a link to submit it. Once they submit it, the

 

mentor will receive an email to reject or approve the abstract. If the mentor or student miss the deadline, the student can still present and still get the abstract published digitally after AES.

May 8th

is also the deadline for the mentor to approve the student's abstract.

If you are a session chair, you cannot approve an abstract unless you are also person's mentor.
If a student has technical difficulties, please ask them to take a screen shot and then forward their email to me: pure@wou.edu. Please put AES TECH in the subject line.
SESSION CHAIRS: ORDERING PRESENTATIONS IN YOUR SESSION
If you have a poster session, ignore this part.
If you have a session longer than an hour, read this in the next section.
Session chairs have made it clear they want to determine presentation order in their sessions. We heard you. Now is the time to do it.
First, log in to your session page: https://wou.edu/include_files/iframe_apps/facultysenate/aes/session_form.php
Second, scroll down. You should see all the presentations listed for your sessions.
Third, using up/down errors on the right side, adjust the presentations to your preferred order.
If a presentation is missing from your session, email me with the presenter's name some key words from their title so I can find it.
May 8th is also the deadline for ordering the presenters in your session.
SESSION CHAIRS: IF YOUR SESSION IS MORE THAN ONE HOUR
If you have a one hour session or a poster session, ignore this part.
If you have a single or several sessions that are just run longer than an hour, make sure that you organize your presenters as described above. Additionally, I will reach out to you by email to determine what students are presenting before and after the break(s).
Additional Important Information for Session Chairs about AES
SESSION CHAIRS: COMMUNICATING INDIVIDUAL PRESENTATION TIMES TO YOUR PRESENTERS
The AES program and electronic schedule, SCHED, will have less information than in prior programs. There are no times for individual presentations and no individual abstracts. Abstracts will be housed in WOU's digital commons.
The program will have the following information:

Session Time (10:15-11:15, for example)

Discipline (English Studies, for example)

Session Title (Theatre History Presentations, for example)

Presenter (Jason Holt, for example)

Presentation title (Fortnite Addiction: Fact or Fancy, for example)

Mentor (Xiaopeng Gong)
Session chairs also choose how much time presenters have. That is your call–as long as you remain within your session start/stop times.
To have a successful presentation, we urge you to communicate each presenter's start/stop times with them as soon as possible.
SESSION CHAIRS: PRE-CONFERENCE STUFF
AES staff or volunteers will deliver your name tag, lanyard, and tech support information to your department mail box several days to a week before AES. We will also include all the participation certificates for presenters in your sessions. This means that there is no need to check in on the morning of the event.
Thank you for your hard work and patience.
---
CONTACT US
Academic Excellence Showcase
(503) 838-

9500
 | or
e-mail:
pure@wou.edu