General Information

In this economy, every penny counts whether you're a member of the faculty or staff on campus. Saving a few cents now may not seem like a huge difference, but long term, it can save quite a bit of money. Below I've detailed a handful of ways that you can save money on the mailings you send just by making a few adjustments. The more you know….

Envelope Size
Sometimes making the smallest changes can make a huge impact. For instance, the difference in size of envelopes when sending a mailing.  The template at the bottom of this paragraph (click to make it bigger) depicts the impact that size has in the price of an envelope.
A letter containing two pieces of paper and is the size of the blue line will start out at 49¢,
A letter containing two pieces of paper and is the size of the red line will start out at 90¢.
Cutting down your envelope even a fraction of an inch can potentially cut your mailing costs in half. Contact Mail Services to see how you can cut your costs!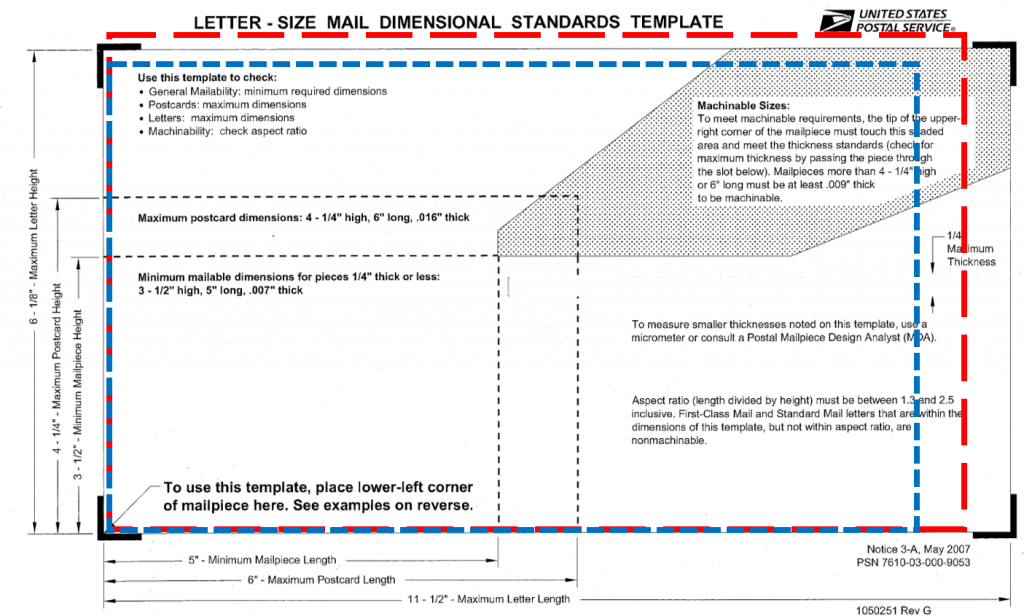 Packaging
Another element that affects the price of shipping is the size and materials used to package the shipment. The post office separates mail into two basic categories: machinable and non-machinable. Machinable mail can be processed quickly and simply with little to no human interference, so it will cost less (see the video below for an example of how "machinable" mail).
Non-machinable mail is either too thick and bulky, or would be damaged if machine processed. Examples of non-machinable mail include (but are not limited to):
Padded or bubble envelopes

Envelopes containing something that won't bend like a book, a credit card or a key

Envelopes containing something that should not be bent such as photographs or certificates

Light boxes or cardboard envelopes

Anything envelope too long to fit in the machine
Because of the extra care (requested or inherent) that must be taken with these pieces, the post office requires a surcharge to be placed on them in addition to the normal class and weight postage. 
Questions about if your mailing is machinable? Contact Mail Services at mailroom@wou.edu with the details!
Organization
Did you know that because Western Oregon University is a non-profit organization we qualify for postage discounts on qualified mailings? These discounts are offered on uniform mailings of more than 200 (domestic) pieces that have been organized by state or zip code and have a clean address list. The larger and more organized your mailing, the larger the discount. For more information,
Visit my Bulk Mailing page,

Click here to download a .pdf checklist to walk you through the process:

 Bulk Mailing Checklist,

Or contact Mail Services directly! We're always happy to walk you through the ins & outs of discounted mail. 
Clean Addresses
Contact Mail Services or visit my Address Cleaning Request page to have your lists of at least 200 addresses run through NCOA… for free! The Admissions office took advantage of this service, and look how much they saved!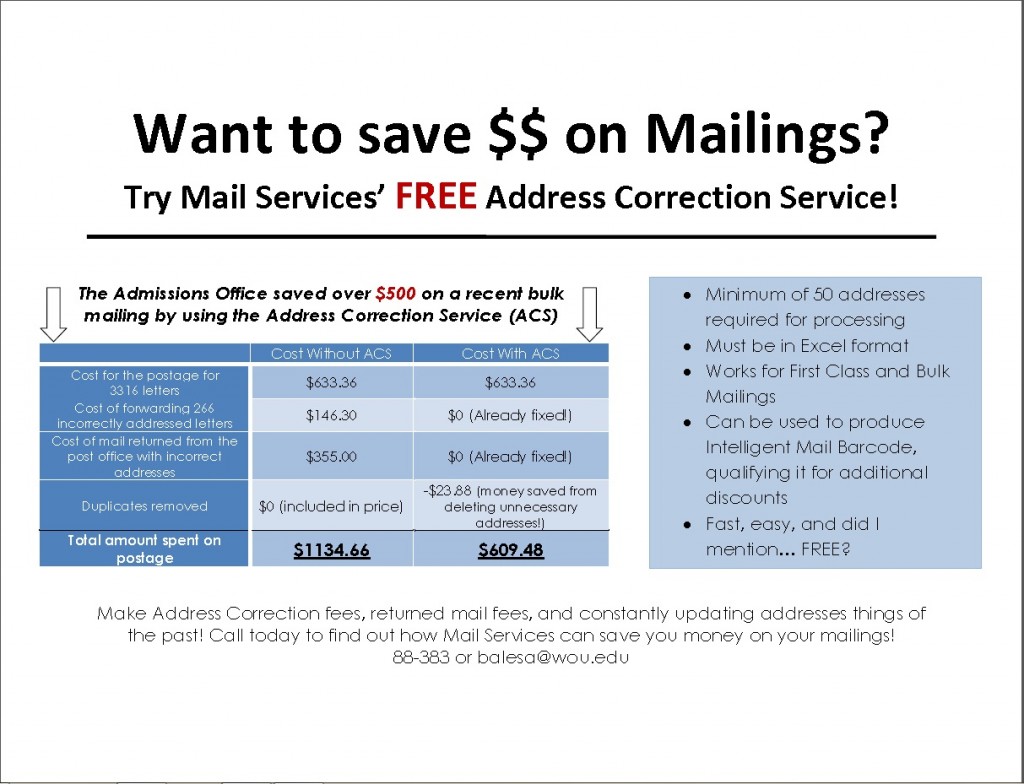 Courier
Most people assume that using the USPS will ship for the cheapest rate all the time. Generally, this is true, but when sending shipments that require special handling or tracking (such as an international, overnight or insured parcel) this is not always the case. A good example is the letters often sent express class Saudi Arabia. They cost around $45 for either FedEx Express or USPS Express, but FedEx will take four days to deliver something that may take the USPS system closer to a week. If you are concerned about cost vs. speed or tracking, call us at Mail Services so we can crunch the numbers on your behalf.