USPS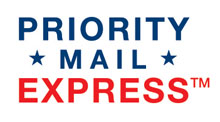 This is the fastest domestic service available through the post office, and the only option for shipping quickly to PO Box addresses. While many places guarantee overnight scheduled delivery, Monmouth is smaller than most locations and we cannot guarantee overnight delivery in all cases, and may require special handling. Please visit the USPS Postage Price Calculator or contact Mail Services at 503-838-8383 for more information.
Prices range from $24.70 and up for this service, depending upon weight and destination of the shipment. USPS provides flat rate envelopes for mailing. Regardless of the weight (up to 70lbs) and destination (as long as it's domestic), the price will not change.
I have found that this service is most cost effective when shipping documents and other similar correspondence, and in my opinion is one of the more reliable methods of tracking USPS mail.
Extra services listed below can be added to your shipment for an additional cost (go to my page USPS Extra Services for more information)