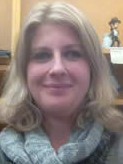 Crystal Ross
Receptionist, Student Health & Counseling Center
(503) 838-8313 | rossc@wou.edu | SHC 104
Pronouns: She, Her, Hers
Job Title: CCare Enrollment & Billing Specialist/Receptionist
Education, Certifications, Specializations: Medical Billing & Coding, CCare Enrollment & Billing Specialist, Help with understanding insurance & medical bills.
What do you like most about working at WOU: I love working with all of the students! I enjoy getting to know them. My goal is to make sure that each student receives the best treatment possible to ensure that they will continue to seek services at the SHCC.
What are your hobbies or interests: I love spending time with my husband and our 2 daughters. We are very involved with 4-H. I am a 4-H leader and my daughters show our horses, our dog, and their art and photography. I love reading and watching anything true crime related.
I wish more WOU students knew: About all of the services that our Student Health & Counseling Center offers. I often hear from them that they had no idea we offered some of the services we provide.