Emeritus Society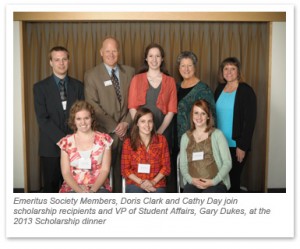 The Emeritus Society is a group of friends of Western Oregon University seeking and sharing intellectual pursuits. Affiliation with WOU is not a pre-requisite. Funds received from membership, are used to award $1,000 dollar scholarships to WOU students.
Meetings are held on the first Monday of the month at 1:30pm at Gentle House unless otherwise published.
For directions to Gentle House click here.
Guests are welcome!
Membership
Benefits and privileges of membership include:
Monthly meetings with speakers on interesting topics
Emeritus Society field trips and events
Emeritus Society Newsletter, published and mailed 11 times a year
Sports and Performing Arts schedules
Yearly WOU pictorial Calendar
WOU Magazine
Providing scholarships to deserving WOU  students
Cost of Membership
$30 per year (July 1-June 30)
Join or Renew Your Membership
To join Emeritus Society or renew your membership please complete the MEMBERSHIP FORM
and return to WOU Foundation, 345 N Monmouth Ave, Monmouth, OR 97361.
Newsletter
The Emeritus Society Newsletter
The Emeritus Society Newsletter is published 11 times a year and is mailed to all members. All submissions for consideration should be e-mailed to the editor by the second week of the month. Contact: Emily Lafon at lafone@wou.edu for the editor's e-mail address.
The newsletter highlights upcoming speakers and events, recaps previous activities, and provides a calendar of events and notes of interest.
Contact:
Emily Lafon
Phone: 503-838-8710
Fax: 503-838-8289
lafone@wou.edu