Become a Sustainer
If you value what Smith Fine Arts Series brings to Western Oregon University and our wider community, we invite you to become a SFAS Sustainer. Want to be a part of our commitment to presenting music and dance from a range of cultures and genres? Now's the time. Want to make sure that SFAS can stay strong and keep moving forward, offering free opportunities for young people and our greater community to learn from world-class artists they might never encounter otherwise? Your monthly gift makes that happen. 
Our Sustainers are powerful because they provide ongoing support our program can count on. Show your commitment to bringing quality cultural events to the people of Polk County and beyond by becoming a SFAS Sustainer today!
It's easy to become a Sustainer – just follow the instructions below. If you have questions, please contact Lisa Schachter at schachterl@wou.edu or (503) 838-8147.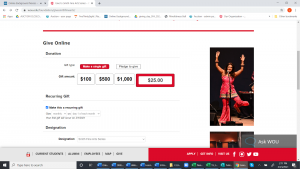 TO BECOME A SMITH FINE ARTS SUSTAINER:
Click here.
In the Donation section: 'Gift type' choose 'Make a single gift'
Next to 'Gift amount' – select or enter the amount you'd like to give monthly
In the Recurring Gift section, check the box!
Complete the rest of the form and click DONATE.