Educational Outreach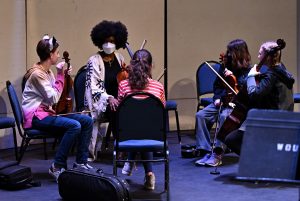 Smith Fine Arts Series is very much on a mission: not only to present quality music and dance performances for WOU and our wider community, but also to provide free educational outreach opportunities throughout the season. From special performances and demonstrations for elementary and secondary students, to informal discussions and workshops for university students and the public, SFAS fosters an appreciation for the performing arts by providing direct access to the world-class artists who perform here.
During the 2021-22 Season:
Watch the videos below to learn more about the transformative experiences
Smith Fine Arts Series brings to students and the wider community
Click here to make a gift in support of our work. 
If you or a student group you know may be interested in participating
in our Educational Outreach activities, please contact us.