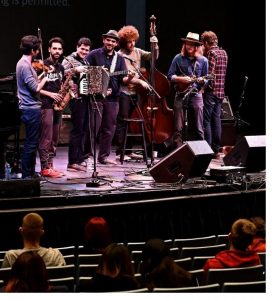 Smith Fine Arts Series is very much on a mission: not only to present quality music and dance performances for WOU and our wider community, but also to provide free educational outreach opportunities throughout the season. From special performances and demonstrations for elementary and secondary students, to informal discussions and workshops for university students and the public, SFAS fosters an appreciation for the performing arts by providing direct access to the world-class artists who perform here.
During the abbreviated 2020-21 Season:
WOU students and others of all ages from the wider community sat in on an open rehearsal with 

Sam Reider and the Human Hands

 in October. About 40 attendees had a front-row seat in observing how professional artists polish a piece for the stage. The rehearsal wrapped up with a laughter-filled Q&A session—SRHH was one very approachable group.
In January, Las Cafeteras spent a whirlwind two days with us. As well as sharing their talents far and wide, the members of Las Cafeteras experienced everything from local food-truck fare to WOU dorm life. They touched many lives during that short time, which included:
visit to Talmadge Middle School in Independence, where they held a workshop for students from grades 6-8 and their teachers.

campus workshop for WOU students on the power of music and storytelling

trip to Woodburn for a live interview on the Latinx station Radio Poder 98.3 FM

high-energy evening performance that kept the all-ages audience on their feet
Watch the video below to learn more about Las Cafeteras' visit and the benefit of
Smith Fine Arts Series to students and the wider community
Click here to make a gift in support of our work. 
If you or a student group you know may be interested in participating
in our Educational Outreach activities, please contact us.