Message from the Dean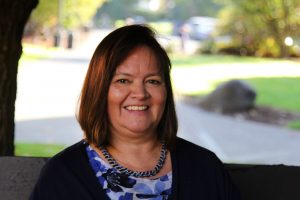 Welcome to WOU's College of Liberal Arts & Sciences!
I'm honored to serve as dean of WOU's College of Liberal Arts & Sciences, where I lead an outstanding team of people who are committed to WOU's mission of creating "lasting opportunities for student success through transformative education and personalized support." Even during this time of crisis when we cannot meet in person, we are working together toward the shared goal of serving our students, preparing them for a life that is successful in all respects—economically, civically and personally.
Under the guidance of learned professors who love what they do, students from many walks of life become part of our vital and thriving community. We are continuing to keep that community alive through remote technology, and we eagerly anticipate the day when we can welcome our students back to this beautiful campus. When face-to-face courses can safely resume, students will once again come together and learn in a range of settings, from classrooms to labs, studios, the library, theatre, service learning, internships and study abroad. Working collaboratively, students learn not only from faculty but also from peers who hail from Oregon, other parts of the U.S.. and even the world.
Today when we say "liberal arts," the phrase refers not to political leanings but to the original Latin root liber, meaning "to become free." The goal of a liberal arts education is to free our minds, deepen our intellectual understanding, and expand our sense of what is possible, through the ongoing pursuit of truth. As stated by the Association of American Colleges & Universities, the purpose of a liberal education is to "empower individuals and prepare them to deal with complexity, diversity and change." At times such as this, those skills are even more important to cultivate than ever.
During medieval times, a liberal arts education incorporated math and science as well as music, grammar and rhetoric. Today, WOU's College of LAS keeps within that spirit by including a full range of academic disciplines—business, behavioral sciences, computer science, creative arts, humanities, social sciences, mathematics and natural sciences—and offers a variety of academic programs, including majors, minors and certificates. Our sister college, the College of Education, offers coursework that pairs well with our courses of study in LAS. We encourage you to combine programs innovatively in ways that accommodate your personal interests and prepare you for a productive and meaningful life well beyond your college years. (For a detailed discussion of why all of our college's programs are important, please see the messages in the column to your right; click on "Dean's Message, March 2020.")
With our emphasis on both breadth and depth of learning, WOU's students gain both specific and transferable skills. Along with disciplinary expertise, students develop their ability to think critically and creatively; engage in deep analysis and reflective inquiry; consider and incorporate multiple points of view; communicate clearly and fluently through both speech and writing; work effectively in teams; and apply ethical judgment to decision-making. Students apply the knowledge they gain in practical settings, through individualized opportunities such as service learning, internships and study abroad. Whatever course of study and field of future work you choose, our students leave WOU with the qualities most sought after by today's employers—the very same attributes that are essential for the ongoing health, vitality and sustainability of our diverse and rapidly changing society.
We are now making plans to welcome students back to campus for our Fall 2021 term, while continuing to offer numerous online instructional options for students who need or prefer that modality. As always, WOU will continue to welcome all students, from a wide range of backgrounds, into our close-knit university community. Many here are the first in their families to attend college, carrying forward the hopes and dreams of their loved ones. No matter what your background—traditional college-age student, first-generation student, transfer or returning adult student, veteran or international student—our faculty and staff are committed to working with you one on one as you successfully complete your college degree. Should you be concerned about affordability and how to make your college dreams a reality, please contact me so I can put you in touch with the appropriate people to address your needs. 
We value our past and present students, and we look forward to welcoming our incoming and returning students and moving together into a better post-pandemic future. We will continue to work together to develop both knowledge and wisdom, growing as individuals while working to create a healthy, well-functioning society in which everyone belongs. We look forward to helping you achieve your dreams!
Dr. Kathleen Cassity
Dean, College of Liberal Arts & Sciences