Tutoring
SSA Tutoring is offering virtual/online tutoring only for the Fall term. Please click the following link to learn more about how to schedule an appointment: Zoom Tutoring.
SSA Peer-Tutoring offers support in over 20 course subjects, along with standalone support for Study Skills, Test-Taking, Note-Taking, and Time Management. Peer tutors are fellow WOU students who are knowledgeable in course content, academic skills, professor expectations for coursework, and campus resources. Students who get tutoring early in the term are more likely to persist, succeed, and enjoy their academic experience here at WOU!
SSA Tutoring covers all course subjects aside from Math, Hard Science (Biology, Chemistry, Physics, Earth Science), Computer Science, Writing, and English as a Second Language. Tutoring dedicated to those subjects at WOU can be found here: wou.edu/freetutoring/
Preparing for Your Appointment
Our services at the Learning Center are available to all WOU students, but do have some limitations. We want you to have a successful experience with your tutor. That usually requires some preparation on your part.
Attend class regularly
Bring all needed materials to your appointment
Work on the assignment, reading, etc. before you come to your appointment
Take charge by telling the tutor what you need
Tutors are here to support your learning, not do the work for you
Use your professor as your primary source of information
Important Reminders
Once you schedule an appointment, please prepare some questions, topics, and/or concepts in advance, so the tutor has an idea of what you would like to discuss. You can also leave a comment of what you would like to work on when you make the appointment.
If you need to cancel an appointment, please let the tutor know as soon as possible. You must cancel an appointment two hours in advance, if possible, or it will be marked as a no-show. After three no-shows, you will need to contact the Tutoring Coordinator at tutoring@mail.wou.edu in order to schedule appointments again. You may cancel appointments through WCS, by clicking on the appointment and selecting "Cancel this Appointment."
If no tutors are available for a class, you can request a tutor through the WCS system. You can also contact tutoring@mail.wou.edu, along with any other questions you have about tutoring, including an application to be hired as a peer tutor yourself!
Meet your 2020-21 Tutors
Grace Comer: D 177, D 1178, D 277, D 280, D 350, D 351, D 352, D 381, COM 111, PE 145, Study Skills.
To schedule an appointment with Grace, use this link: https://wou.campus.eab.com/pal/XCs6WNGyzh
Samantha Escorcia: CJ 213, CJ 214, Cj 219, CJ 252, CJ 267, CJ 321, CJ 331, CJ 427, CJ 444, CJ 449, CJ 450, CJ 451, CJ 435, CJ 454, Study Skills.
To schedule an appointment with Samantha, use this link: https://wou.campus.eab.com/pal/rxrniR9J5K
Abigail Fisher: ASL 101, ASL 102, ASL 103, ASL 201, ASL 202, ASL 203, ASL 301, ASL 302, ASL 303, ED 220, ED 230, ED 242 ED 259, ED 280, ED 481, GEOG 106, HE 257, HST 202, HST 203, LIT 102.
To make an appointment with Abigail Fisher, use this link: https://wou.campus.eab.com/pal/rsktFBHpGA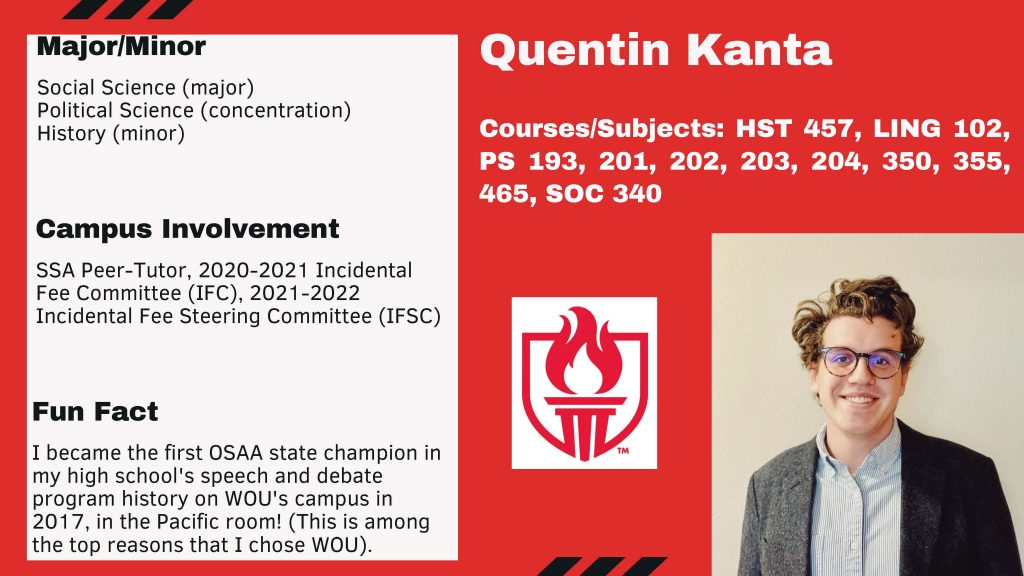 Quentin Kanta: HST 457, LING 102, PS 193, PS 201, PS 202, PS 203, PS 204, PS 350, PS 355, PS 465, SOC 340.
To schedule an appointment with Quentin, use this link: https://wou.campus.eab.com/pal/TGLS5suhSE