Apply
Applications may be submitted at any time, although the program usually fills to capacity by July.  Acceptances will be sent on a rolling basis.  Click here to apply online
Promotional Materials
In their Own Words: listen to honors students talk about the program
Promotional Flyer (from campus Preview Days)
Overview of the Honors Program
Top Ten reasons to join WOU Honors
Checklist of Honors Program_Requirements
Current High School Students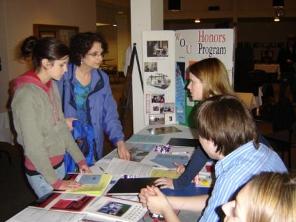 Entering freshman are considered for admission to the program on the basis of their high school grade point average (GPA), Scholastic Aptitude Test (SAT) and/or ACT score, and their activities resume.
Students with a minimum 3.5 high school G.P.A, a cumulative score on the reading and math sections of the SAT of 1150 or more, or ACT scores of 23 or more are highly encouraged to apply.
Students who do not meet these guidelines yet who wish to work in a more challenging learning environment are also welcome to apply. No one is a "walking number" in Honors.  Application for admission to Western Oregon University must be made separately.
Current WOU or Transfer Students
The Honors Program generally requires three to four years to complete. It is incompatible with any programs that require students to transfer for their junior/senior year (pre-nursing) or have a separate liberal arts track (Bachelor of Music degrees).  Under some circumstances, transfer or current students who expect to be at WOU for three years can be admitted. Please contact the Honors Office to see if this would be possible for you.
Contact
Honors Program
(503) 838-8519 | or e-mail: honors@wou.edu