CounterACT Violence Campaign
    CounterACT Violence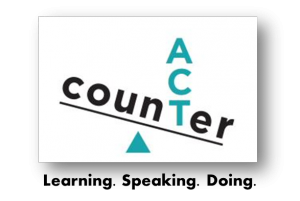 CounterACT Violence is a media campaign designed to combat myths about sexual and interpersonal violence, to increase awareness of strategies to prevent violence, and to promote campus resources.
---
The Goals of the CounterACT Violence campaign:
To dispel myths about sexual and interpersonal violence
To combat victim blaming
To empower individuals to take actions that can prevent violence
To provide resources for all students, including victims
The CounterACT Violence campaign contains three components:
A poster series that focus on how we can speak out and act against many forms of violence.
A video series that focuses on myths about sexual and interpersonal violence.
A smart phone app for Abby's House that contains information about seeking help. The app also incorporates information about myths and strategies for prevention violence.
The Abby's House app is available through the iTunes Store.
The Abby's House CounterACT Violence campaign was funded by:

---
CounterACT Campaign Poster Series:
Contact us if you would like a copy of one of the featured posters below: abbyshouse@wou.edu
 A total of ten different posters were created in this series. Additional poster images are available by email or available to view in person at Abby's House, WUC 106.
---
CounterACT Campaign Video Series:
Myth 1: Two Traumas
Myth 2: Dialogue Walk
Myth 3: The Invitation