Tutoring Services
making an appointment
Step 1: Log in to your portal
To make an appointment, log in to your WOU Portal.
Step 2: Click the purple "Writing" button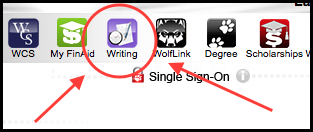 On the top right corner you'll see a button that says "Writing." This will take you to the online scheduler. If you are a new user, you will be taken straight to our registration page. After you register, you will be taken to the scheduler.
Step 3: Click on a white slot to reserve your 30- or 60-minute appointment
Once on the scheduler, click on any of the white boxes–these indicate an available appointment slot. A pop-up window will appear. Fill out the required information, and then click the "Save appointment" button. Your appointment will now appear in yellow, and in the drop down menu located at the top near the "Welcome" menu.
Preparing for your appointment
For a scheduled appointment, you are expected to arrive on time. If you are 5+ minutes late, you will be marked as a no-show and a walk-in student may take your reservation. Additionally, you should bring:
•    The instructor's written assignment
•    Any sources referenced
•    A writing utensil
•    A double-spaced, hard copy of your draft
The Golden Ticket
At the end of each session, the tutor provides you with a gold-colored confirmation slip to serve as proof of your visit. While many student-writers are not required to seek writing assistance by their instructors, they often choose to attach the slips to their final papers as evidence of their investment in the assignment. We also have online confirmation notices via e-mail for online appointments and/or classes.
You can also make appointments by phone at 503.838.8286 or by visiting us in person in APSC 301.