Become a Sustainer
If you value what Smith Fine Arts brings to Western Oregon University and our greater community, we invite you to become a SFAS Sustainer. Want to show support for SFAS' commitment to presenting music and dance from a range of cultures and genres, and to people from all backgrounds? Now's the time. Want to make sure that SFAS can weather the current storm and come back strong next season? A monthly gift could be just the thing.
Your gift will ensure the continuation of this important work and help to keep SFAS funded through 2021 and beyond. Sustainer gifts are particularly powerful because they provide income our program can count on, whatever the weather.
It's easy to make a sustaining gift – just follow the instructions below. If you have questions, please contact Lisa Schachter at schachterl@wou.edu or (503) 838-8147.
TO MAKE YOUR SUSTAINING GIFT TO SFAS: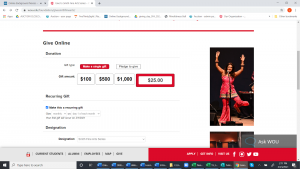 Click

here

.

In the Donation section: 'Gift type' choose 'Make a single gift'

Next to 'Gift amount' – select or enter the amount you'd like to give monthly

In the Recurring Gift section, check the box!
By default your monthly gift is scheduled for the first of each month. 
You have full control over your payment schedule and can adjust or discontinue at any time.
*Although Smith Fine Arts has pressed 'pause' on in-person performances this academic year, there are still fixed costs to cover. Our projected budget shortfall for this season is about $14,000. Sustain SFAS if you can; one-time gifts are also needed and appreciated.