Brand Identity
Logo/Identity Guide
The importance of university identity
Below please find key components of Western Oregon University's complete Graphic Identity Guide. For a complete understanding of how to utilize the university's graphic identity please review and become familiar with the complete document. (link to  https://wou.edu/marcom/files/2017/03/Identity_Guide.pdf) The complete document includes additional information about wordmarks, president's seal, department logos, what-not-to-do and exceptions.
[fruitful_sep]
Become a vendor (licensing for merchandise)
To protect and maintain our identity marks and branding, WOU is represented by Learfield Licensing Partners: http://learfieldlicensing.com/essential_grid/western-oregon-university/.
If you have any questions, please contact Denise Visuano (visuanod@wou.edu).
[fruitful_sep]
Logo/branding identity:
For information and/or approval on the use of all WOU logos and wordmarks, please contact Denise Visuano, director, publications and creative services at visuanod@wou.edu.
[fruitful_sep]
University graphic standards
Color is one of the most important elements of the Western Oregon University identity system. Red (PMS 186) and white are the official primary colors for all of the Western Oregon University logos and wordmarks. If these colors are not available the logos should be printed in all black. Black is the official secondary color for all of the Western Oregon University logos and should be used to compliment the primary colors. WOU gray and silver are optional colors.
Primary colors
Secondary colors
WOU RED
*Pantone® PMS 186
CMYK: 0c 100m 81y 4k
RGB: 227R 24G 55B
HEX#: db0a29
WHITE
CMYK: 0c 0m 0y 0k
RGB: 255R 255G 255B
WOU BLACK
*Pantone® Process Black
CMYK: 0c 0m 0y 100k
RGB: 35R 31B 32B
WOU GRAY
*Pantone® PMS 421
CMYK: 0c 0m 0y 26k
RGB: 196R 198G 200B
WOU SILVER
*Pantone® PMS 877 (Metallic)
CMYK: 0c 0m 0y 40k
RGB: 167R 169G 172B

*Pantone® is a registered trademark of Pantone, Inc. The colors shown on this page are not intended to match the PANTONE Color Standards. For the PANTONE Color Standards, refer to the current edition of the PANTONE Color Formula Guide.

Minimum Logo Sizes

University logo – 1.5" wide

Primary mascot logo and WOU shield – 1" wide

Wolves shield — .5" wide

Safe Zone

Each of the Western Oregon University logos have an established safe zone. This safe zone is intended to maintain the logo's integrity and to avoid visual confusion. No other type or graphic element (including folds, trims or edges) should fall within the safe zone shown.

In order to maintain legibility of the wordmark in every application, blank space should be left around it equal to the letter height of the word "university." When using the shield alone, blank space should be at the top and lower edges of the shield, and maintain a square dimension around the perimeter.
[fruitful_sep]
Primary logos
The Western Oregon University official primary logo and other marks are the foundation upon which WOU will build a lasting and indelible visual identity. They articulate and symbolize the core values, beliefs and traditions of the university. To download jpg, tif, or eps versions of the academic marks, click here.
University mark

Mascot marks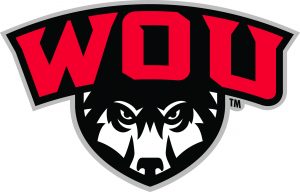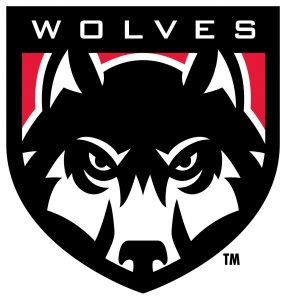 NCAA Athletics mark 
(exclusive use only)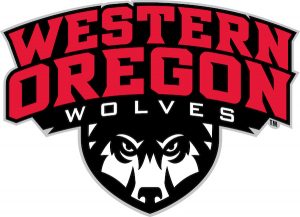 The Western Oregon University mascot logos were designed to create a consistent brand for the WOU Wolves. There are many variations to choose from so that there should be a design compatible with any application. The primary logo features a wolf, the official mascot of Western's sports teams and the words "Western Oregon Wolves." Use of the trademarked Primary Mascot logo is restricted to NCAA Division II-related programs and events. It must be reproduced using authorized digital files with the approved university colors.
[fruitful_btn link="https://wou.photoshelter.com/galleries/C0000qPSoctaepHM/Toolkit"]Download logos[/fruitful_btn]
[fruitful_sep]
Typography/fonts
Minion is a traditional, serif font best suited for projects that are more formal, as well as for academic and educational projects. This font is preferred for all university publications, as well as for general campus correspondence.
Avenir is strong, yet neutral, contemporary font. It's considered readable and friendly, and works well with the university's established identity.
If those fonts are not available, Garamond is an alternate font to Minion and Arial is an alternate font to Avenir. Arial should be used on the Web.
---
CONTACT US
Strategic Communications & Marketing
503-838-8208
 | or
e-mail:
marcom@wou.edu
 |
Location:
 Admin 302