Phi Alpha Theta
The National History Honors Society
Western Oregon University's Alpha Iota Xi Chapter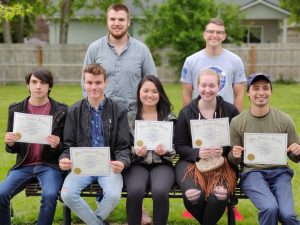 2019-2020 Chapter President: Martin Hainz
2019-2020 Chapter Vice President: Neal Cranston
Faculty Adviser: Dr. Elizabeth M. Swedo
Phi Alpha Theta meets every Wednesday at 3:00 pm in BELL 230
Western Oregon University's History Honor Society, Phi Alpha Theta, was founded in 2001 by twenty-five students and faculty. Since then the chapter has annually initiated students who show academic excellence and distinction in history. The initiation ceremony reviews the stages of history and encourages students to have a life-long dedication to the society's goals.
Chapter members have been frequent participants in the Phi Alpha Theta Pacific Northwest Regional Conference. At these meetings, students present research papers to a public consisting of Northwest faculty and students. Faculty members critique the papers while students offer commentary or ask questions. In the case of Western's participants, this conference helps students prepare for graduate work in history, education, and library science.
Papers presented by Phi Alpha Theta students at regional conferences are available online through Hamersly Library Digital Commons:  digitalcommons.wou.edu/pat/
Qualifications for Membership
Undergraduates:
* Do NOT have to be a History Major or Minor
* 18 Credits of History (any level)
* 3.1 or better GPA in History
* 3.0 or better Overall GPA
Graduates:
* 18 Credits toward Master's Degree
* GPA 3.5 or better
* 30% completion of Master's Program
What If I Don't Qualify for Membership?
Phi Alpha Theta is an inclusive group. Students who don't qualify for official membership are welcome to attend and are warmly invited to participate in PAT events and activities.
Donate to Phi Alpha Theta at Western Oregon University

Click here, and select "Support WOU" and for designation select "other" and then enter "Phi Alpha Theta" in the box. 
Links
Facebook:  https://www. facebook.com/PhiAlphaThetaWOU/
National Phi Alpha Theta Website:  http://phialphatheta. org
2019 Northwest regional conference:
Idaho State University, April 12-13, 2019
Alexandra Bell, "The Impact of Napoleon Bonaparte in Egypt."
Camden Jones, "An Examination of Bieiris de Romans' Potential Homosexuality."
Hudson Kennedy, ""Warsaw Pact Invasion of Czechoslovakia: Provoked by the Open Media."
Dayna Ragasa, "The World's Columbian Exposition: Racial Exploitation Disguised by National Progress."
2018 Northwest Regional COnference:
Gonzaga University, Spokane, Washington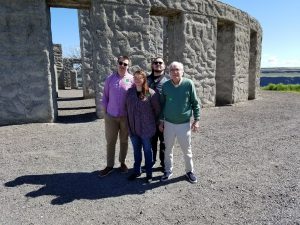 Hudson Kennedy, "A Necessary Evil: Prostitution in Medieval French Society."
Gabriel Yanez, "Anime and Nobunaga."

2017 Northwest Regional Conference:
Eastern Washington University, Spokane Washington
Katilyn Kirkman, "Homosexuality in the Military"
Spencer Welter, "Progressive Era Environments"
James Masnov, "Columbia Vanishing: Disappearance of the American Republic and the Emergence of the Modern State"
2016 Northwest Regional COnference:
Western Washington University, Bellingham Washington

Keegan LeBleu, "Chemawa: Assimilation in Oregon and its Stripping of Native Identity"
Isaac Keister, "Influence of German Populations in Argentina"
James Masnov, "American Eugenics Trinity"
Brian Reese, "The English Danes: The Scandinavian Influence in England and the Danelaw"
To see photos from this presentation and other past events click here.
Contact
Division of Social Sciences 
503-838-8288
| or
e-mail:
ryalss@wou.edu
| 
Location:
BELL 231