History at WOU
Learning to think, research, and write about history is useful in a number of careers. Unlike some fields of study, history does not limit students to one job or technology. Foreign service officers, business executives, journalists, lawyers, librarians, archivists, and museum curators have majored in history as undergraduates. History also makes an exciting teaching career. In our society of dramatic change, most people change careers numerous times during their lifetime. Historical imagination and research skills provide students with a variety of options as jobs and technology change.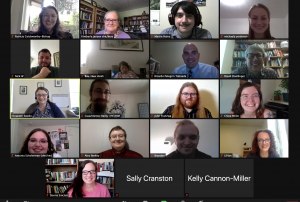 History Senior Capstone Students 2020-2021: Learn More
History Major Graduates Spring 2021

Alex Berkey
Lillian Collver
Neal Cranston
John Franzwa
Martin Hainz
Chloe Miller
Brandon Parsons
Antonia Scholerman
Nicholas Werner
Michaela Yonkman
Social Science Majors with History Concentrations Graduates Spring 2021
Daniel Avendano
Kevin McElhinny
Michael Storagee
The problem-solving skills developed from close readings of texts and documents are valuable for any career. The ability to define, research, and interpret a subject are skills needed in education, business, and government. Students learn to weigh the choices of their own profession through historical speculation of "what might have been." Those who learn to understand the clockwork of the past, can use this knowledge in planning for the future.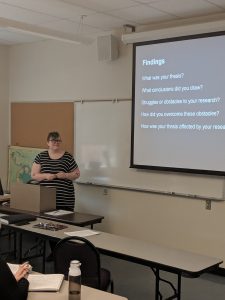 Meet History Alumni
Curtis Holbert
"I've enjoyed significant success at my job by (amongst other things) consciously focusing on those skills that I learned as an undergrad at Western (how to effectively research, how to approach data bases, how to correlate disparate data, etc.)" 
Learn more about Curtis Holbert: WOU Alumni Profile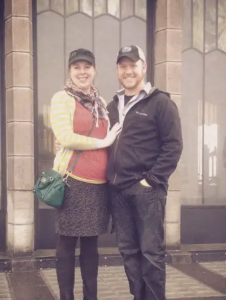 Jen Hight
WOU History Students Win Awards!
History Research Grant 2021:
Martin Hainz, for research support for senior capstone paper "Nazi Propaganda & The Beer Hall Putsch: An Examination of the Shift of Nazi Tactics for Political Propaganda from 1920-1933"
Brandon Parsons, for research support for senior capstone paper "Terror in Soviet Industry: Tensions between Managers, Workers, and the Secret Police, 1930s"
History Essay Prize 2021:
Cuauhtemoc Reilly, "Stabilizing Effects of Social Pressure and Feuding in the Icelandic Commonwealth"
History Achievement Scholarship for 2021-2022:
Sam Speckman
Honorable Mention Award for History Achievement Major Scholarship:
Audrey Manning
History students worked with our community partner, the Oregon Women's History Consortium, to provide research and content for the Oregon 2020 project commemorating the centenary of the ratification of the Nineteenth Amendment in 2020.
Donate to the Western Oregon University History Department: Click here, and select "Support WOU" and for designation select "other" and then indicate History Department.
EXPLORING A PASSION FOR HISTORY
Contact US
History Department
503-838-8288
Division of Social Sciences
503-838-8288 | or e-mail: ryalss@wou.edu | Location: BELL 231