Online Strategies
Strategies for Succeeding Online
Strategies for Succeeding in Online/Remote Classes
Info-graphic on for succeeding in Online/Remote Classes. You can click on it to download a PDF copy for personal use.
Time Management
Struggling to figure how to manage your time? Here are some resources to help you with Time Management.
You can click on the Time Management Tips to download a PDF copy for personal use.
Here is a video from one of WOU's students, Nicole Nixon on Time Management.
Motivation
What gets you out of bed each day? If you're being challenged in finding motivation check out the resources below.
You can click on the Motivation image to download a PDF copy for personal use.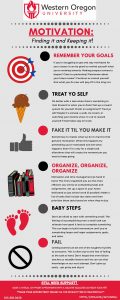 Here is a video from one of WOU's students, Nicole Nixon on Increasing Motivation.
Zoom Tips
Here is a pdf guide on how to use Zoom as a student.
Registration Holds Information
CircleIn Online Studying App
CircleIn is a new web and mobile studying app designed to help you get organized and connect with your classmates remotely—while giving you the chance to earn rewards by helping your peers. The more you join in, the more rewards you can win.
To access CircleIn:
Download the App

or go to the

CircleIn Web Application Login Page

 

Search for Western Oregon University in the drop down menu

Log in with your WOU credentials

Select Authorize and Get Started 
Want to learn more? Visit the CircleIn student website or check out these short info videos. As this is a new tool, if you notice any issues or have any problems, please reach out to CircleIn Support directly through the app or website. 
Discord
1. What is Discord? 
Discord is a VoIP, instant messaging and digital distribution platform designed for creating communities.  Discord is available on phones, tablets and computers.
2. How do you get Discord? 
You can download Discord here: https://discord.com/download
3. How will Student Success and Advising use Discord?
Our goal is to get students connected to their classmates to help them form study groups. With remote learning it is more difficult to feel connected to your online course. Our hope is that Discord can help you get connected to other students and be successful in your courses.
4. Student Success and Advisings Discord server: https://discord.gg/gggUjHJH8R
Once you have entered the server please read the #welcome page and the #rules page and follow the instructions. 
If you have any questions or issues please email studentsuccess@wou.