Curriculum
Community Policing Curriculum
Community Policing & Problem Solving (CPPS)
Community Policing Participant Guide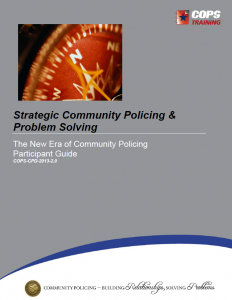 Community Policing Course Announcement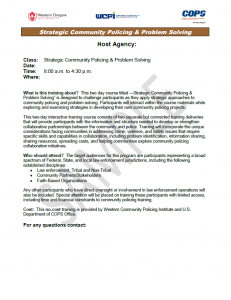 This two day course is designed to challenge participants as they apply strategic approaches to community policing and problem solving. Participants will interact within the course materials while exploring and examining strategies in developing their own community policing projects.
This two-day interactive training course consists of two separate but connected training deliveries that will provide participants with the information and structure needed to develop or strengthen collaborative partnerships between the community and police. Training will incorporate the unique considerations facing communities in addressing crime, violence, and safety issues that require specific skills and capabilities in collaboration, including problem identification, information sharing, sharing resources, spreading costs, and helping communities explore community policing collaboration initiatives.
Back to top of page
Developing Community Police Teams
Developing Community Policing Teams Participant Guides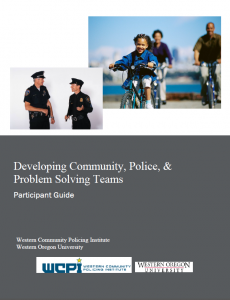 This one-day course is designed to provide law enforcement, local government, tribal government leadership, and community members an opportunity to work together on issues impacting their community, using the community policing process. This process includes the components of facilitating change, team building, building partnerships, problem solving, and action planning.
Tribal Community Police Team
This two-day training is designed to bring together Tribal Government, community members and law enforcement top learn techniques on how to empower their communities to ethically identify and solve community problems through the use of community policing concepts, advocacy, and problem-solving. Topics include: Community policing principles, team building, community-police relationships, creating collaborative partnerships, problem-solving through identification, analysis, and response development, facilitating change, and action planning. During this training, relationships are formed and teams return to their respective tribes/communities to implement their action plans applying problem-solving and collaborative partnership strategies.
Back to top of page